Webline Services is a company that is focused on providing customers with a wide range of different hosting options combined with other essential Internet focused services. They provide shared hosting, VPS solutions, dedicated servers, eCommerce hosting, colocation services, security services, domain name registration and much more. To put it simply, they are a one stop shop for all your web services needs. Whether you're just looking to run a small personal blog or you need hosting for a larger business, they can help.
The company has been in business since 2011 and they continue to grow and expand their offerings. The company has won a variety of awards for their hosting, service and other things. If you're looking for a great way to combined all your web services into one easy service provider, this is a good option to consider.
Features and Ease Use
Webline Services offers four shared web hosting packages: cPanel Web Hosting, Windows Plesk Hosting, Linux Plesk Hosting, and WordPress Hosting.
The hosting solutions come with the following standard features:
Also Read: WebHostingHub Review
Website statistics
Instant setup
Free migration
Linux, Windows, and Unix operating systems
Free RVsitebuilder
cPanel control panel
Fantastico and Softaculous installers
Unlimited subdomains
Unlimited MySQL databases
Webline Services performs daily backups and keeps each day's backup for 30 days, but the backup services are only available to the clients who have subscribed to its WordPress hosting solution.
This hosting firm offers a variety of SSL certificates as an additional package from leading providers including GeoTrust, Comodo, and Symantec.
Webline Services' data centers are located in a highly secure, climate-controlled environment for maximum performance. Fast SSD virtual private servers are installed with Solus Virtual Manager (SolusVM), a powerful GUI-based VPS management system that allows root access and an option to be rebooted independently.
Dedicated servers support multiple operating system versions including Linux, FreeBSD, and Windows (both 64-bit and 32-bit). You also get a variety of control panels, including cPanel, Plesk, WHM, and DirectAdmin.
Pricing and Support
Webline Services' hosting comes at pretty standard prices (in U.S. dollars) but with no apparent restrictions. In addition, the hosting plans come with flexible billing cycles including monthly, quarterly, semiannual, and annual subscriptions.
You get a 7-day money-back guarantee and a 99.99% network uptime guarantee backed by a compensation plan, but customers with more than 10 GB allocated bandwidth in their hosting packages are excluded from this.
You can contact Webline Services' customer support team via telephone, ticket, or email. The additional live help link was unresponsive. Also, although Webline's website says its support team is available 24/7, I never received a response to my exploratory email about WordPress solutions: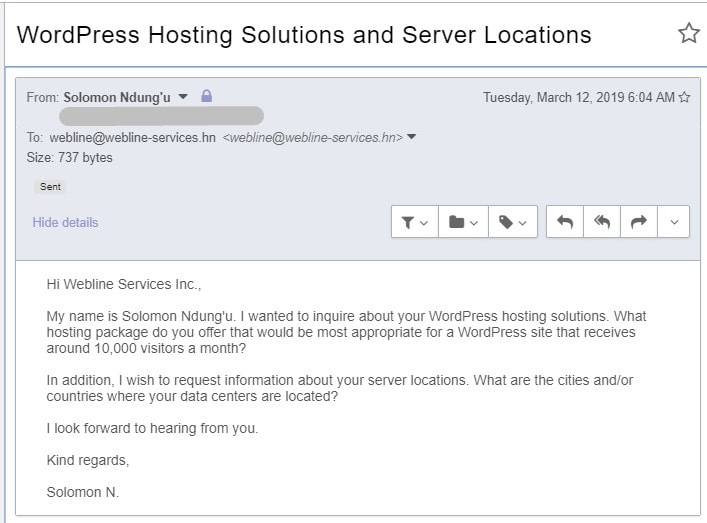 Also Read: Hawk Host Review
Unfortunately, this vendor's knowledge base is empty.
Pricing
Excellent Pricing Options
The pricing with this company is quite competitive. They have shared hosting starting at just above $2 per month, and it goes up from there. For what you're getting, this is a great price. VPS servers start at just $5 per month, which is far less than many other companies charge for similar services. This is especially impressive given the fact that the $5 per month VPS comes with a solid state drive. Dedicated servers start at $44.99 for Unix servers and $99.99 for windows servers. All in all, no matter what hosting you need, this company has a good price structure that will give you great service at a wonderful price.
User Friendly
Friendly & Easy to Work With
No matter what type of hosting you need, this company will be there to help. They have live chat options for sales and support, and they are very responsive when you give them a call. The website itself is easy to navigate and find what you need. The only minor complaint is just how many options are out there. It really can make it difficult and time consuming to review each option to make sure you're selecting the right hosting package for your needs. Those who have experience with hosting, however, shouldn't run into much trouble.
Summary
Great US Based Hosting Services
This is one of the better hosting companies around in many ways. While they aren't perfect, they seem to work very hard at providing their users with an excellent overall experience. From the time you are choosing your hosting package until long after you're their customer, they will be there to help you with anything you need. This hosting company is a great option for people whether they are just looking for small and simple hosting services or they need an advanced colocation service.
Webline Services Pros and Cons:
Pros:
Lots of Great Hosting Options
Very Affordable Prices
Friendly Staff
Cons:
So many options it can be confusing
Unresponsive support team
WEBLINE SERVICES REVIEW: BOTTOM LINE
Webline Services is a one-stop shop for various IT needs, and this vendor has invested substantially in its hosting infrastructure and technologies to meet customers' demands. Whether you're running a blog or a corporate website, Webline Services seems to have the infrastructure necessary to deliver decent hosting solutions.