Vultr is pretty good, especially if you're looking for a versatile and adaptable cloud hosting provider. Some customers have found fault with the customer service, but I was impressed by what I saw. Perfect for ecommerce companies, I give them a pretty solid B.
Vultr is a specialist cloud hosting provider that prides itself on its high-performance edge services and its easy scalability. It offers everything from cloud computing and block storage to bare metal and dedicated servers. You can take your pick of 16 different server locations across the world.
About Vultr
Founded back in 2014, Vultr has gone from strength to strength over the last five years. It's grown to a team of over 50 engineers and developers, with more than 22 million cloud server instances and 100,000+ customers from 150 countries. Not bad!
It also wins brownie points from me because unlike DigitalOcean, which I recently reviewed, it's not exclusively developer-focused. This means the website is easier to navigate, the jargon is less-techy, and the hosting plans are much faster to get started with.
But does Vultr live up to its promises of high performance and easy deployment? And is the service it provides worth the premium price it charges? More to the point, is it the right web host for you?
Let's jump on in and take a closer look at Vultr to see whether its powerful hosting plans and easy-to-use interface manage to strike the right balance between functionality and simplicity.
FEATURES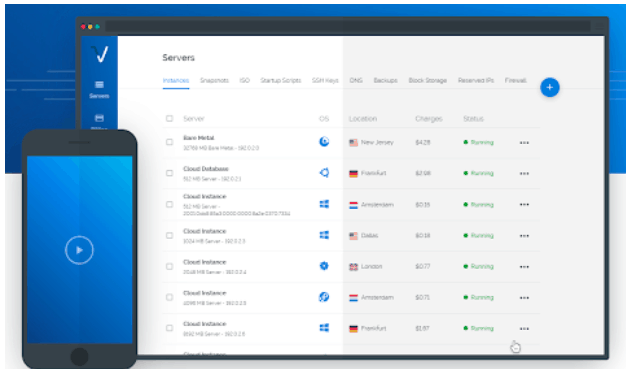 Also Read: Laughing Squid Review
Powerful Cloud Solutions
From instant global deployment to the feature-rich control panel and the powerful APIs, Vultr has got you covered when it comes to functionality. It has also invested in hardware, offering latest generation Intel CPUs and 100% SSD storage.
Vultr also allows the use of custom ISOs, which can be mounted, customized and redeployed. And if you want to duplicate one of your server setups on new instances across the Vultr network, you can get it done quickly and easily using the snapshot feature.
One-Click Installers
Vultr offers a range of one-click installers for popular web applications and managerial tools.
While this isn't always something to write home about, in the case of a premium cloud host like Vultr, it's a huge value-add. Sure, you can use the scripts and code to install applications, but if you're all about an easy life, the one-click installer is super simple to use.
The installer includes cPanel, Drupal, Magenta, Joomla!, MediaWiki, PrestaShop, and WordPress. You can even use the one-click installer to deploy a Minecraft server if that's your kind of thing.
Wide Variety of Operating Systems
Do you need to configure different operating systems for different cloud instances? Vultr has built-in support for CentOS, CoreOS, Debian, Fedora, FreeBSD, OpenBSD, Ubuntu and Windows, but you can also upload an operating system of your own if you'd prefer.
This effectively gives you the flexibility of different types of web hosting with no need for multiple providers.
Powerful Control Panel
Vultr's custom control panel allows you to easily launch new instances from any device. You can also keep an eye on performance and server health, from bandwidth and CPU usage to a real-time display of how much money is owed.
16 Server Locations
Vultr has a global network of servers, spread out throughout the United States and Canada (from Seattle and Toronto to Atlanta and Miami), as well as additional servers in London, Amsterdam, Frankfurt, Paris, Singapore, Tokyo, and Sydney.
This allows you to reduce latency by choosing servers that are as close as possible to your target audience.
EASE OF USE
Suitable for Developers – and Beginners, Surprisingly
Cloud servers tend to be a little more tricky than regular servers because you can often find yourself in unfamiliar territory. On top of that, with regular shared, VPS or dedicated hosting, the web host will set it all up for you. With Vultr, you'll need to configure and deploy the instances yourself. Due to the one-click installers and the clean user-experience, this isn't as daunting (for newbies) as it might sound.
Creating an Account
Creating an account is easy and you can choose to pay by credit card, Bitcoin, PayPal, Alipay or WeChat Pay. I gave it a go and it took me less than five minutes in total, and I'm confident that even though it's more suited to developers, even novice website owners could create an account with ease.
Connecting a Domain and Installing WordPress
I also tested the process of connecting a domain and installing WordPress, because whether or not WordPress is a favorite among developers, it's still by far the most popular CMS around. You'll need to select a server location and a server type, the latter of which will allow you to pick WordPress.
Then you'll need to select a pricing package and any additional features that you're interested in, such as automatic backups and DDoS protection.
Easy-to-Use Interface
While with some companies, it can be hard to get started with a VPS plan (you usually need to configure the server yourself), it also gives you greater control over the specifics and allows you to customize your setup.
The good news is that with Vultr, the interface is cleaner and more user-friendly than those of many competitors.
Simplified Bare Metal Servers
One of Vultr's more interesting offerings is its simplified bare metal setup that is designed to give users all of the performance of a bare metal server but without the accompanying hassle.
You'll only need to pay for what you actually use, and all bare metal setups include key cloud features like stock operating systems, 1-click installers, startup scripts, and SSH preloading.
Simple DDoS protection
Whether you've already been the victim of a distributed denial of service (DDoS) attacks or not, Vultr has got you covered. You can easily add extra layers of protection to keep your site online even when you're a victim of an ongoing attack.
PERFORMANCE
Occasional Outages
By now, you're probably thinking all this sounds too good to be true. Well, perhaps it is. After all, while Vultr promises 100% uptime, some users report outages, node problems, and other issues.
Some have even had their accounts terminated without any notification, with one reviewer explaining, "We lost databases and orders and our printed material was instantly rendered worthless."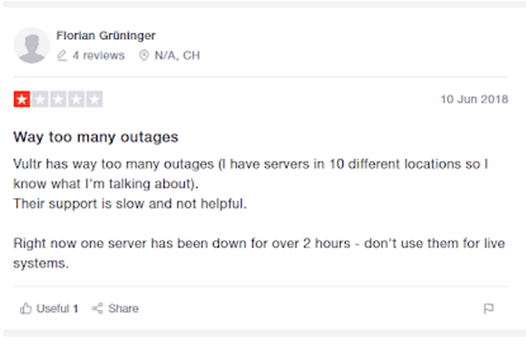 I thought I'd take a closer look and see whether I could find any performance issues by running a Sucuri page load test. Let's take a look at the results.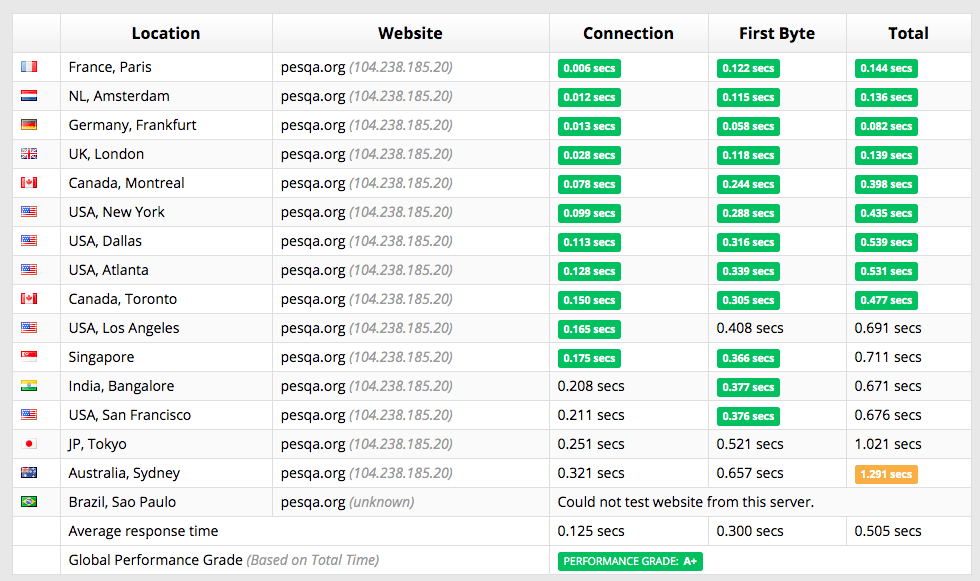 As you can see, I found that Vultr's loading times were pretty good across the board. That's because Vultr can distribute the load across its network of servers and automatically route visitors to the closest server for the best possible performance.
Overall, according to some online customer reviews, Vultr may have flaws when it comes to uptime, but it's difficult to beat for speed.
SUPPORT
Average at Best
When I say that Vultr's support is average, that's because its plans aren't cheap and you'd hope to get what you pay for.
Web hosts are almost notorious for having poor quality support, but according to user reviews, Vultr is particularly bad, with slow response times, ineffective fixes and that irritating habit it has of deleting people's accounts.
Much of the support comes from Vultr's online resources, including the FAQs, help documents, benchmarks, and a comprehensive knowledge base. If you're not a customer, you're pretty much limited to filling out the form on the website, but customers can also open support tickets if they're struggling.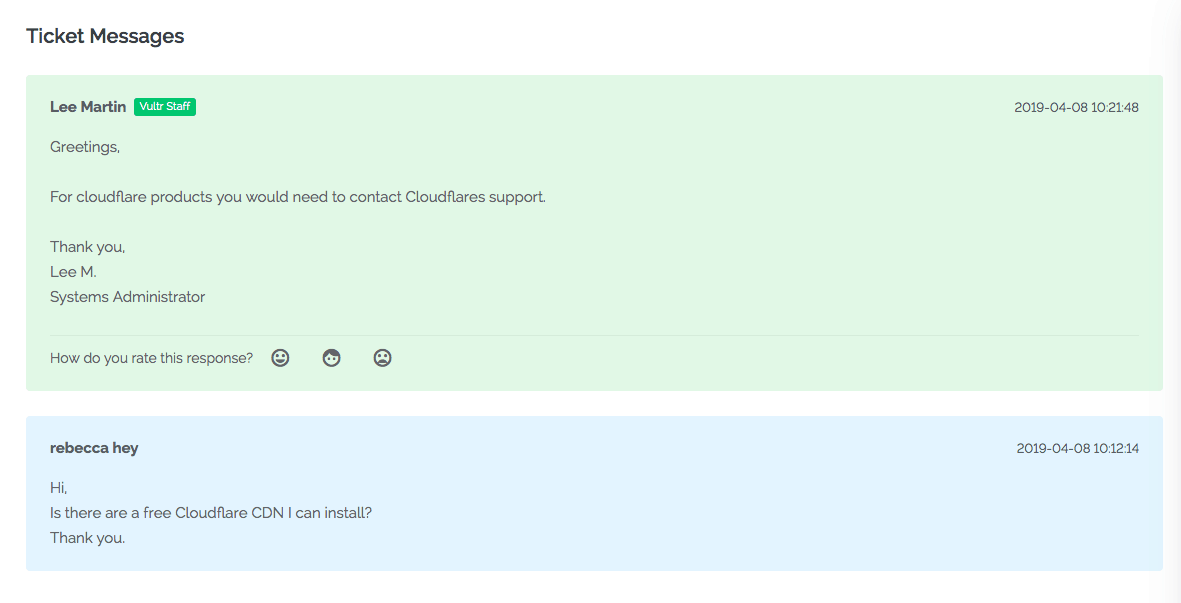 But as always, I wanted to see things for myself, which is why I decided to run a few tests. I submitted a ticket at 11:00 AM on a Monday morning and received a reply within ten minutes. I had a similar experience after filling out the online sales form and asking about the uptime SLA. Again, they responded within ten minutes.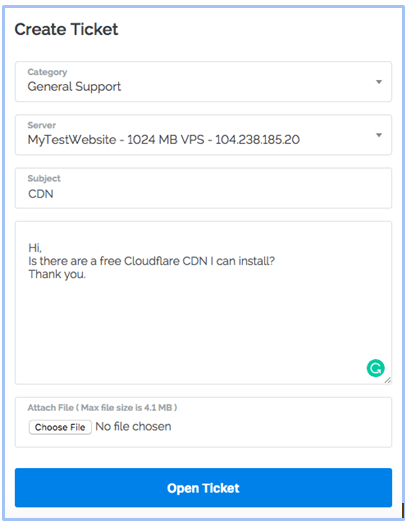 Perhaps I was just lucky, or perhaps some of those negative reviews of customer service were posted by competitors to discredit them. Perhaps I'll never know one way or the other. But after running my own tests, I can confirm that there are no complaints on my end.
PRICING
Simple, Straightforward Pricing Options
While some cloud hosting providers seem to be deliberately trying to confuse potential customers when it comes to the pricing options, Vultr makes things relatively easy. You can build your own plans or use the existing packages, with both hourly and monthly pricing available. All of this means you pay only for what you want when you want it.
Granted, the pricing is towards the higher end of the market, but that's offset by the flexibility and the way that it allows you to deploy instances that have only the resources that you actually need. It accepts all sorts of different payment methods, from credit cards and PayPal to Bitcoin, Alipay and WeChat Pay.
Cancellations & Refunds
One thing to bear in mind with Vultr is that it has a strict no returns policy. If you decide to leave, you'll need to destroy any active instances and create a support ticket.
That makes the plans relatively simple to cancel, but make sure that your account doesn't have a large amount deposited in it because you won't be able to receive it as a refund. Click here to find out more about my experience canceling an account with Vultr.
VULTR REVIEW: BOTTOM LINE
All in all, Vultr is pretty good. If you're looking for a versatile and adaptable cloud hosting provider, you could do worse. Just remember that customer support may be insufficient in some cases, although I was happy with each customer service interaction that I had with them when I was writing this article.
In particular, you'll want to consider Vultr if you're serving customers from around the globe and need to ensure rapid loading times. It's perfect for ecommerce companies, and the cloud services it offers can be scaled to grow with the company. And while it might not quite be an A+, it's a pretty solid B.