As its name suggests, VPS.NET provides VPS hosting plans (SSD or Cloud). Its network of data centers spans five continents, and it pays you back tenfold for any downtime.
OVERVIEW
Utah-based VPS.NET was launched in 2009. It is part of the UK2 Group, which is owned by The Hut Group, a leading British e-commerce company.
VPS.NET provides cloud server VPS hosting, SSD VPS hosting, server management, and reseller packages. It uses 24 data centers across five continents, has launched more than 200,000 servers, and has over 200 employees.
Also Read: Bitnami Review
The VPS.NET website is in English.
Features and Ease of Use
VPS.NET's SSD VPS hosting and cloud VPS hosting packages are provided on an unmanaged or managed basis.
The SSD VPS plans start with 0.5 GB of RAM, 20 GB of SSD storage, 1 TB of bandwidth, and one CPU core. These plans top out with 16 GB of RAM, 400 GB of SSD storage, 7 TB of bandwidth, and four CPU cores. The SSD VPS hosting features include:
24/7 customer service
99.9% uptime guarantee with SLA
SSD storage
SSL included
Content delivery network
Linux or Windows OS
Managed options
The Cloud VPS plans come with higher customizability and reliability. You can choose between 1 and 16 nodes, and from 10 GB to 1000 GB of storage. These plans come with a 1,000% uptime SLA (yes, really!) that refunds you 10x for any downtime.
VPS.NET's network of Tier III data centers spans five continents to provide fast website loading times for users all around the world. The SSD VPS hosting plans have access to 13 of these data centers whereas the Cloud VPS plans use all 24. The data centers have these characteristics:
Redundant power
Multiple network carriers
24/7 security monitoring
VESDA smoke detection
Pricing and Support
VPS.NET's hosting plans come at competitive prices compared with top international VPS providers. The entry-level SSD VPS plan costs about the same as a few cups of coffee per month, and its 1 TB of monthly bandwidth is higher than you'll get for this price from many competitors. You can easily upgrade or downgrade your current plan.
You can pay for plans on a monthly basis, with no contract, via PayPal or credit/debit card. For an additional fee, you can select an operating system and add server monitoring, or monitoring plus configuration.
24/7 customer support can be accessed via live chat or contact form, and sales support is available by telephone during working hours. My sales query via live chat was addressed immediately: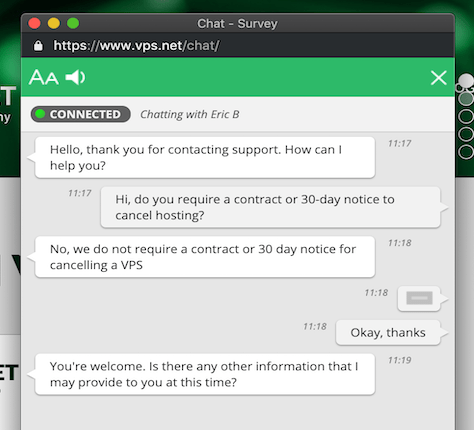 VPS.NET Pros and Cons
Pros
24/7 customer support available
Fast SSD storage included
Free SSL certificate included
99.9% uptime with SLA
Cons
No shared hosting plans offered
No long-term discounts advertised
VPS.NET REVIEW: BOTTOM LINE
VPS.NET offers SSD VPS hosting and Cloud VPS hosting plans at competitive prices. SSD VPS plans include a free SSL certificate, a 99.9% uptime SLA, and access to 13 global data centers. All plans include 24/7 customer support, and you can pay monthly without a commiting to a contract.