Siteground is one of the most recommended WordPress hosting companies. They are known for their top-notch customer support, reliable, and fast hosting plans. Their WordPress optimized hosting includes everything you'll need to create and grow a successful website or blog. Read our complete SiteGround review to find out if SiteGround is the right host for you.
In this detailed SiteGround review, we'll put their promises to test. These are the areas we will look into:
Performance: Speed is crucial for the success of any website. How fast will your website load with SiteGround?
Reliability: Will your website be available 24/7/365 without facing any downtime?
Customer Support: Can you count on their customer support?
Features: Do they offer all the features and tools you'll need to build your website?
Pricing: How much it would cost you? Are there any SiteGround deals that can save you money?
This is a comprehensive SiteGround review with a detailed analysis of SiteGround's hosting service. If you don't want to read the full hosting review, here is the quick scorecard with our verdict right below it.
What is SiteGround
Siteground was founded in 2004, and since then it has grown into one of the most well known hosting companies.
It is headquartered in Sofia, Bulgaria with offices in 4 locations and data centers in three continents. Today, the company has more than 500 employees and hosts more than 2,000,000 domains.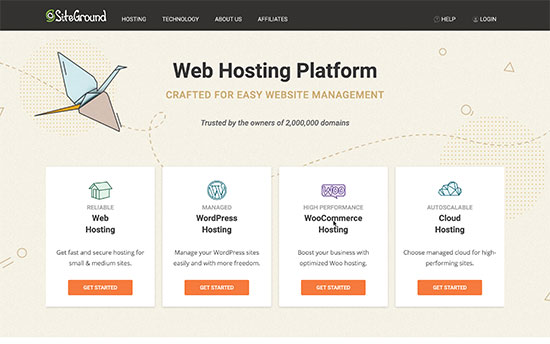 Also Read: Wp Engine Review [Updated 2023]
Pros and Cons of SiteGround
Each hosting company has its own pros and cons. Some advantages can overshadow the disadvantages, but some cons can be a total deal-breaker for your individual needs.
Before making a decision, you may want to review these SiteGround pros and cons.
Pros
Here are some of the advantages that make SiteGround one of the top-rated hosting companies in the world.
Super fast servers: All SiteGround servers are highly optimized for speed. They use Google Cloud platform for all new customers which is one of the fastest platforms on the market.
Top Notch Customer Support: Their customer support is amazing to say the least. They offer 24/7 phone support, live chat, and ticket based support.
Free CDN and SSL They offer instant setup of Cloudflare's free CDN and free SSL certificate from Let's Encrypt.
Multiple Server Locations They have data centers in three continents. You can choose the location you prefer during signup.
Cons
As we mentioned earlier, there are some downsides to every hosting company. The following are some disadvantages of choosing SiteGround as your host.
Limited Storage: Their plans come with fixed storage. However, this storage is quite large, and if you are just starting out, then you will most likely never need extra storage.
Higher fee for monthly billing: The hosting service gets expensive if you choose monthly billing. But if you sign up for a longer billing period, then you'll get bigger discount and a lower rate. They offer a 30-day money-back guarantee anyway, so it's a good idea to choose a longer billing period when you sign up.
SiteGround Performance
While price often plays a significant role when choosing a web host, you cannot compromise on performance.
This is why we decided to run our own tests to thoroughly review SiteGround's performance.
SiteGround Speed Test Results
Speed is one of the most important performance metric that you should look for. A faster website offers good user experience and boosts your SEO at the same time.
In fact, a single second delay can cause a 7% decrease in conversions, 11% fewer page views, and a 16% decrease in customer satisfaction.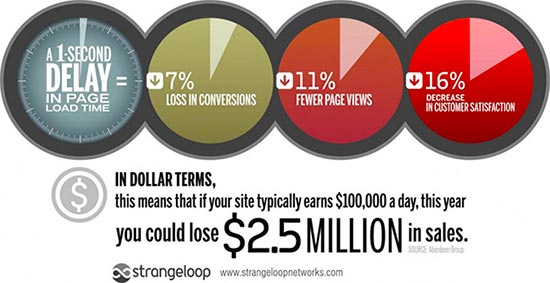 We created a WordPress powered test site on SiteGround and filled it with dummy content for theme development with images.
After that, we used Pingdom's website speed test tool to run our tests. These were the results we got:

As you can see, our test site loaded in less than a second (491 ms to be precise) with a performance score of 94.
This is incredible, but this website had almost no traffic so the Pingdom test alone is not sufficient.
To test how SiteGround servers would respond to increased traffic, we used a tool called K6 (formerly LaodImpact).
This tool gradually sends up to 100 users to see how the server would respond to increased traffic from multiple connections.
You can see the results in the chart below:
The green line is the number of active virtual users on the site, and the blue line is the server response time. SiteGround performed consistently throughout the test without any hiccups.
This test shows that if you are looking for a really fast website, then SiteGround can be a perfect choice for you.
One of the reasons why SiteGround performed extremely well in these performance tests is because of the recent innovations they've added.
Almost all SiteGround servers are now hosted on the Google Cloud Platform. They've also added UltraFast PHP and created a custom WordPress plugin for optimization (SG Optimizer) which really puts them in a premium web hosting category.
Typically, websites hosted on shared hosting account slow down a bit during top traffic hours. That's because your site is sharing resources with other websites on that server.
Most shared hosting companies automatically kill the server process if your site is taking too many resources. This causes downtime on your website.
We tested our SiteGround site for the downtime and got 100% uptime result.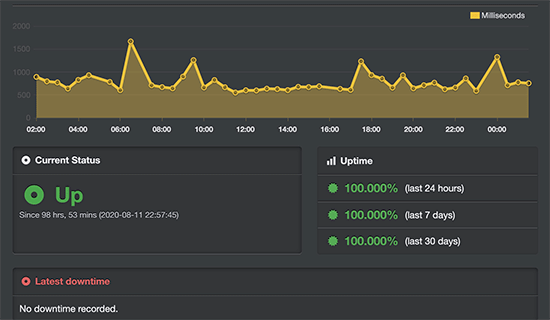 SiteGround Server Response Time
Your website's content has a huge impact on page load time. For example, if you have high-resolution images on a page, then it will significantly increase the overall page load time.
This means that speed test results may not accurately reflect how fast your hosting server really is.
Instead of analyzing page load time alone, we decided to test the actual server response time as well.
To do this we used a tool called Bitcatcha. It ignores page content, and only tests the response time of the server.
Bitcatcha also gives you average loading speed from different global locations. The speed for each location is measured three separate times, and then the results are averaged.
Take a look at the results in the screenshot below.

As you can see, SiteGround is a great choice if your target audience is mostly located in the United States. The server responded in a fraction of a second in the United States.
It responded within less than a second for all locations.
SiteGround also allows you to change your server location and you can choose a datacenter closer to your target audience for even better response times in that particular region.
SiteGround Hosting Plans and Features
SiteGround offers shared hosting, WordPress hosting, cloud hosting, and dedicated hosting plans. If you are just starting out, then their shared hosting plans would be a perfect fit for your needs. However, your site will eventually grow, and you want to make sure that they have other plans that you can upgrade to.
Let's check out SiteGround's hosting plans and their features.
Shared hosting: Shared hosting is recommended for new websites, bloggers, small business website or a startup online store. It is suitable for low-traffic websites as you will be sharing resources with other websites hosted on the server.
WordPress hosting: This plan is WordPress optimized version of their shared hosting plan. It comes with SiteGround's in-house WordPress optimizations to improve performance of your website. See SiteGround WordPress hosting.
WooCommerce hosting: This plan is WooCommerce optimized version of their shared hosting plan. It includes SiteGround's optimizations which greatly improve the performance of your online store. See SiteGround WooCommerce hosting.
Cloud hosting: Cloud hosting plans provide a flexible upgrade to shared hosting solution. It allows you to use resources of cloud architecture including multiple cores CPU and bandwidth . It is suitable for growing websites, popular blogs, or businesses. It can also be an upgrade over VPS and traditional dedicated servers. See SiteGround Cloud hosting.
WPBeginner website is hosted on SiteGround's Enterprise hosting infrastructure which is an enhanced version of their Cloud platform for large sites.
SiteGround Pricing
SiteGround offers three tiers for their hosting options:
StartUp – $2.99/mo
GrowBig – $4.99/mo
GoGeek – $7.99/mo
These tiers' pricing remains the same across the board for standard shared web hosting, WordPress hosting, and WooCommerce hosting.
Cloud hosting has its own levels and pricing, which we'll discuss in a bit.
StartUp
As the name suggests, this plan is perfect for those new to business or looking for smaller websites. The StartUp plan allows you one website, 10 GB of space, and up to 10,000 monthly visitors. Pricing starts at $2.99 per month on the introductory offer, which requires a one-year commitment.
However, it's no slouch when it comes to included features. With this plan, you'll get:
Free WordPress installation
Free SSL
SiteGround Optimizer plugin included
Automatic daily backups
Free Cloudflare CDN
Free mail
Overall, it's a great plan for those who are just getting started. The only thing to be wary of is outgrowing your monthly visitors limit. If you think you're going to scale quickly, it would be worth starting straight off with the GrowBig plan.
GrowBig
The GrowBig plan is perfect for medium-sized businesses or those who know they will be managing more than one website. You'll have access to unlimited websites, 20 GB of web space, and up to 100,000 monthly visitors. Pricing starts at $4.99 per month for a one-year term.
Aside from the features included in the StartUp plan, this plan also includes:
On-demand backup copies
Ultrafast PHP
Staging environment
Add collaborators to your site
It's easy to understand why GrowBig is SiteGround's best-selling plan. It includes a range of great features that are easy to use and will fit the brief most in need of a website out there that expects a steady traffic flow.
GoGeek
The GoGeek is the most extensive shared hosting plan SiteGround has to offer. As the name suggests, it's designed for 'technology geeks' who want lots of control over their website.
The GoGeek plan will give you unlimited websites, 40 GB of web space, and up to 400,000 monthly visits. Needless to say, it's truly designed for large businesses with a high volume of traffic. Pricing starts at just $7.99 per month when you sign up for a full year of hosting up front.
The GoGeek plan includes all the features mentioned above, as well as:
Register your clients with white-label access to Site Tools
Use more server resources for higher process execution time
Git integration
Ultrafast PHP for faster page loads
Priority support from SiteGround's most experienced customer support agents
In a nutshell, this plan is for those of you who know what you're doing with websites. If you don't understand some of the plan's technological features, it may not be the best plan for you. Unless, of course, you have a specialist on your team to manage your website and need access to high volume traffic capabilities.
Cloud Hosting
We'll touch on the cloud hosting product offerings shortly, but in terms of pricing, there are four plans for SiteGround's cloud hosting: Jump Start, Business, Business Plus, and Super Power.
As you can see in the screenshot below, the pricing ranges from $100 to $400 per month. The major difference in the plans is CPU cores, memory, and SSD space.
Due to the easy scalability of the cloud hosting options (which you'll learn about shortly), you can confidently start with the Entry plan if it's your first time using cloud hosting.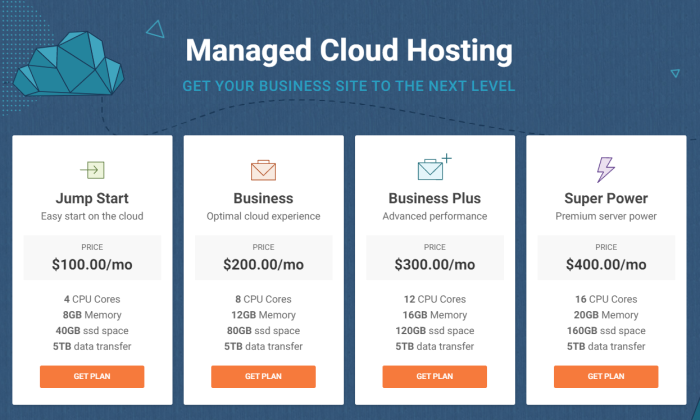 Conclusion: Is SiteGround the Right Choice for You?
After reading our detailed SiteGround review, you might be wondering if SiteGround is the best web hosting company for your website?
If you want fast and reliable web hosting provider with great customer support, then SiteGround is perfect for you. They have hosting plans for every budget and each plan comes with great set of features.
All their shared hosting plans include SSD storage, site tools, easy setup of Let's Encrypt free SSL and Cloudflare CDN service, 1-click WordPress installer, and free migration. Built-in security features protect your website against malware and you can add additional protection by turning on Cloudflare CDN functionality.
If you are just starting a website for the first time, then you will certainly appreciate SiteGround's customer support.