ResellerClub is a one-stop shop, offering everything you need for website hosting. However, it chooses quantity over quality, so watch out for older software versions. The customer service is decent and the control panel is easy to use.
OVERVIEW
Part of Something Much Bigger
As its namesake suggests, ResellerClub is a reseller of other companies hosting services. It's based in Indian, with more than 200,000 customers in 150 countries.
But if you're wondering whether ResellerClub is a reputable company, you'll be pleased to know it's owned by the Endurance International Group (EIG). Which, by the way, also owns massive hosting companies like Bluehost, HostGator, and SiteBuilder.
Also Read: eNomCentral Review
It's offering is equally large. You can purchase shared Windows and Linux plans, reseller hosting plans, content management system (CMS) packages, VPS and dedicated server rentals, along with resold Bluehost and HostGator packages.
Its website is available in multiple languages, including English, Spanish, Turkish, and Indonesian, and it has offices in both India and the U.S.
I think we are safe to assume that ResellerClub knows a bit about hosting. But the real questions are:
Does it offer the right package for your needs?
Why choose a reseller over the original source?
Is customer service there for you when you need it?
Are the prices a good value for your money?
Will your website load fast enough?
By the end of this review, you'll have your answers and know whether this is the right host for you.
Grab a coffee and let's get started.
FEATURES
So, So Many Features
ResellerClub is a comprehensive company. It sells everything you could ever need for your website, from SSL certificates and domain names to SiteLock security features and an integrated caching and content delivery network (CDN).
ResellerClub not only offers free migrations, its website claims it will pay you to move your website over. But when I contacted customer service, the agent wasn't able to confirm this.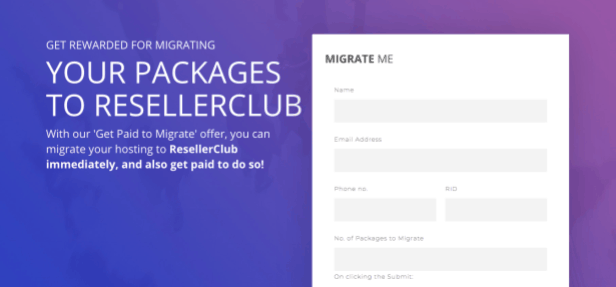 I could go on and on about the basics of ResellerClub's features—its offering is vast. But let's dig into the most interesting ones.
Variety of Plans
The first thing that strikes me about ResellerClub is the number of plans it offers. There really is something for everybody, whether you're a regular website owner or a reseller. Choose from Windows, Linux, Magento, WordPress, Joomla, or even Bluehost and HostGator plans.
But there's a huge caveat here. The HostGator and Bluehost plans are actually cheaper, and the money-back guarantee is longer, if you go directly to the source. Knowing this, I'm not sure why you'd choose to purchase these two plans via ResellerClub.
Reseller Plans
I couldn't review this company without mentioning these plans. Given its namesake, it's clearly a large part of its offering. There are Linux and Windows hosting packages that come with a fully brandable control panel, and ResellerClub is available to help you with any technical issues (although you'll still be the main point of contact for your customers).
Developer-Friendly Features
ResellerClub offers SSH access in even its shared hosting plans, while most other companies make you upgrade to a VPS plan. It also offers support for PHP up to version 7.1, Python (only older version 2.6.6), Ruby on Rails, and Perl.
Website Builders
ResellerClub sells two website building tools: one from Weebly and one branded to ResellerClub. It's hard to tell if the branded one is resold from another company—I tried to confirm with support, but the agent wasn't sure either. The website building package comes with responsive templates, a drag-and-drop editor, e-commerce features, and website hosting included in the bundle price.

EASE OF USE
Beginner- and Developer-Friendly
Often, companies that sell such a wide variety of products come across as overwhelming and difficult to use. However, ResellerClub offers a good mix of features while also keeping the user in mind with its simplicity.
Create an Account
I purchased the cheapest WordPress plan. It only includes one domain, but with 5GB storage, it's enough for most small WordPress websites to get started. It's easy to create an account, but you'll need to watch out for the add-ons that are checked off by default in your cart.
In total, it took me less than five minutes to select a plan, pay, and create an account. However, I needed to wait about three business days for my account to be verified. I was asked to confirm my payment method and then wait for the abuse team to approve the application. I don't know if everyone needs to go through this process, though.
Connecting a Domain and Installing WordPress
ResellerClub does a great job of simplifying the WordPress setup. There are helpful on-screen instructions, and useful information like the nameservers are easy to find. You can contact the team via live chat 24/7, even though it's not obvious how to do so. Read my how-to guide on setting up WordPress here, and you, too, could be set up within 10 minutes.
Backups
ResellerClub has a detailed backup policy, which is refreshing. Included in the standard hosting plans, the company will back up your data and you can request a restore of up to seven days. However, as is always the case with hosts, be sure to read the small print, which states backups are "periodic". In the event that the standard backup provision isn't comprehensive enough for you, you can purchase an additional backup plan as an add-on option.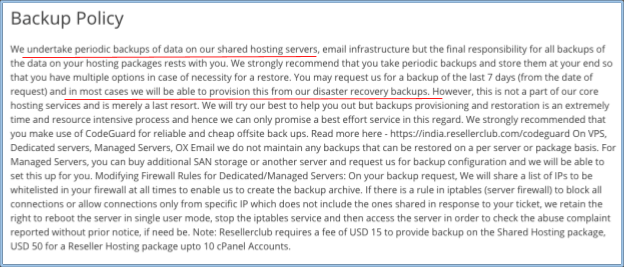 Grows with You
When you're ready to scale your online presence, ResellerClub also offers VPS packages, dedicated servers, and managed server rentals. You get full root access, instant setup, and a custom in-house control panel or cPanel. However, if speed is important to you, some of the plans (like the dedicated servers) run on HDD instead of SSD storage, which is ten times faster.
Theme Store
ResellerClub brands itself as a one-stop shop for all things related to website hosting. As well as hosting and domain names, it also has a theme store for more than 150 premium website templates. There does appear to be a small markup fee on each template, but you're paying for the convenience.
3.5
PERFORMANCE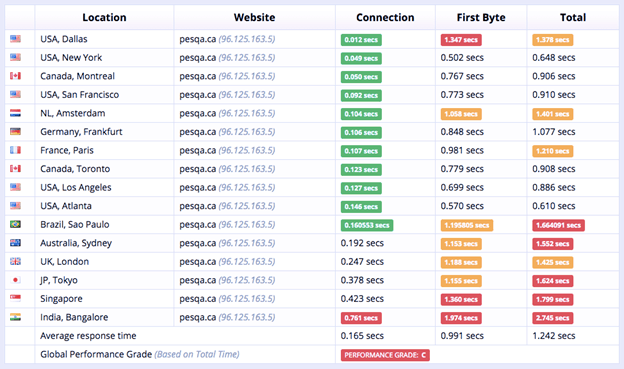 It Could Be Better
In terms of uptime, any guarantee is not overly clear on the website. Some of the products (e.g., HostGator Web Hosting) provide a 99.9% uptime guarantee, while others don't. I chatted with an agent on live chat who confirmed that all packages come with that guarantee, but with nothing on the website terms and conditions, I'd proceed cautiously.
Regarding website performance and speed, some past customers rated ResellerClub poorly in online reviews, focusing on servers going down for days and other similar issues.
Nevertheless, I wanted to test the speed out for myself with a Sucuri page load test. The results aren't great, with an overall C grade. The best connection speeds are in the U.S., Canada, and Germany, with locations like Singapore and India faring pretty poorly. 
SUPPORT
Customer support is offered 24/7 via live chat and ticket. To get support as an existing customer, you need to log into your dashboard and select which topic you'd like to discuss. You're then directed to either live chat or ticket support. In my experience, technical questions are via the former and billing the latter.
There's also a decent knowledge base, and you can call the company on a U.K., U.S., or Indian local number if you prefer to get support over the phone.
I contacted the team via live chat on several occasions throughout my time with ResellerClub. The agent always picked up quickly, but I did experience instances when they weren't able to understand or answer my question, e.g., when I asked who the website builder was provided by and whether there was an uptime guarantee.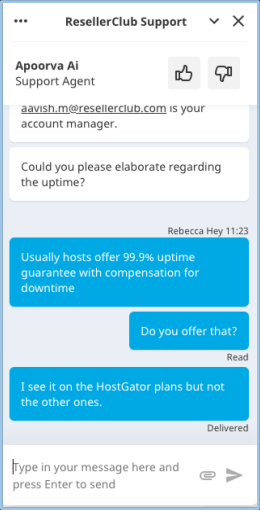 Often, this meant I needed to wait around on live chat for ten minutes or so to get a response that didn't fully answer my question. On the other hand, they were always friendly and polite, going out of their way to try to help me.
I also created a sales inquiry via a contact form on the main website asking who provided the website builder (I thought it might be SiteBuilder, since that's part of EIG). Unfortunately, I didn't get a response at all via this method.
PRICING
ResellerClub offers so many plan options, there's a price point for everyone. In terms of where the company falls within the rest of the market, it's at the lower end of the price spectrum—but with a couple of caveats.
First, if you're opting for a Bluehost or HostGator plan, you're better of going directly to the source. They are cheaper and have better money-back guarantees. Second, watch out for the renewal price. The introductory rates are great, but you'll notice the price increase when your contract renews.
Payment can be made by PayPal, credit card, or WebMoney Transfer, and there's a 30-day money-back guarantee on most of the plans.
Cancellations & Refunds
To cancel your account, all you need to do is log into your dashboard and navigate to the product you wish to cancel. Underneath the product, there is a small Delete button to cancel the service. Select that, then on the next page, confirm the cancellation.

I wasn't eligible for a refund because I'd purchased a WordPress plan; however, most of the other shared and cloud hosting plans do come with a 30-day money-back guarantee—just be sure to check before you buy.
RESELLERCLUB REVIEW: BOTTOM LINE
ResellerClub is a one-stop shop, offering everything you need for website hosting. However, it chooses quantity over quality, and you're likely to find older versions of software or non-existent uptime service-level agreements (SLAs). The customer service is decent and the control panel is easy to use.