Rackspace was founded in 1998, which makes it one of the oldest cloud hosting providers on the market. For a long time, it was viewed as a premium managed host, even a market leader in its industry – but things have changed.
Cloud computing has exploded, with large tech giants taking over the landscape. Companies like Amazon Web Services (AWS), Google Cloud Platform (GCP), and Microsoft Azure are market leaders, offering affordable, premium-quality cloud hosting.
Instead of giving up, Rackspace has adopted an "if you can't beat 'em, join 'em" attitude, so it not only sells its own infrastructure, Rackspace also sets up and manages infrastructure from elsewhere—in other words, you can purchase managed AWS and Microsoft Azure hosting via Rackspace. It also primarily offers managed hosting, setting it apart from its big-name competitors.
Rackspace is a global company, with business customers in more than 150 countries. The website is available in English, Spanish, Portuguese, and German.
Lots of Options, Lots of Fees
Rackspace is an enterprise-level host offering premium managed cloud services. This means everything from SSL support and CDNs (content delivery networks) to backups and disaster recovery can be included—for a fee—in your personalized package.
It also offers all kinds of professional services for migration assistance, as well as security and compliance. There isn't a website-building tool, but several popular CMS (content management systems) can be installed with one click via the dashboard.
Now, let's dig into some of the more interesting features offered by Rackspace.
Fully Managed Hosting
One of the main differentiators between Rackspace and the wave of cloud hosting competitors on the market is Rackspace's focus on managed hosting. It offers managed hosting and cloud hosting, as well as various professional services like DevOps and migration assistance.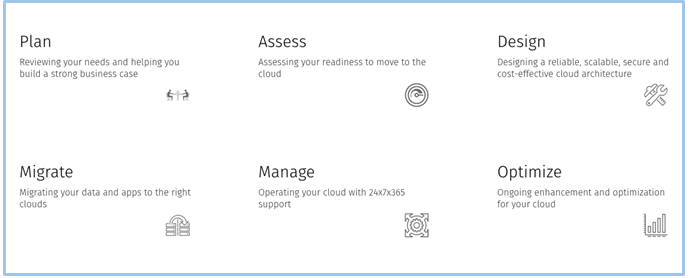 Also Read: Liquid Web Reviews [Updated 2023]
This reduces the hassle of handling technical tasks such as server configuration, security, backup, and storage. You're not going to get this kind of support from any of the big tech companies—unless you're prepared to pay thousands of dollars a month for the privilege.
Integrator of Services
Maybe you want to use a well-known infrastructure as a service (IaaS) like AWS or GCP, but you'd also like the reassurance of having a managed service. That may seem like a unicorn, but with Rackspace, it really is an option. You can select from Rackspace's own infrastructure or you can use one of many other cloud platforms available, including AWS, Microsoft Azure, GCP, or Alibaba Cloud, to name a few.
Fully Customized
As well as offering a range of clouds, e.g., private cloud, public cloud, hybrid cloud, or multi-cloud, Rackspace will work with you to tailor a package that meets your requirements. The company believes there isn't a one-size-fits-all option for enterprises, so instead of offering a range of standard packages, you'll get a plan and price to meet your needs.
Flexible and Scalable
One of the main benefits of cloud hosting is its ability to scale with your business. Not only does this mean servers are added when you experience peaks in traffic, you can also dynamically remove servers, which can help reduce your costs.
Solid Uptime Guarantee
I'm pleased to see that Rackspace offers one of the best uptime service-level agreements (SLAs) I've ever seen. Whatever managed plan you choose, it will be backed with 100% network uptime guarantee. If you do experience network downtime, you'll be eligible for credit based on how long it's down (5% for every 30 minutes of downtime, up to 100%).
EASE OF USE
The whole purpose of choosing managed cloud hosting is to reduce the technical burden on your business. In order for Rackspace to be a worthwhile investment, it has to be really easy to use. Otherwise, you'd opt for a cheaper, unmanaged provider like AWS.
It's for this reason that Rackspace offers a wealth of professional services to make your life easier. From backup and recovery to migration and installation, you can outsource all of your technical tasks to Rackspace, for a price, of course.
While this all sounds great, my experience was far different from the marketing spiel on the website. Here's what happened when I tried to create an account with Rackspace.
Creating an Account
Creating an account with Rackspace was bizarre. Not only did the process include a couple oddities, there was one huge, catastrophic issue. Let's start with the anomalies, shall we?
First, while it only took me a couple minutes to create an account, I needed to wait for Rackspace to run some tests and approve my application. I couldn't set up a WordPress website until this was completed. Not a huge deal, but I'm glad I wasn't in a rush.
Second, the Rackspace website is quite confusing—on the product pages, the buttons tell you to Get a Quote, suggesting you can't create an account online. But in the header, in small print, you can select Buy Now. I opted for the latter and managed to create an account via email to get a quote.
Okay, that's not too bad. But, much worse was yet to come.
After creating an account, I was asked to provide answers to verification questions, and provide a copy of my passport, proof of address, information about my business or project, and my general plans for using the account.
As a website developer and digital marketer who's opened many hosting accounts, I thought I'd be verified easily. I waited around 48 hours to hear back. Then I received this email: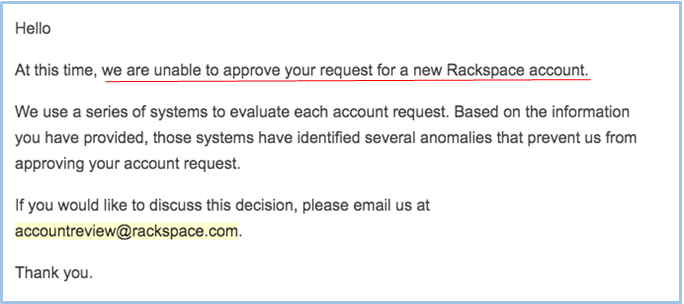 I sent an email to follow up and request a reason for my denial. I got a one-liner back: "No further information is available." I followed up again and got the same message. On my final attempt to get a reason, Rackspace simply stopped responding to me.

I'd usually create an account, set up a WordPress website, and map a domain, but as I couldn't go beyond this roadblock, I can't tell you how easy it is to actually use Rackspace. I can tell you a bit about its most interesting ease-of-use features, though, if you are able to get past this problem.
Cloud Migration Services
Migrating to another host is stressful, especially if you're a large business or a high-traffic website. With Rackspace, it'll handle everything from assessing your existing setup and building a strategy for migration to the actual execution of the migration. It's been doing just that for enterprises since 1998, so you're in good hands.
Privacy and Data Protection
Rackspace will not only help you identify your risk areas, it will also work with you to reduce your risks. It does this by providing encryption on top of your existing applications and workflows and creating detailed reports with evidence to confirm and validate compliance.
Business Intelligence
Nowadays, you can't succeed online without a handle on your business analytics. Rackspace offers managed business intelligence packages to help you understand your business data and discover efficiencies. Using analytics software such as Oracle, SAP, Microsoft, Tableau, and Informatica, Rackspace claims it can boost your bottom line by helping you decipher your data.
SUPPORT
Comprehensive, but Not the Best
As you'd expect with a managed host, the support offered appears to be comprehensive. Customers can reach support via phone, email, chat, and ticket. There is also a ton of do-it-yourself resources like support documentation, video tutorials, and how-to guides.
To get a feel for the quality of the customer service, I tested out various support channels throughout the account creation process. First, I created a support ticket asking them to send me a tutorial for the installation of WordPress, and they responded a few hours later. So far, so good.
Second, I jumped on live chat to ask them to help activate my account sooner—it was taking a long time. The agent picked up instantly, but he wasn't helpful.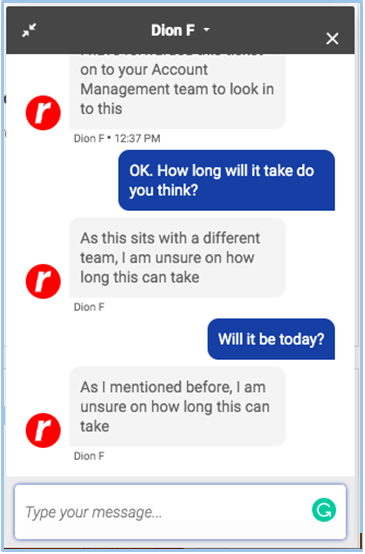 When I finally did hear back (after following up on several occasions), the message was sterile and abrupt. I wasn't offered any information and, as my account creation had been denied, I couldn't even log in and use live chat anymore.
Finally, I sent an email via the online form on the website. I asked a basic sales question (can I install a Cloudflare CDN?), but despite waiting several business days, I didn't get a response.
Overall, I was left underwhelmed and frustrated by the experience, especially given this is a managed host with self-proclaimed "fanatical support."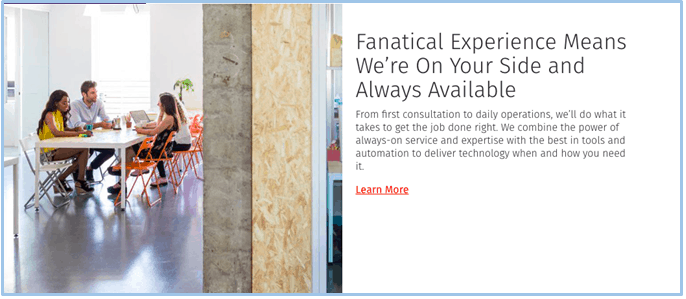 PRICING
Rackspace doesn't make it particularly easy to understand its pricing. It claims the price is for a "combination of infrastructure and service level." On the pricing page, you can view the prices for the raw infrastructure and managed infrastructure per hour or per month, plus you can use an online calculator to estimate your monthly cost, which does help a little.
There's a minimum monthly spend, which is significantly higher than a standard shared hosting provider (since this is a managed service, you'd expect it to be higher anyway), and all kinds of add-ons, e.g., custom image storing and additional IP addresses. There are also discounts available for long-term commitments, prepayment, or high-volume users.
Essentially, this is a premium host with premium prices. Don't waste your time if you're looking for a budget brand—that's just not what Rackspace offers. If you do sign up, you can pay by credit card only, and there is no free trial.
Cancellations & Refunds
If you managed to create an account with Rackspace, canceling your account can be done via the dashboard. There isn't a money-back guarantee, since you only pay for the resources you've used, and you won't be eligible for any kind of refund. It's pretty common for cloud hosts.
Within one to two days, your account should be canceled and you should be sent a final invoice, according to Rackspace's knowledge base.
BOTTOM LINE
Since I wasn't able to create an account, I can only offer an opinion based on the information on the Rackspace website and its customer service. If you're a large business looking for fully managed hosting, with a choice of platforms, Rackspace might be a good choice. You'll pay a premium, but if you want all the day-to-day technical tasks handled for you, it claims to have you covered. Just be wary—customer service can be slow and abrupt, and you may or may not be approved for an account.