Pressable is an American hosting agency that specializes in providing WordPress-based hosting services to web developers and businesses of all sizes.
After comprehensive testing and usage of the Pressable hosting platform, I was very impressed with the services offered. If you are running a WordPress site and don't want to worry about anything other than the design and adding content, this is a wonderful company to consider. While it is pricey, you do get exceptional services for the money.
Overview:
Headquartered in the United States, Pressable is a WordPress hosting specialist that was founded in 2010. Their fast and highly secure managed WordPress plans offer their users the best possible chances at establishing a reputable online presence. Their solutions are incredibly scalable, appealing to a wide range of clientele from startups to Fortune 1000 companies.
Also Read: Name.com Review
Pressable Features and Ease of Use
With Pressable, you have all the tools you need to build a website perfectly suited for you or your company. Not only do you get multiple staging and cloning environments to test out your websites before they go live, but their Jetpack Security Daily service provides you with professional themes, SEO (search engine optimization) tools, and premium security tools all in one place. You can also grant your freelancers access to individual websites using Pressable's Collaborator Access.
It seems Pressable has taken every opportunity to pack their plans with as many features as they can dream of. These include:
Managed website migrations
Web application firewall (WAF)
Server-side optimizations
Automatic daily backups
Access to a content delivery network (CDN)
Free SSL certificates from Let's Encrypt
They even have dedicated WooCommerce plans, so you can easily set up an online store with their platform. With all of these features, it's no wonder that Pressable is such a popular choice for beginners and experts alike.
If you're just starting out with Pressable and simply want a basic WordPress website, their Personal plan is your best bet. This plan gives you:
A single website with a testing environment
Up to 30,000 monthly visits
20GB SSD storage
Around-the-clock support from experts
If you're a web developer, or you run an agency, you can peruse their range of plans specifically tailored to multiple sites. These plans all give you the same great features, with more hosted websites and more montly visits per account, depending on the tier you purchase.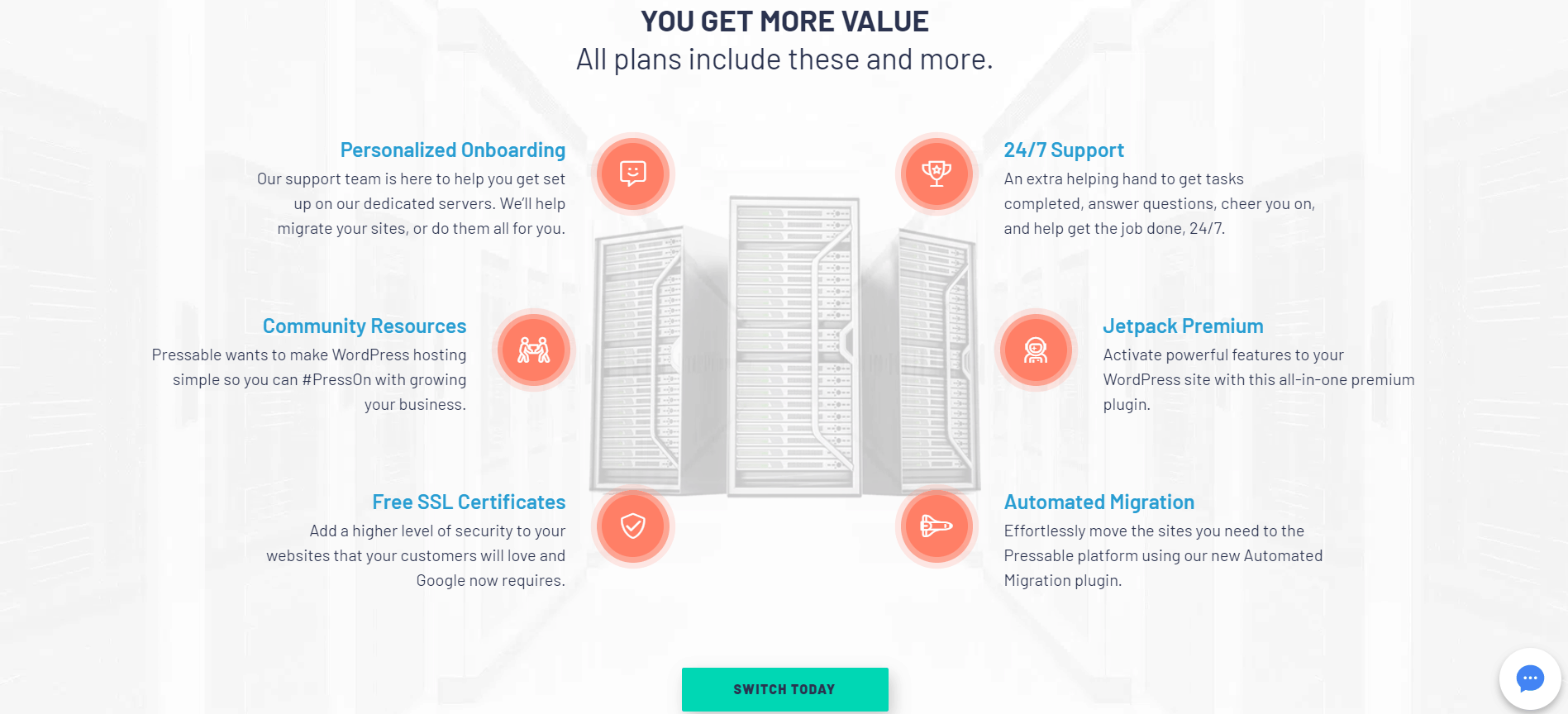 Larger enterprises can also contact Pressable to craft a custom hosting plan with specific business needs in mind. These are incredibly adaptable, highly available, and ultra secure: the cloud-based infrastructure instantly scales up your resources to handle traffic surges, and the number of built-in redundancies and security measures ensure that your website will never go down.
Pressable Pricing and Support
With Pressable you can choose between a yearly or monthly billing cycle. Customers who select an annual contract only pay for ten months of service, which saves them up to 17% of the annual cost of hosting. Truth be told, you may very well need this discount – Pressable's value-added features, expert support, and extremely high reliability also mean that their packages come at a premium.
That said, Pressable's managed WordPress hosting plans include a 30-day money-back guarantee. If you're intrigued by this hosting provider but are unsure whether they're worth such a high price, try out their service and see if they're a good fit for you.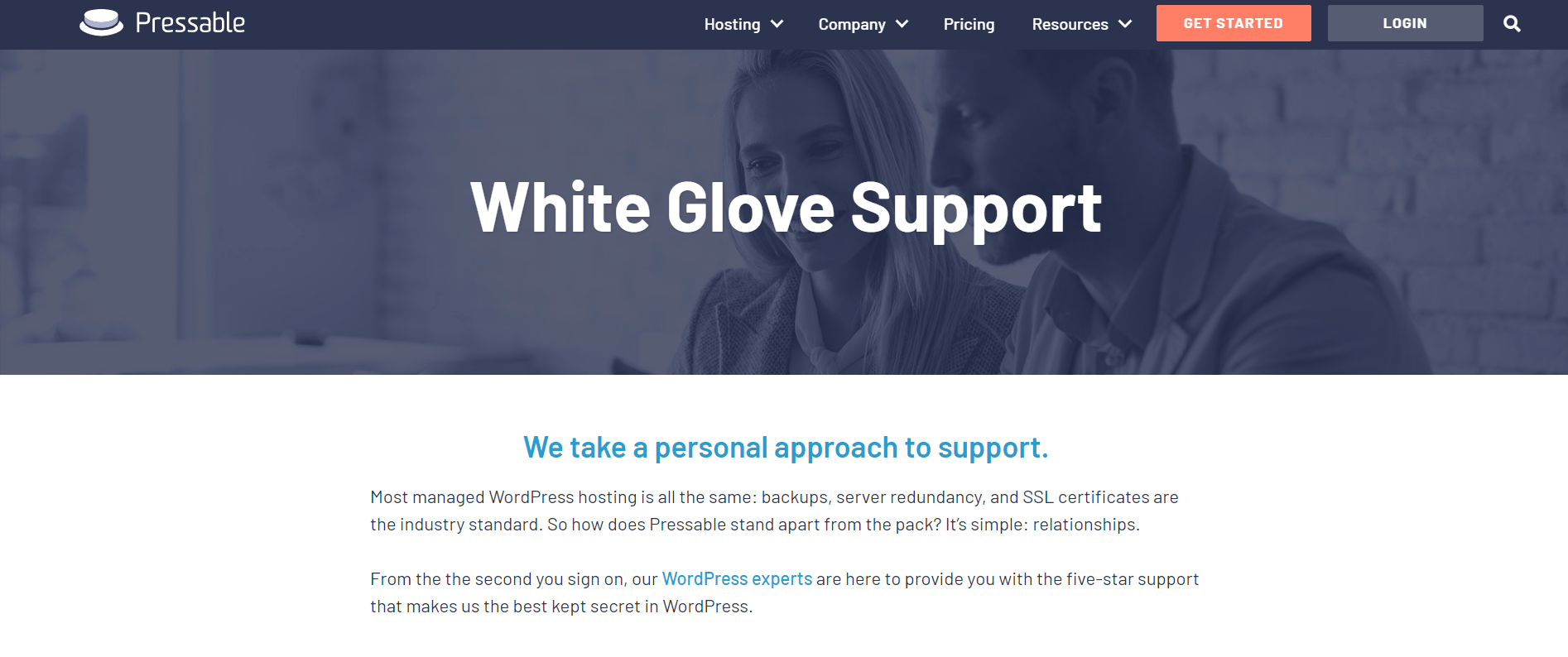 Pressable's support team members are highly professional WordPress experts able to resolve even the gnarliest technical issues. Online support is available 24/7. In my experience, they typically respond to tickets within ten minutes, although during peak hours their responses could be delayed. A substantial knowledge base is also available to answer the most common questions.
Pressable Pros and Cons
Pros of Pressable
Focused on WordPress: This company is completely focused on WordPress hosting, and it knows exactly what it is doing. If you are running a WordPress site, having the experts at Pressable on your side can be very helpful.
Fully managed hosting: When you choose Pressable, you only have to worry about creating and managing the content on your site. The Pressable team will handle everything from installing WordPress to ensuring the plug-ins are working properly.
Automatic daily backups: You can be confident that your data is safe thanks to the automatic daily backups included with all Pressable hosting packages.
Free SSL and Content Delivery Network (CDN): Pressable provides all its customers with a free SSL certificate and the use of a CDN to ensure sites are fast and secure.
Cons of Pressable
Exclusive to WordPress: Offering only WordPress hosting is great for those using that platform, but it is a problem if you want to make a website that does not operate on WordPress.
Email support costs extra: Email is a basic function of web hosting nowadays, but Pressable will charge you extra each month to run your domain-specific email hosting.
Limited hosting options: Pressable offers cloud-based WordPress hosting, but does not let you choose what cloud environment you want to run on. This isn't a big deal for most people, but it is important to be aware of.
No domain name registration: You can't buy a domain name through Pressable, which is inconvenient.
Pressable: A Quick Overview
Bottom line: Pressable is a great hosting company focused exclusively on WordPress environments. If you will be using WordPress and don't want to worry about managing the back end of your site, Pressable is an excellent option for your hosting.