OVHcloud's hosting plans look great, but when I put it to the test I found some issues that were hard to overlook. The loading speeds were very good, but the uptime rate wasn't the best. Before you make any final decisions, you should check out Hostinger's cheap plans.
OVERVIEW
Cheap Hosting With All The Essentials – But It's Not For Beginners!
OVHcloud is a little different from other Irish hosting providers that I've been testing. It's actually part of an international company with around 30 data centres in various countries, including Ireland, Canada, France, the United States, the United Kingdom, Germany, Poland, Singapore, and Australia.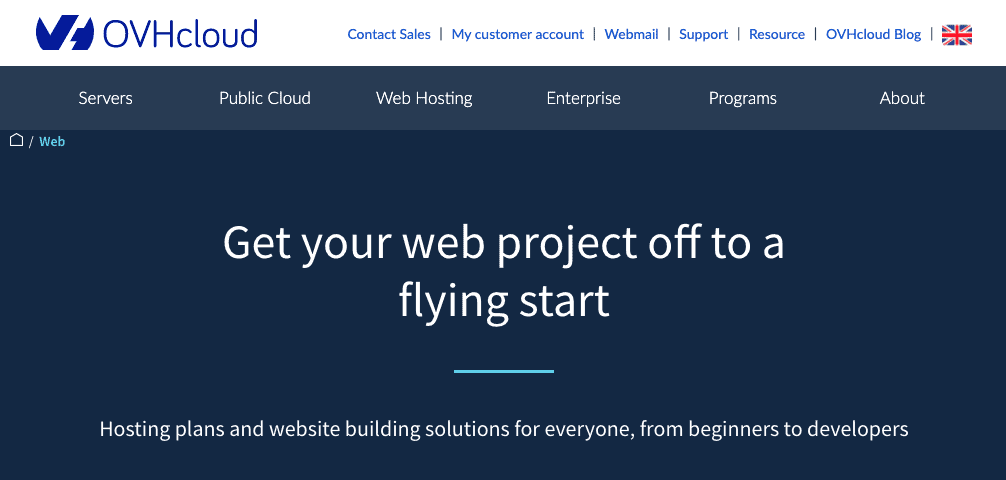 Also Read: Hostwinds Review [Updated 2023]: Why "Not Bad" Isn't Good Enough
It has over 1.5 million customers worldwide, but it's the only global host that actually has servers in Ireland. If your website visitors are located in Ireland, you want your servers to be there, too, for faster loading times.
There are aspects of OVHcloud's services that I really like, but my months of testing also revealed some troubling issues with uptime. I also found the bespoke OVHcloud Cloud Management Panel to be incredibly frustrating to use. It's a mixed bag with OVHcloud, and there are definitely things you should know before you purchase a plan. OVHcloud isn't a match for a brand like Hostinger, which offers a better price and excellent performance.
For this review, I signed up for the Personal Plan and spent several months testing every aspect of OVHcloud's web hosting. I ran in-depth tests on its performance for over three months, tried out its features and functionality, used the bespoke control panel regularly, and contacted support with various queries. I did all this to bring you a comprehensive, hands-on review of OVHcloud to help you decide if it's right for you.
FEATURES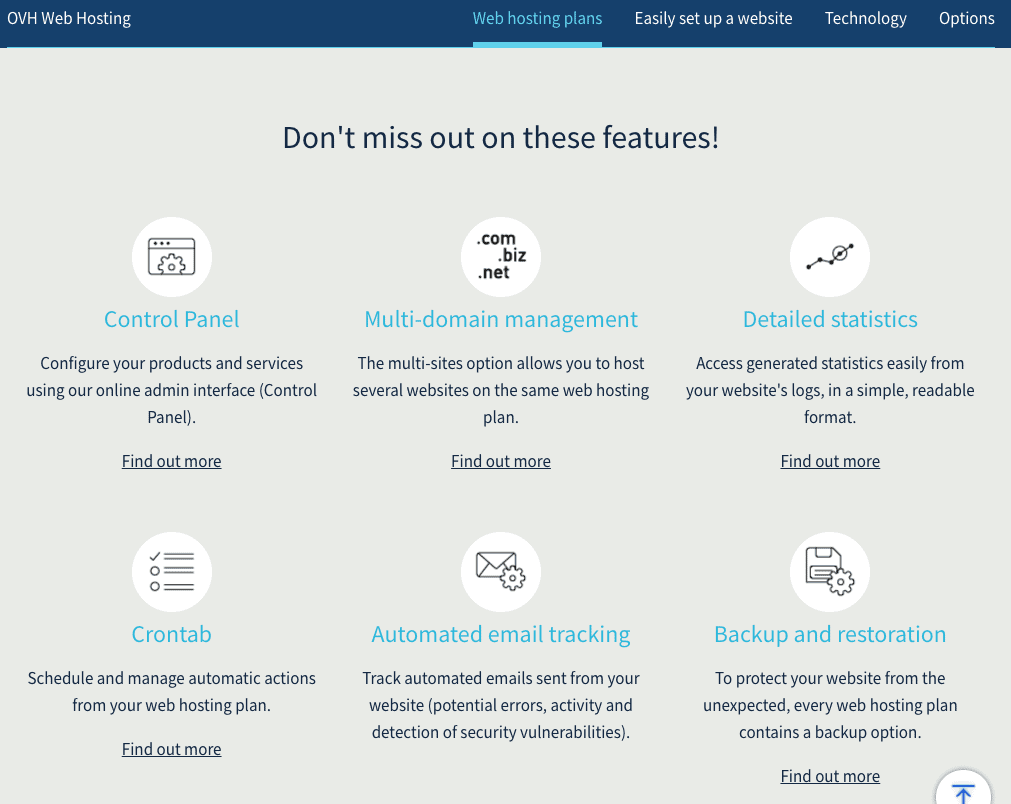 Everything You Need to Host Your Website(s)
When I'm testing web hosting providers, I use a mental checklist of the features a host must have to get my recommendation. The good news is, OVHcloud offers all of them.
Although there are disk space restrictions on all plans, OVHcloud is far more generous with its storage than its Irish competitors, with storage allowances starting at 100GB on the lowest-priced Personal Plan. My only issue with this is that it's not the faster SSD storage that most hosts offer, but rather the older, slower HDD storage.
You can host multiple websites on a single hosting plan: 5 on the Personal Plan, 10 on the Professional Plan, and as many as you wish on the Performance plan. OVHcloud supports up-to-date versions of PHP. This means you benefit from the added performance, security, and stability that recent PHP versions offer and you can manage the PHP version for your website, too.
OVHcloud's servers are specifically optimized to host websites built upon content management systems (CMSs) such as WordPress, Joomla, Drupal, and Prestashop. In fact, these are the only applications you can install with OVHcloud as it doesn't use any of the usual 1-click installers. The more expensive hosting plans offer optimization for all of the CMSs listed here, while the Personal plan is only optimized for WordPress and the Professional plan for WordPress or Joomla (though you can install the other CMSs if you choose). I don't see this as a problem – WordPress is by far the most popular CMS anyway.
All OVHcloud plans require an annual subscription, but you do get a free domain name for the first year (which a surprising number of Irish hosts don't offer).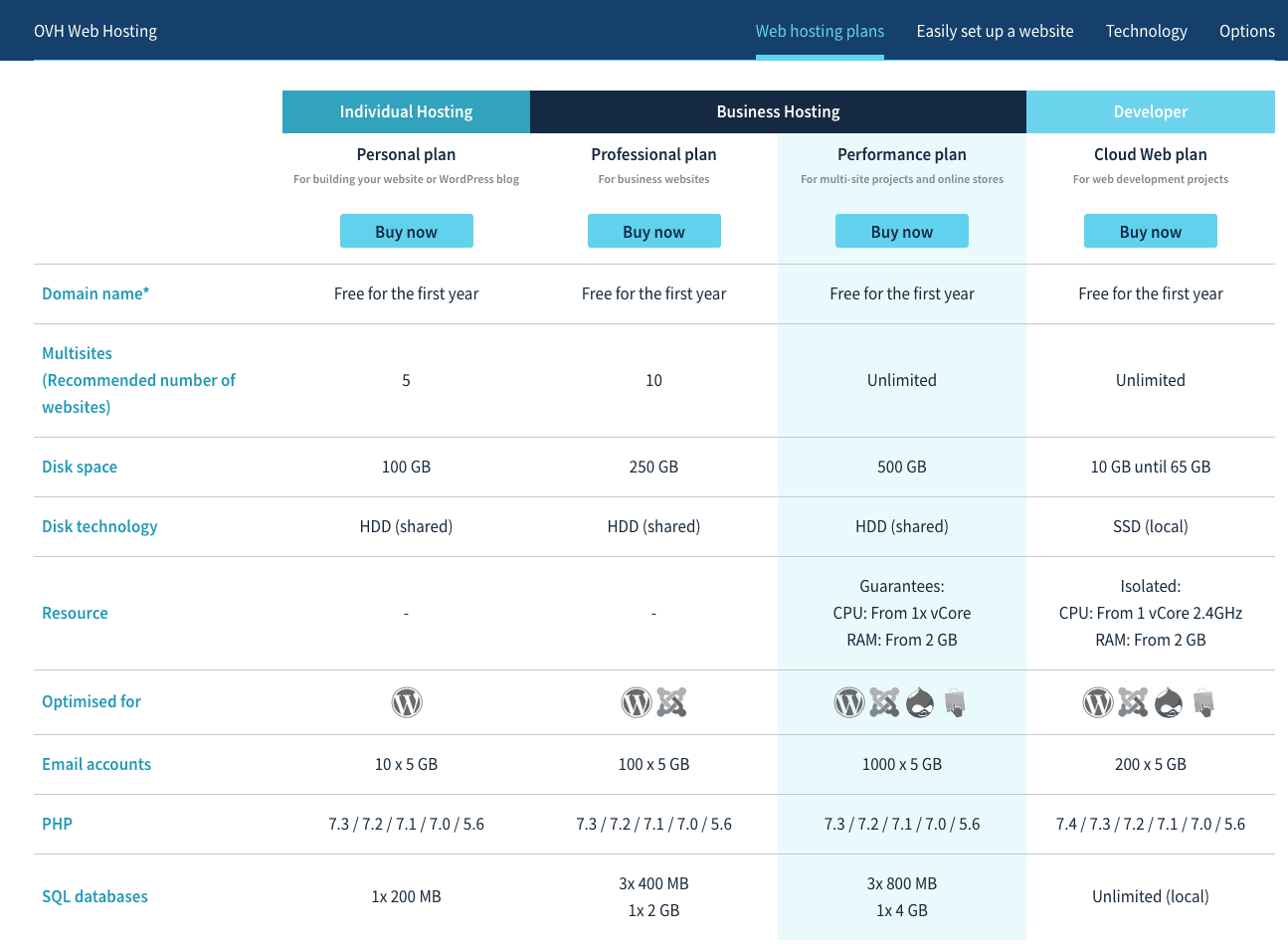 Free SSL Certificate
I was happy to see that OVHcloud offers the free Let's Encrypt SSL certificates with all its plans, so you won't find yourself having to purchase an SSL at checkout. A surprising number of hosts don't offer free SSLs these days, though having one is pretty much essential. The free SSL certificate is automatically selected when you go through OVHcloud's checkout process.
Unlimited Bandwidth
A lot of Irish hosts put strict limits on bandwidth, even on their higher-priced plans. With OVHcloud you benefit from unlimited bandwidth (subject to fair use policies, of course). You won't face the issue of being charged for extra bandwidth if your website suddenly gets more traffic than you expected.
WordPress Pre-Installed
The option to select your CMS is offered during checkout, allowing you to get started quickly. Ordinarily, I'd suggest this feature to beginners, but there are plenty of reasons (see below) why I'm not recommending OVHcloud if you're very new to website building.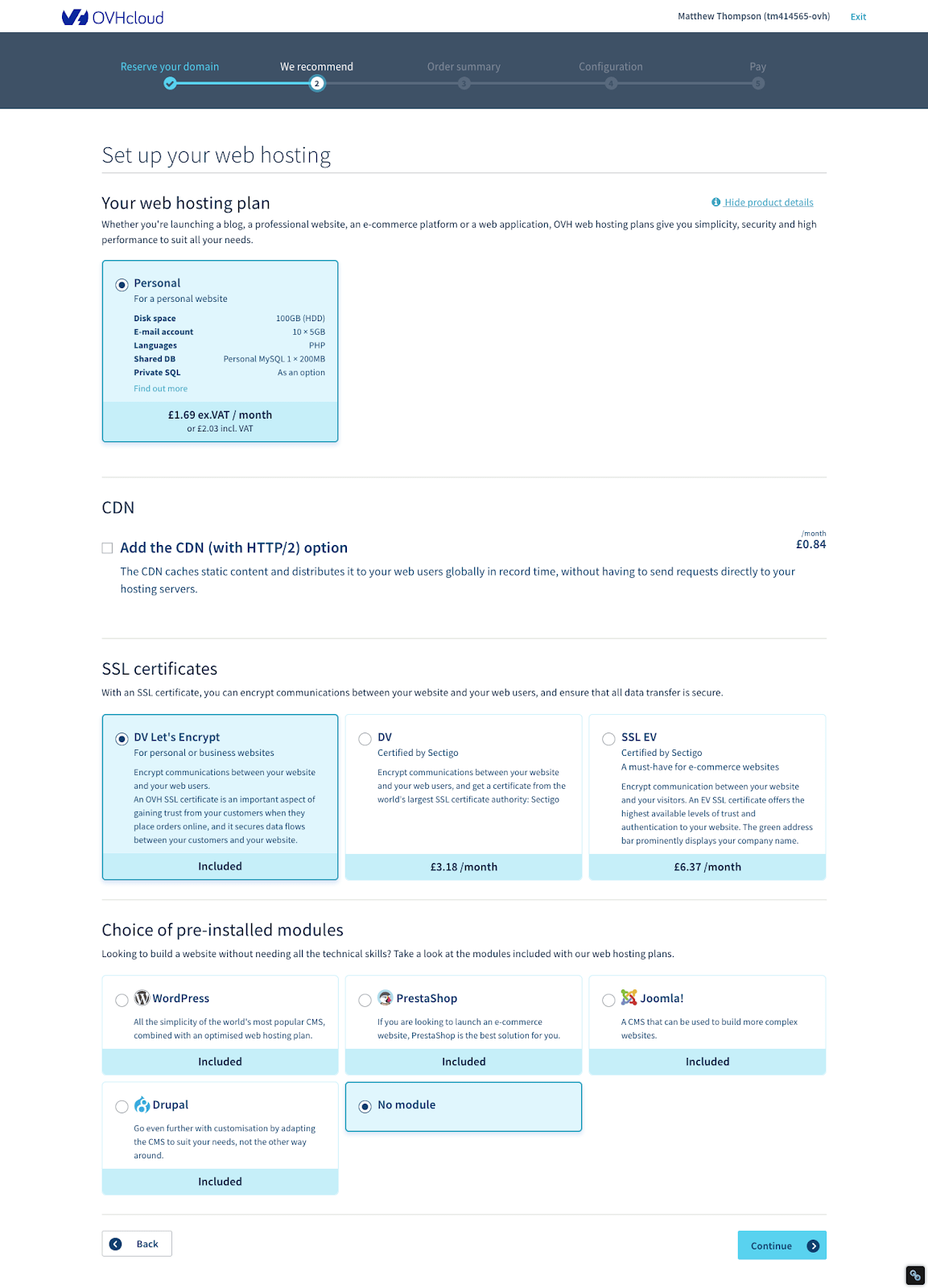 Daily Backups and Easy Restore
Many hosts (even the international giants) charge extra for backups. OVHcloud generates nightly backups of your website that are stored off-site for up to 30 days. Restoring a backup is a simple process, clicking through a few screens to confirm the restoration.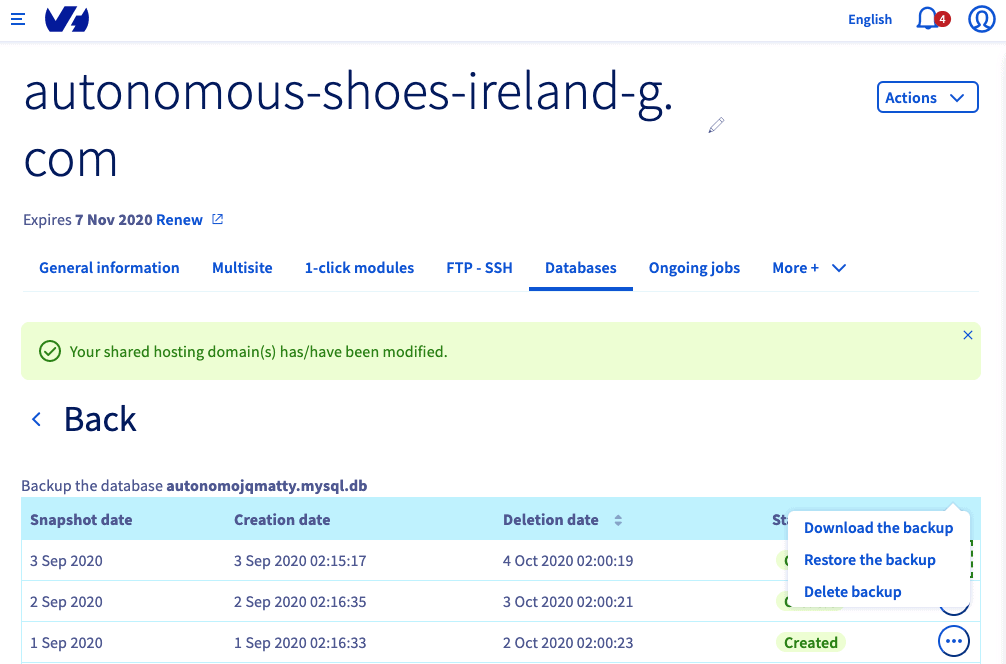 EASE OF USE
Complicated from the Very Beginning
OVHcloud may offer several great features, but when it comes to ease of use, the news is not so good.
Purchasing my hosting plan felt needlessly complicated, as it required me to click through multiple screens of options before waiting for the checkout page and order summary to appear. Then, some of the items on the order summary page could be confusing if you're new to buying web hosting.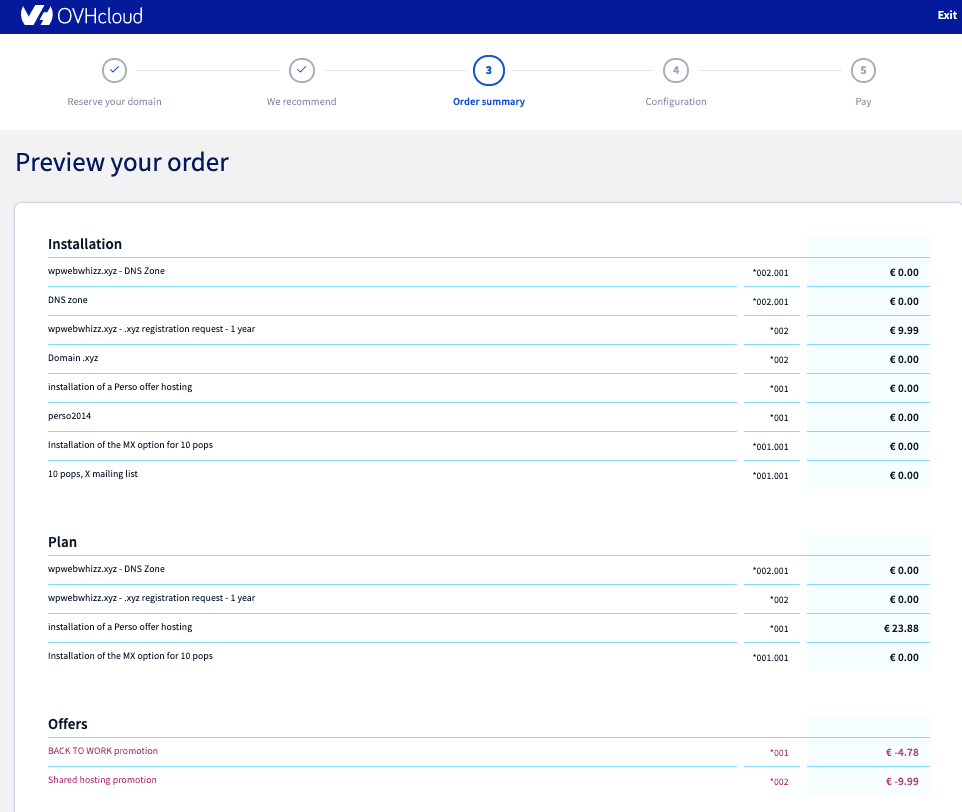 OVHcloud says that if you sign up in Ireland, you'll be allocated space on an Irish server – but after I purchased my plan, I noticed my web space was located at one of the French data centres. I had to contact support to have it moved.
Managing Your Account and Webspace
You'll have to use OVHcloud's bespoke Cloud Management Panel to manage your account and webspace. I've got to admit that I'm not a fan. It took a lot of getting used to, especially on a smaller screen.
On smaller screens (or in my case, on a split screen), the hamburger menu in the top left doesn't expand instantly to the right – instead, it expands by reloading the page. Then, when you click on any menu item from the dashboard (e.g. Web), the page loads with the message "Welcome to the OVHcloud Control Panel" – but appears otherwise blank until you open the menu yet again to reveal a dropdown menu where you can (eventually) find the management section for your hosting account.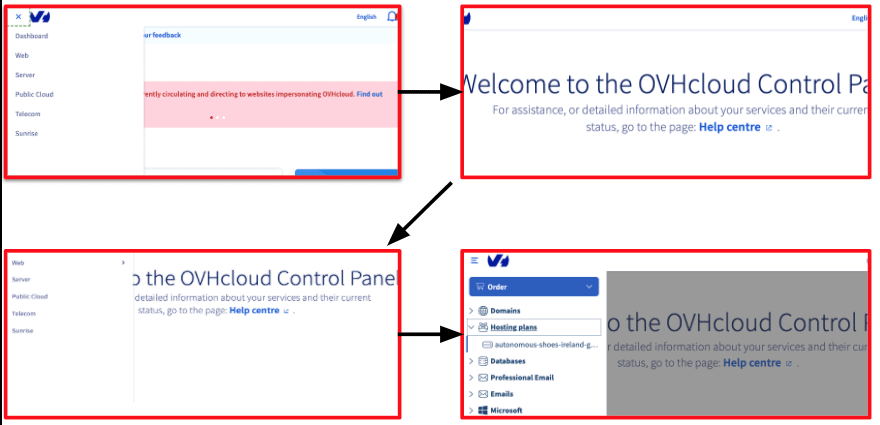 The full-size version is only slightly better. The loading screen that appears when you click between different tabs (e.g. moving from Dashboard to Web) is frustrating. I've used many control panels and account dashboards, and this is the worst of the lot.

Connecting a Domain and Installing WordPress
Your domain name will be automatically connected to your hosting space when you sign up, and WordPress can be pre-installed for you. You can add more WordPress websites to your hosting space from your hosting management panel.
OVHcloud doesn't use any of the popular 1-click installers like Softaculous or Installatron, but its own installer is relatively easy to use (once you find your way to the hosting management section, anyway). Installation of WordPress, PrestaShop, Joomla, or Drupal takes only a few minutes.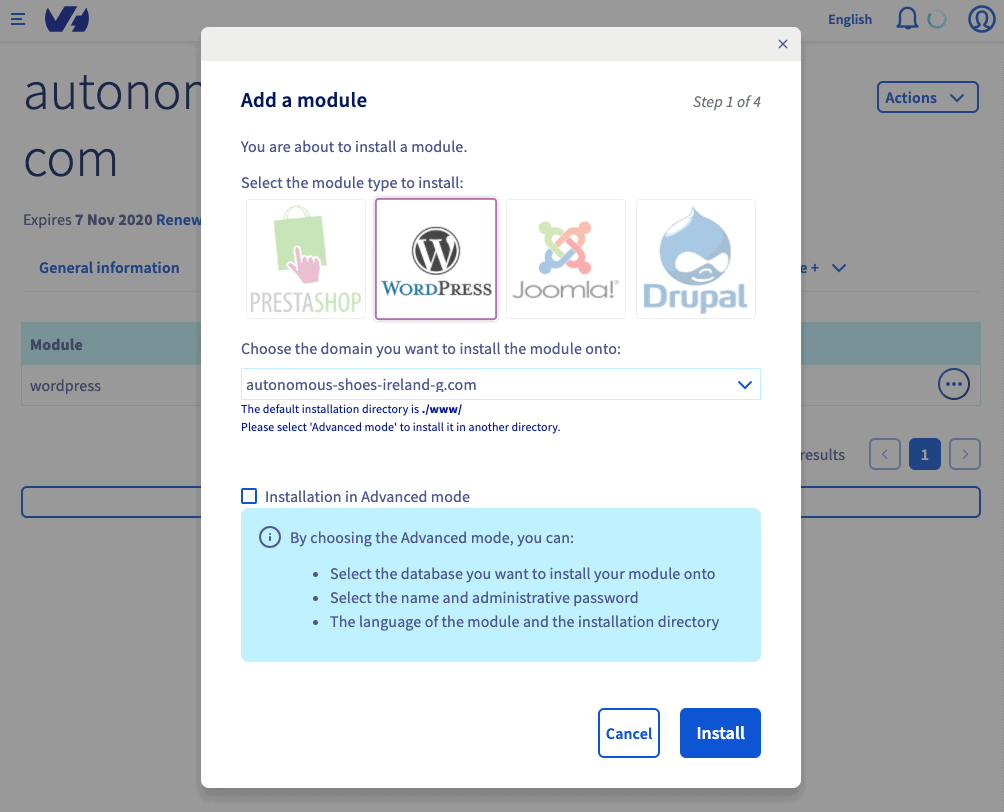 PERFORMANCE
Great Page Loading Speeds, But Uptime is a Problem
As far as I'm concerned, it doesn't matter how great your website looks, how cheap your hosting is, or what exciting features your web host includes in your plan if your website loads slowly. That's why I focus heavily on performance when I'm evaluating web hosts.
In page loading speed tests, OVHcloud performed incredibly well with an average page loading speed of 0.9 seconds. Considering Google recommends a maximum of three seconds, this is a very good result. Unfortunately, that's where the good news ends.
During my uptime tests, I found that OVHcloud's reliability was poor, failing to meet the minimum acceptable score of 99.9%. In fact, during one three month period, uptime was only 99.37%. Uptime has improved since then, to 99.96% – but you should be wary of any host with a history of uptime issues.
I'm going to delve deeper into performance metrics and other geeky stuff, so if you're short on time, you can skip ahead to see why I wasn't impressed with OVHcloud's support either.
Testing MethodsI want to give you the most accurate results in my performance tests, so unlike some review sites, I don't run tests on a virtually blank WordPress installation. You're not going to have a blank website, so why would you be interested in how a blank website performs? Instead, I upload a customized SimpleShift one-page theme after I'm done installing WordPress.
For these tests, I signed up for the Personal plan and used the default settings on my account. The theme I use replicates an average landing page, with text and non-optimized HD images (as you can see in the screenshot below).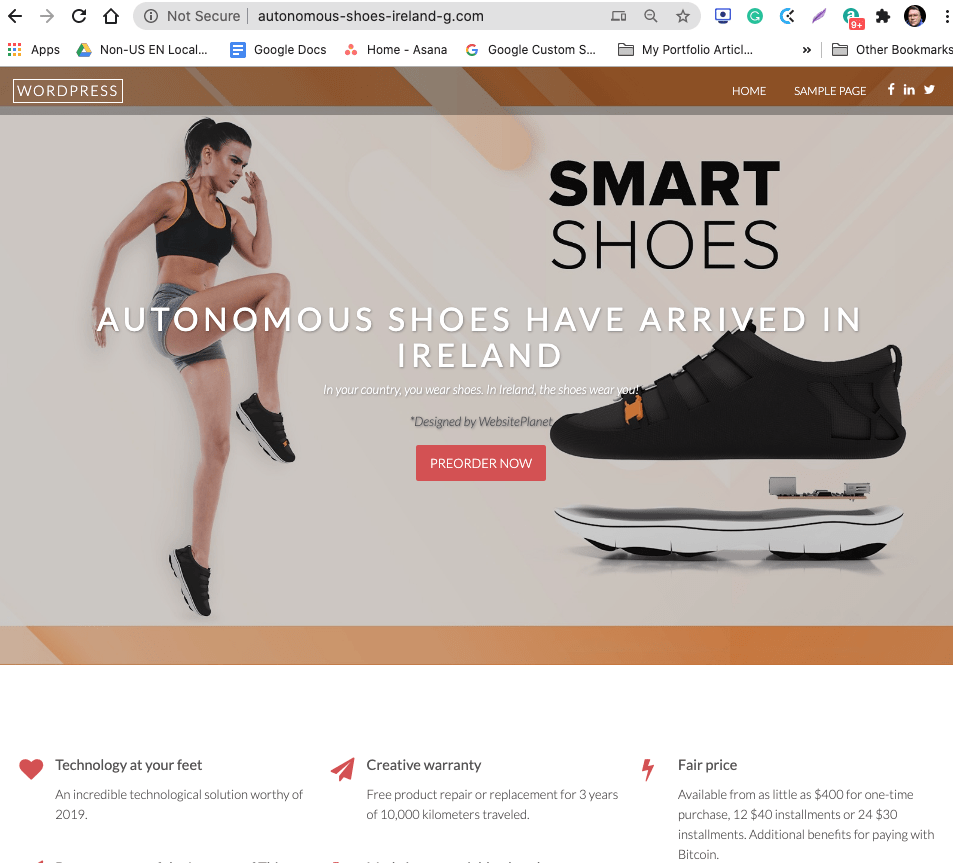 Why non-optimized images? Won't they affect the performance of the website? Well, yes, but I used them to give OVHcloud the opportunity to help me optimize my website when I ask for help. If you want the full details of how we test web hosts at Website Planet, you can check out this article.
The website was available at autonomous-shoes-ireland-g.com.
GTmetrix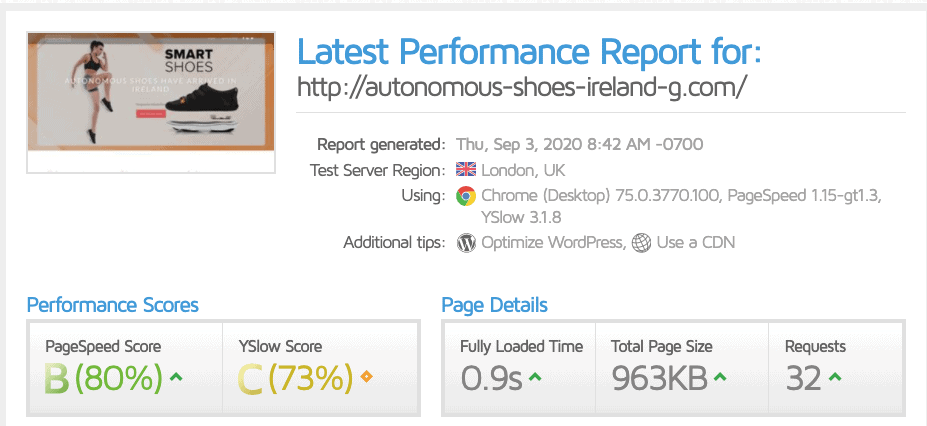 GTmetrix is my favourite tool for testing websites because it gives you so much detailed information. There's also optimization info indicated by PageSpeed and YSlow. Of the two, the PageSpeed score is more valuable as it's based on what Google uses to evaluate your website.
I always run multiple tests at various times of the day to see how peak periods affect loading speeds. In this case, page loading speeds ranged between 0.6 seconds and 1.2 seconds, for an average of 0.9 seconds. Only one other Irish host could beat that level of performance.
OVHcloud also earned very good PageSpeed scores, which indicates that its server-side optimizations genuinely do improve the performance of your website. Surprisingly, this is not always the case – web hosts may claim to have optimized servers but their performance often tells a different story.
The PageSpeed score of 80% is very good, considering that an average website will achieve a score of around 75%. Also, this is without optimizing any images, as OVHcloud didn't advise me to do so when I asked them about it (see the Support section for details).
Sucuri Load Time Tester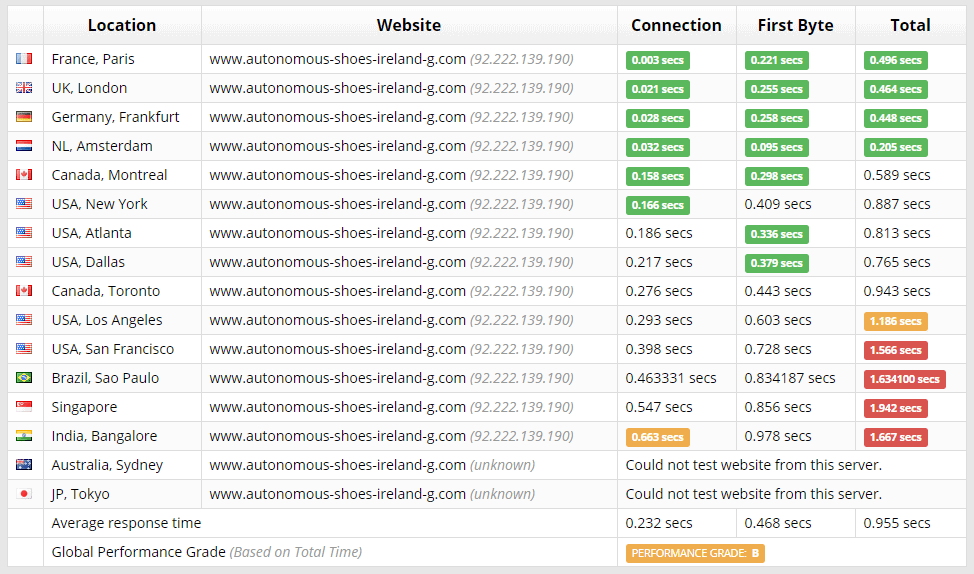 I always run the test website through the Sucuri Load Time Tester as well, because Sucuri can tell you how your website will perform when your visitors are located around the world. Those swathes of green in the screenshot above indicate that OVHcloud performed well in Western Europe and the eastern parts of Canada and the United States.
UptimeRobotPerformance isn't just about speed, of course. It doesn't matter how quickly your web pages load if your website suffers from frequent or lengthy periods of downtime. I use UptimeRobot to monitor my test websites continuously, and I was initially very disappointed with OVHcloud's uptime scores. During the first three months of the plan, OVHcloud managed only 99.37% of uptime, with some downtime periods lasting over two and a half hours!
At minimum, I expect web hosts to achieve 99.9% uptime, which is a benchmark score popularised by some international hosts' famous guarantees. Even 99.9% uptime allows for 43 minutes of downtime over a month, but OVHcloud's score equates to 272 minutes per month (roughly 4.5 hours!).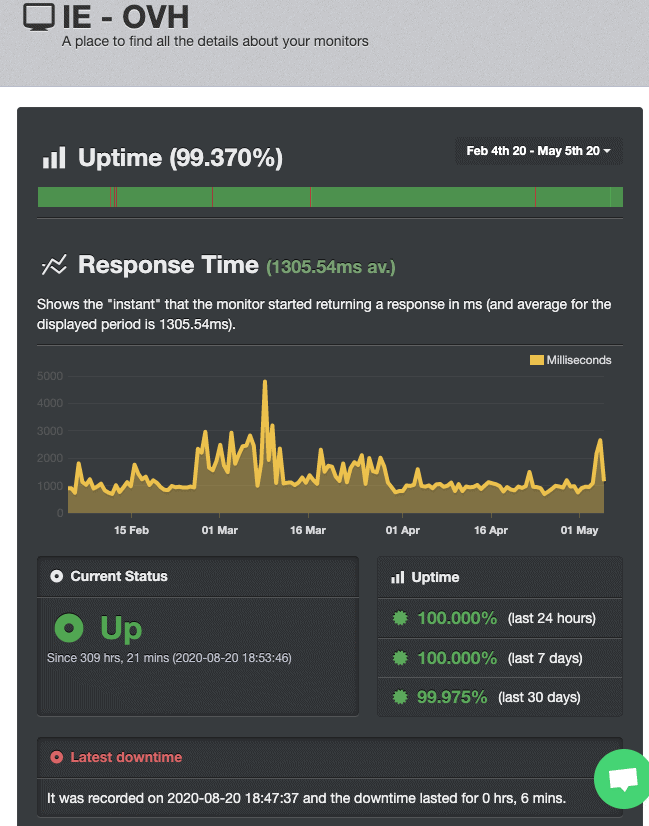 However – because my OVHcloud plan was for a year, I've been able to continue testing OVHcloud's reliability, and I have been pleased to find that there's been a distinct improvement in performance.
As you can see in the screenshot below, OVHcloud scored a much better 99.962% over a later three-month period. This puts it back into the acceptable uptime range – though 99.962% still allows for 15 minutes of downtime over the course of a month. The best hosts have less than a minute of downtime over a similar period.
SUPPORT
Substandard Support Doesn't Impress
I engage each host's customer support department to evaluate the kind of help you might get if something goes wrong with your website. I've already talked about the Cloud Management Panel not being beginner-friendly, and I'm afraid the same is true of OVHcloud's support. Judging by the responses to my questions, OVHcloud appears reluctant to help beginners.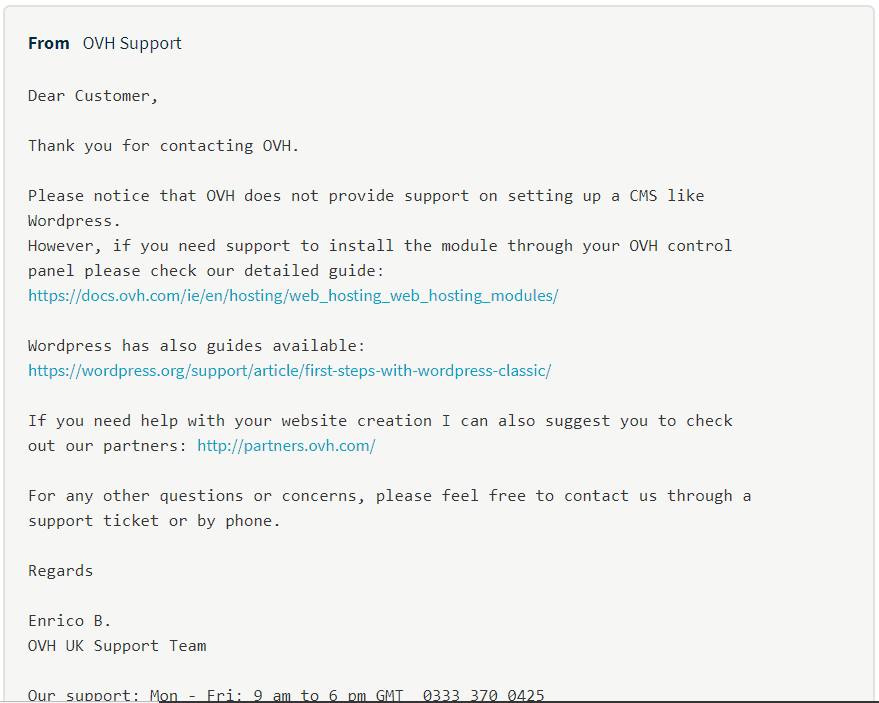 Support is available via telephone and email/ticket. OVHcloud says it's planning to launch a live chat support service "soon" (but they've been saying that for a long time). Support is available on weekdays only, 9 am to 6 pm GMT.
OVHcloud offers four levels of support: Standard, Premium, Business, and Enterprise. Standard support is included free with all plans, but is described as "self-service," so my encounters with the support team aren't all that surprising (albeit disappointing). If you want a higher level, you'll have to pay extra for it.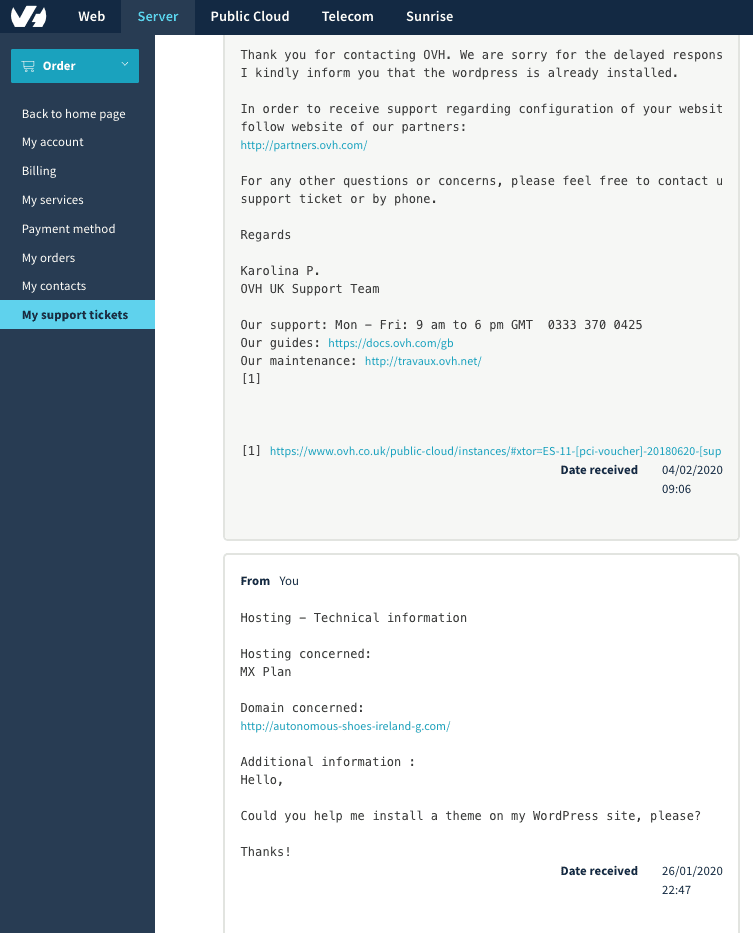 My final encounter with OVHcloud support was by far the worst. As you can see in the screenshot above, I asked for help installing a WordPress theme and it took EIGHT DAYS to get a response that didn't even address my request.
The only good thing about OVHcloud's support is that it does have a pretty detailed and useful help centre with step-by-step guides (some with videos) for setting up and using your web hosting service, and tackling common problems.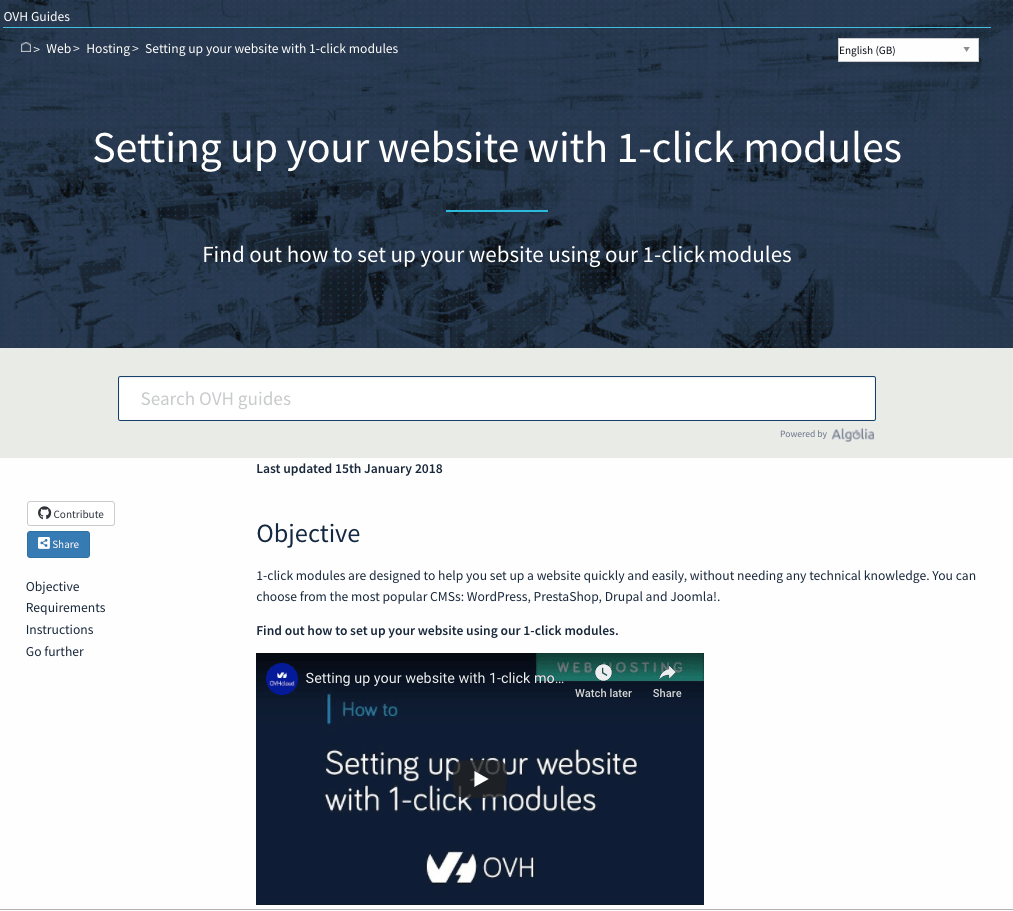 PRICING
Is OVHcloud's Pricing Too Good to Be True?
OVHcloud has the lowest-priced plans of all the Irish hosts I've tested – with prices that low I had to wonder if there was a catch. I discovered that there are compromises you have to accept when a month of hosting costs less than a sandwich – with OVHcloud, this is undoubtedly the low level of support. If you want premium support, this will cost you (a lot). For context, a month of Premium support costs more than two years of hosting on the Personal Plan.
With OVHcloud, all plans are for a minimum of a year. You can pay via PayPal or any major credit card. It's worth noting that all plans are set to renew automatically by default, so if you don't want to be charged again you'll need to turn off automatic renewal at least 14 days before the end of your plan. Renewals are non-refundable even if you forget to switch off auto-renewal, so you may want to enable manual renewal early on.
Cancelling Your Account
If you don't renew your hosting plan, the service will be terminated at the end of your plan's term and your website will be deleted. You can cancel your account at any time, but you won't get the remaining credit refunded if you cancel before the 12 months are up.
If you don't want to keep your website up until the end of your hosting plan, you can choose to delete it immediately. Because this action is permanent, OVHcloud sends you an email with a link to click to confirm that you want to end your plan.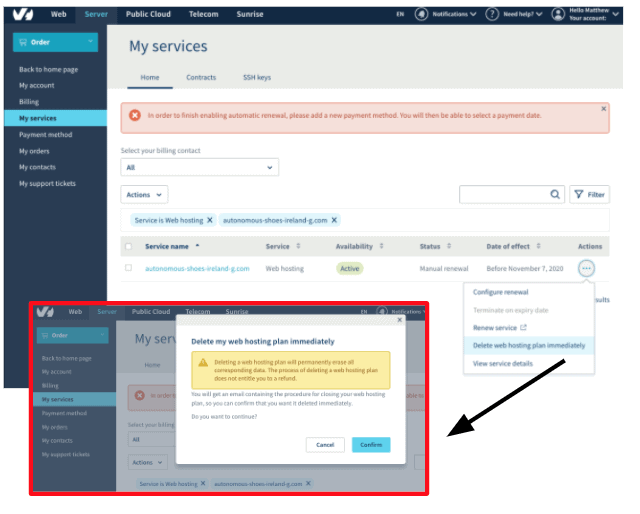 OVHCLOUD REVIEW: BOTTOM LINE
When something sounds too good to be true, it usually is. Fast, reliable hosting at incredibly low prices is something that some hosts (like Hostinger) are able to achieve, but although OVHcloud's servers are certainly fast, its uptime is less reliable. Undoubtedly, OVHcloud is an attractive choice if you need Irish-based hosting and I was impressed with most of what it offers, and its rock-bottom prices. However, the quality of basic support was very low and the cost of premium-level support is too high.
If you're experienced with web hosting and don't mind the lack of support, OVHcloud may be right for you. Its reliability has been improving, but its uptime history is still something you should bear in mind.
If you're a beginner to web hosting, however, I'd definitely look elsewhere. Hostinger offers equally low prices, has relatively nearby servers in London, and is much more beginner-friendly.