Netfirms was founded in the year 1998, which means they have a longstanding track record of providing excellent hosting solutions. Currently, they serve over 1.2 million customers from all over the world. Their offices, support teams, and Tier 1 data centers are primarily located in the United States.
A few short years ago, Netfirms web hosting was largely considered to be one of the biggest and best games in town. They offered affordable and high quality web hosting solutions that kept many of the biggest websites in the world up and running.
However, for whatever reason, it seems that the once mighty web hosting behemoth has scaled back their efforts, (maybe their CEO got bored and moved to Tahiti… who knows) and, as a result the quality of their services.
If this review were being written back in 2010, you'd have read about how reliable, versatile, affordable, and high quality Netfirms is.

Also Read: Network Solutions Reviews
But this is 2018, and I'm sad to report that Netfirms is almost unrecognizable from the company it once was.
What is Netfirm Hosting?
Positioning themselves as the go-to "Small Business Web Host" Netfirms has been around for a long long time.
Founded in 1998 with Thomas Savundra (who has since gone on to co-found Sync.com) for more than a decade and a half, Netfirms actually was the go to web host for small businesses.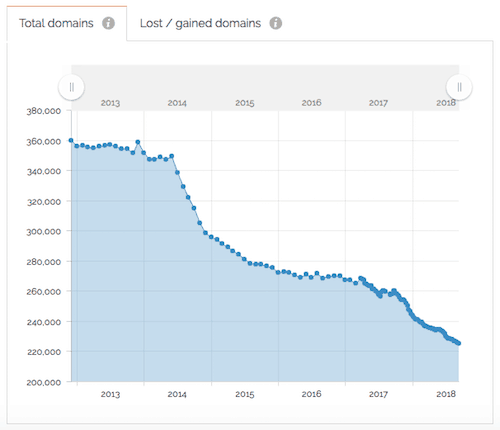 However, after their acquisition by Endurance International Group in 2011, things have taken a turn for the worse.
That being said, the company is still responsible for hosting more than 1.2 million websites and is a member of one of the largest hosting corporations in the world.
… Which makes it all the more disappointing that the quality of their service dropped off so inexplicably.
But enough with the history lessons. With their brief origin story out of the way, let's dive into how Netfirms performs today and what you can expect from this iconic hosting company.
Pros of Netfirm Hosting
Although there are a lot of problems with Netfirms' hosting services and the general customer experience, to their credit, they perform pretty well on a handful of important metrics.
Here are just a few of the positive aspects that I encountered while reviewing Netfirms' services.
1. Good Uptimes and Decent Reliability
Netfirms' biggest selling point is their reliable uptime. It's nothing exceptional (like SiteGround or A2 Hosting), but for the price you pay, it's still pretty solid.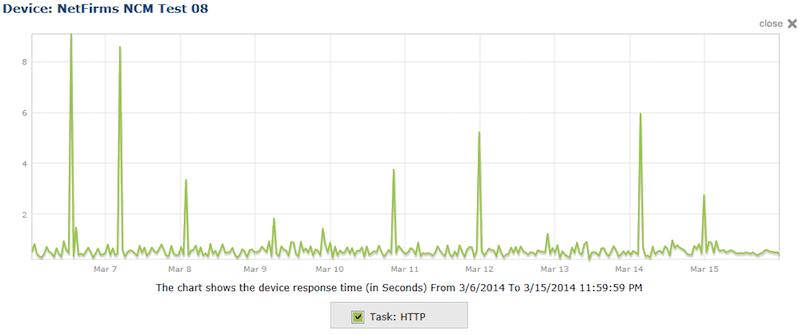 Unfortunately, they don't offer any sort of uptime guarantees (other than that you'll actually have uptime) they performed reasonably well over the course of our 12 months as paying customers.
2. Unlimited Email Accounts with All Packages
Many, shall I say, "less than ethical" hosting companies (cough Godaddy cough) will offer a single free email account for the first year of your hosting plan and then charge and exorbitant renewal fee in the ballpark of $60/year per account.
Luckily, that's not how Netfirms rolls.
Regardless of the package that you choose, Netfirms gives all of their customers access to an unlimited number of email accounts ensuring that you can add an extra layer of professionalism to your website and correspondence.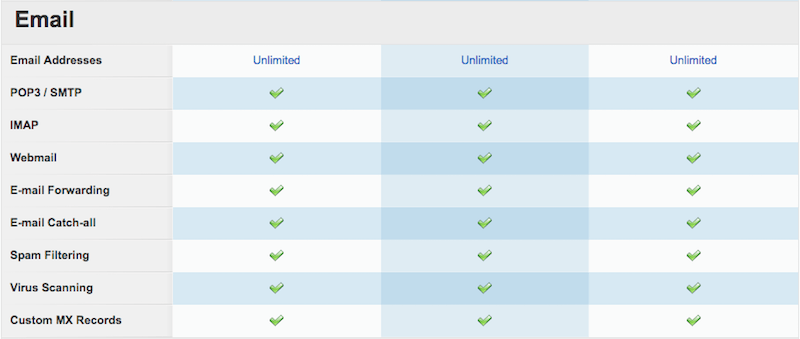 3. Decent Live Chat Support
While they don't offer any sort of mind blowing customer support like HostGator or SiteGround, Netfirms' gives their customers access to knowledgeable and responsive customer support through 24/7 email tickets and a toll free live chat.

After putting their support team through their paces, I'd give them a solid B+. Their live support staff is fairly responsive (although not instantly so) and they were able to handle all of the questions I threw at them… Even if it took them a couple of tries to get it right.
Much like the rest of their service, Netfirms' customer support is good for the price that you pay, but not quite up to par with some of the other industry giants.
Cons of Netfirm Hosting
---
Unfortunately, for every one thing that Netfirms gets right, they get another two wrong. From the structure of their hosting plans to the types of servers they use to their atrocious load times, here are just a few of the problems I encountered while using Netfirms.
1. Limited Hosting Plans Available
At first glance, Netfirms seems to offer, more or less, the same variety of hosting plans that other major providers do. But when you actually peel back the layers of the proverbial onion, you'll quickly realize that all is not as it first appears.

Despite the fact that they have three different hosting packages, Plus ($4.45/month), Advantage ($8.99/month), and Business ($12.99/month) the differences between these plans are nominal.
In all reality, the only real difference between their Plus and Business plans are a free SSL certificate, unlimited SQL databases, and unlimited FTP accounts. Personally, I'm not quite sure why anyone would choose to upgrade to a business account with such a paltry offer.
2. Terrible Load Times
One of the biggest problems with Netfirm is their subpar loading times.
In 2018, the speed of your website is everything.
More than 47% of customers will bounce from a website if it takes longer than 2-seconds to load. If your web host isn't able to deliver load times at or below 2000 ms, then I'd advise that you transfer to a new provider immediately.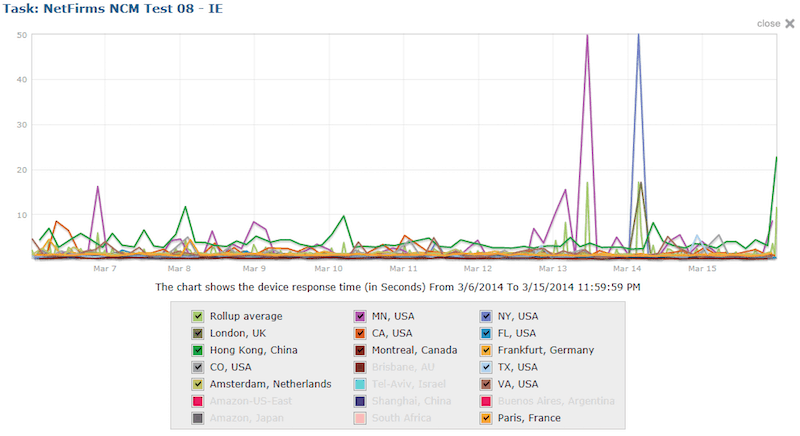 Unfortunately for Netfirm, their load times were nowhere near as fast as they should be.
Since they don't implement SSD hosting, their performance is far below what would be considered acceptable for a high quality web host and, this fact in and of itself, is enough for us to redact our endorsement.
But it gets worse…
3. Shared Hosting Only
If you are looking to host a small business website or expect to see a significant number of visitors soliciting content on your website, then shared hosting isn't really an option.
Sure, it works if you're in the startup phase of a new company or blogging for kicks and giggles. But once you scale past 10,000 visitors a month, it's in your best interest to upgrade to a VPS or dedicated hosting package.
If you don't, it's the equivalent of moving into an apartment with 4 other roommates only a few months before you plan to start a family… You're just setting yourself up for a world of hurt.
Unfortunately, Netfirms doesn't have a lot of variety in their hosting packages.
If you purchase hosting through Netfirms, you're buying shared hosting… Period.
They don't offer dedicated servers, VPS servers, or any sort of cloud based hosting solution. So if you plan on scaling your website and don't want to be plagued by incessant server crashes and bandwidth issues, I'd advise that you take your business elsewhere.
4. Fuzzy Guarantees and Refund Policies
One of the most annoying and downright unethical problems that I've noticed in the web hosting market is unfulfilled money back guarantees.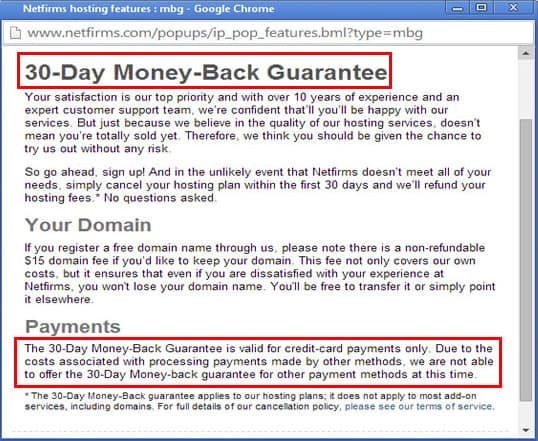 The proliferation of ambiguous terms of service and refund policies has led many an unwitting customer to make a substantial purchase, find themselves unsatisfied with the final product, and request a refund…
Only to find that one teeny little action (like utilizing a one-click WordPress installation) has rendered the money back guarantee nullified.
Unfortunately, Netfirm seems to be following in the footsteps of equally scuzzy companies like GoDaddy with their ambiguous and unethical billing practices.
From failing to cancel a hosting account (and failing to refund the customer's funds) and then renewing the service without notice the next year, to blatantly denying refunds to eligible customers.
I've seen a myriad of horror stories on the web regarding Netfirms' billing practices.
This is a huge red flag and should not be ignored by any potential customer.
If (for some inexplicable reason) you choose to trust Netfirm over their far superior competitors and you decide that you want your money back… Well, just don't expect to see the funds credited to your account anytime soon.
5. Terrible Customer Reviews (Since 2016)
Although my own experience with Netfirm could be described as "lackadaisical" at worst, the public at large does not seem to agree with my consensus.
The most common words and phrases that popped up as I perused through Netfirm customer reviews were, "Terrible", "Atrocious service", and "A complete failure as a web host".

I'm not entirely certain why other customers were so thoroughly agitated by Netfirm's services, however, since 2016, the public opinion of Netfirm has dropped substantially.
After several hours of checking out other web hosting forums and reddit threads, I noticed enough of these reviews (literally hundreds of them) that I felt it was worth mentioning.
6. Outdated Support Center
The final issue that I encountered while reviewing Netfirms was their support center.
Even though you have access to email, live chat, and over the phone support, there are plenty of times where you don't feel like going through the hassle of talking to a real person and simply want a quick answer to a hosting question.
Unfortunately, it seems that Netfirms hasn't updated their support center since they were acquired by Endurance International Group. The information that you are given is cryptic and outdated and best and completely nonexistent at worst.
This is a far cry from what you would expect to see from a company with more than 1.2 million customers.
Features and Ease of Use
Although there is nothing groundbreaking to expect from Netfirms' selection of services, they do cover the basics:
Shared SSL certificates (upgraded to Dedicated certificates in Business Plan)
Email management
MySQL databases
FTP access
Multi-domain hosting
Note that while they do offer domain registration services, it isn't free — you'll have to pay up an additional fee for it. From time to time, they do have promotional coupons which entitle you to a free one-year domain registration with the purchase of an annual shared hosting or VPS plan, but the notice of these promotions are usually tucked all the way at the bottom of the website, so you'll have to look out for them.
Their best features are the software they provide to help you create your website:
Shopsite: E-commerce customers get to use the excellent Shopsite platform to create and manage their online store.
WordPress 1-Click Install: Web hosting plans come with one-click installs of a range of software, including WordPress, Joomla, Drupal, and phpBB.
Ready-to-go Websites™: This tool is provided with their web hosting plans and allows you to choose from a set of templates to use as your website if you don't have time for another solution.
It's obvious that Netfirms tries to make their hosting products as simple and easy to use as possible by providing the necessary builder software. Shopsite, WordPress, Ready-to-go Websites™, and the rest will greatly increase the speed and convenience with which you can set up your website. The purchasing process is also very straightforward and quick.
Netfirms employs clustered hosting technology to distribute resources to their customer's solutions efficiently, which basically means that you'll get better performance, scalability, and security with your servers. Note, however, that they don't have an uptime guarantee.
Pricing and Support
Netfirms focuses their business on providing simple shared hosting for individuals or small businesses. For VPS hosting, they'll refer you to their partner, SPRY. They provide a few web hosting plans as well as a single e-commerce plan. All products come with a 30-day money back guarantee, 24/7 support, and the option of yearly, biennial, or triennial billing. So, unfortunately, there is no short-term billing. The plans are as follows:
Web Hosting: All plans provide unlimited disk storage, scalable bandwidth, $100 Bing Ads, $100 Google AdWords credit, unlimited email accounts, and their Ready-to-go Websites™ tool.

Advantage: five MySQL databases and 50 FTP accounts.
Plus: 200 MySQL databases and 100 FTP accounts.
Business: Unlimited MySQL databases and FTP accounts.

E-commerce Hosting: This solution comes with Shopsite pre-installed as well as unlimited disk space, support for unlimited domains, unlimited email accounts, and scalable data transfer.
While there is no trickery to their pricing and it's cheap considering the features and resources you get, you should be aware of their fair usage policy considering bandwidth as you'll be asked to upgrade or pay extra when you exceed a reasonable allotment.
Netfirms' 24/7 support is provided via ticket, toll-free numbers, or live chat for all their customers. On top of their free technical support, you can enlist their professional services to help with other aspects of hosting your website, such as database creation, WordPress, website creation, or website management. In my opinion, their support is not the fastest or the best, but still decent. However, their press releases and social media are not regularly updated.
NETFIRMS REVIEW: BOTTOM LINE
If you need a low-cost and non-resource-intensive shared hosting solution for your personal website or small online store, Netfirms has a decent selection of services with pre-installed software. You might not get the best support, but it's mostly made up for by the rest of their service.