MochaHost is a pretty good budget host, and while it does have its flaws, so do its competitors. On the whole, you can't complain about the service and the resources you get for the price you pay, and the company also offers a whopping 180-day money-back guarantee. Before you make any final decisions, you should check out Hostinger's cheap plans.
About MochaHost
Not Bad for a Budget Host
Based in San Jose, California, right in the heart of Silicon Valley, MochaHost specializes in providing professional website hosting and web development. It aims to be on the cheaper end of the market while still providing best-in-class services.
The website is global, with German, English, Spanish, French, Italian, and Portuguese versions of the site, along with a tool to convert the prices to 42 different currencies.

Also Read: OVH Cloud Review
MochaHost maintains over a million domains, but is it the right choice for you? Well, that depends.
There are plenty of pros and cons with MochaHost (free tools and unlimited websites, but not on the cheapest package). It's inexpensive and has a decent range of features that make it worth considering, if you can get past the text-heavy website pages.
If you're in the market for a new hosting provider, read on to find out whether MochaHost could work for you.
FEATURES
Decent Features for a Decent Price
MochaHost has all of the features you'd expect from a website host, as well as a few that were a nice surprise. Its cheapest "Soho" package is missing a lot of the bare essentials, such as a one-click installer, so you're likely going to need to upgrade to the Business or Mocha package, especially since those packages are still pretty cheap.
MochaHost offers a free domain name on the upper two packages for as long as you stay with the company. It also promises 100% uptime, so if you experience any downtime whatsoever, you could be eligible for a discount or even a month of free hosting.
Freebies Galore
All of MochaHost's hosting plans come with a decent Google Ads credit and free migration assistance. As if that wasn't enough, you also get a lifetime discount guarantee (if you choose the three-year plan) so that your renewal costs remain the same for the entire time you stick with the company. The rates at many other hosting companies increase after your first term expires.
Unlimited Free SSL Certificates
SSL certificates are increasingly important to modern webmasters, and while most hosts of this size include one free SSL certificate, there aren't many that give out unlimited certificates. This is good for Google rankings and for your site's security as a whole, and it'll also help visitors trust you with their personal information.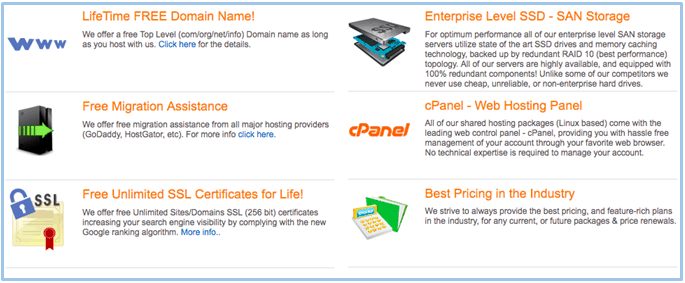 Advanced Data Centers
All of MochaHost's data centers are equipped with diesel generators, backup tape libraries, security alarms, and more. On top of that, all servers are monitored 24/7 in real time to pick up on any issues as quickly as possible, with safety, security, and confidentiality the main concern.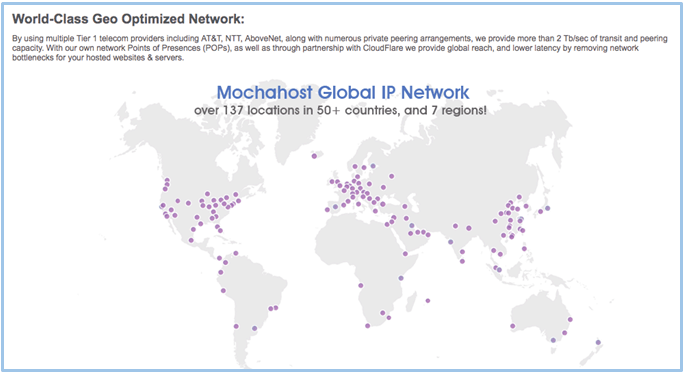 EASE OF USE
MochaHost is one of the easier website hosts to navigate, in spite of its overly busy design. However, I'll admit that I was confused for a while when I was trying to find the admin panel (access is through a link in the welcome email).
Creating an Account
Signing up with MochaHost is easy, though you'll want to consider skipping the base Soho account and going for the Business plan if you want unlimited websites and one-click WordPress installers. The interface itself is text-heavy and looks overwhelming, but it's easy enough to sign up and get started in five minutes or so. You can read more about the process here.
Connecting a Domain and Installing WordPress
I found it pretty easy to connect a domain and install WordPress. You'll need to go to your welcome email and log into your cPanel account with the details provided, then you can use the one-click installer to configure the software. MochaHost did a pretty good job of providing me with all of the information I needed, and you can read more about it here.
Free Tool Library
MochaHost gives its users access to more than 450 free tools and a one-click installer, but it doesn't come by default with its cheapest offering. Upgrading will give you access to more resources and other benefits, and the cost is not much higher, so it's worth considering.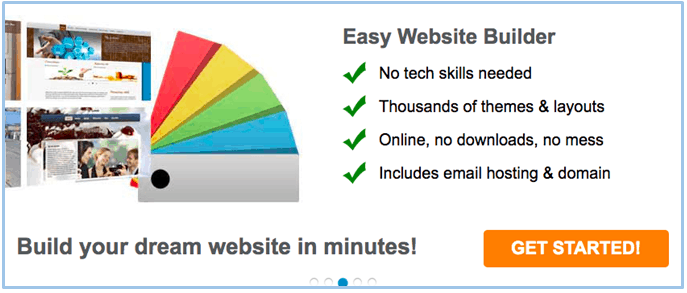 Automated Malware and Spam Monitoring
If security is a concern, MochaHost has you covered with its automated anti-spam software. It will automatically look out for suspicious activity and let you know if there's anything for you to worry about.
PERFORMANCE
Fast in Europe and the U.S.
A few reviewers have experienced slow loading speeds and downtime with MochaHost, but there's nothing unusual there. For the most part, reviewers focused on customer service. All in all, though, MochaHost's performance is better than most.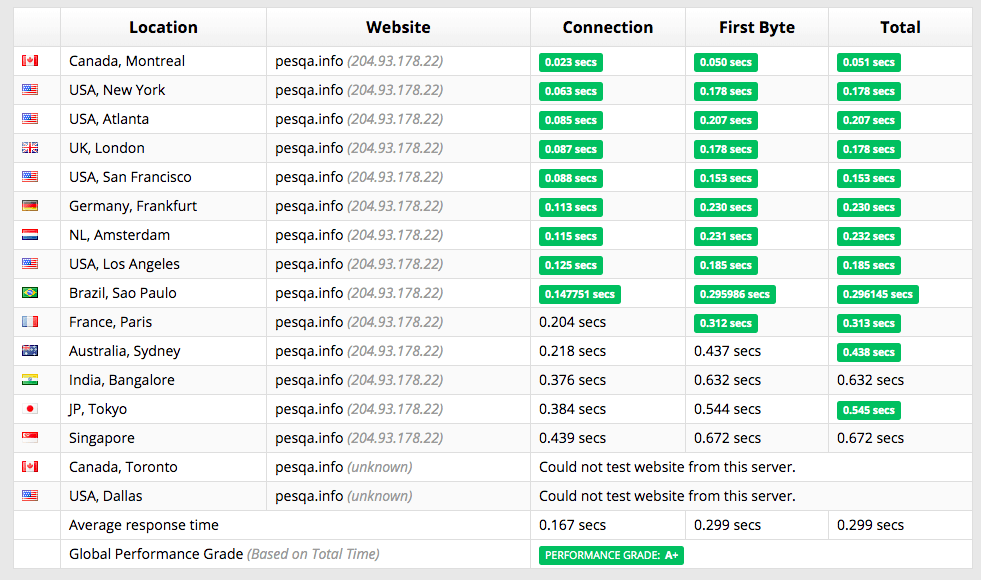 As always, I thought I'd test MochaHost by running a Sucuri page load test, and the U.S.-based servers have pretty good loading speeds across the United States and Canada. That changes once we head elsewhere though, and for some reason, two of the test locations couldn't access it. Overall, it doesn't have the best speeds I've ever seen, but it is impressively quick across the U.S. and most of Europe.
SUPPORT
MochaHost Has You Covered
If support is a major concern, then you could do a lot worse than MochaHost. As well as the support portal, it also has a knowledge base and a range of online video tutorials, plus a ticketing system and a simple tool to see the status of the servers and network.
To get a feel for MochaHost's support team, I tested it out. Live chat picked up immediately on two separate occasions and provided full answers to my questions. I also upgraded my account and received a confirmation email within a few minutes, though it took 12 hours or so for the upgrade to be processed.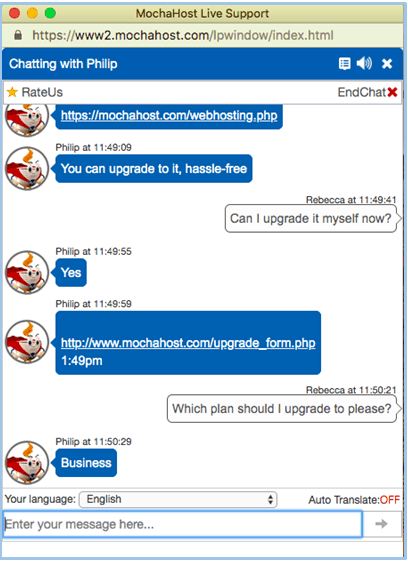 All in all, I was pretty happy with the customer service experience, and I got the feeling that I'd be able to trust them in an emergency.
PRICING
MochaHost offers highly affordable pricing plans, particularly at the entry level. To maximize their benefits, however, you may consider investing a bit more in optional extras. The company supports various payment options, including all major credit cards, PayPal, Skrill, and MoneyGram, ensuring convenient transactions for customers.
Cancellations & Refunds
Canceling an account with MochaHost is simple, and there's a generous 180-day money-back guarantee. You'll just need to log into your dashboard and fill out the cancellation form. It can be completed entirely online, and the refund will be processed automatically within seven business days. It was one of the smoothest cancellation processes I've ever seen.
MOCHAHOST REVIEW: BOTTOM LINE
MochaHost is a pretty good budget host, and while it does have its flaws, so do its competitors. On the whole, you can't complain about the service and the resources you get for the price you pay, but you'll want to avoid the cheapest package if you want access to some of the more premium features. And the good news is that with a whopping 180-day money-back guarantee, you can try it with no need to worry.