HostPapa is a Canadian hosting provider that has helped thousands of bloggers, small business owners, and digital experts host and design their websites.
Founded in Burlington, Canada, by Jamie Opalchuk in 2006, HostPapa offers the following hosting services:
We've been monitoring HostPapa since 2017 and are in a position to break down the company's advantages and disadvantages when it comes to pricing, features, and performance.
Advantages of Using HostPapa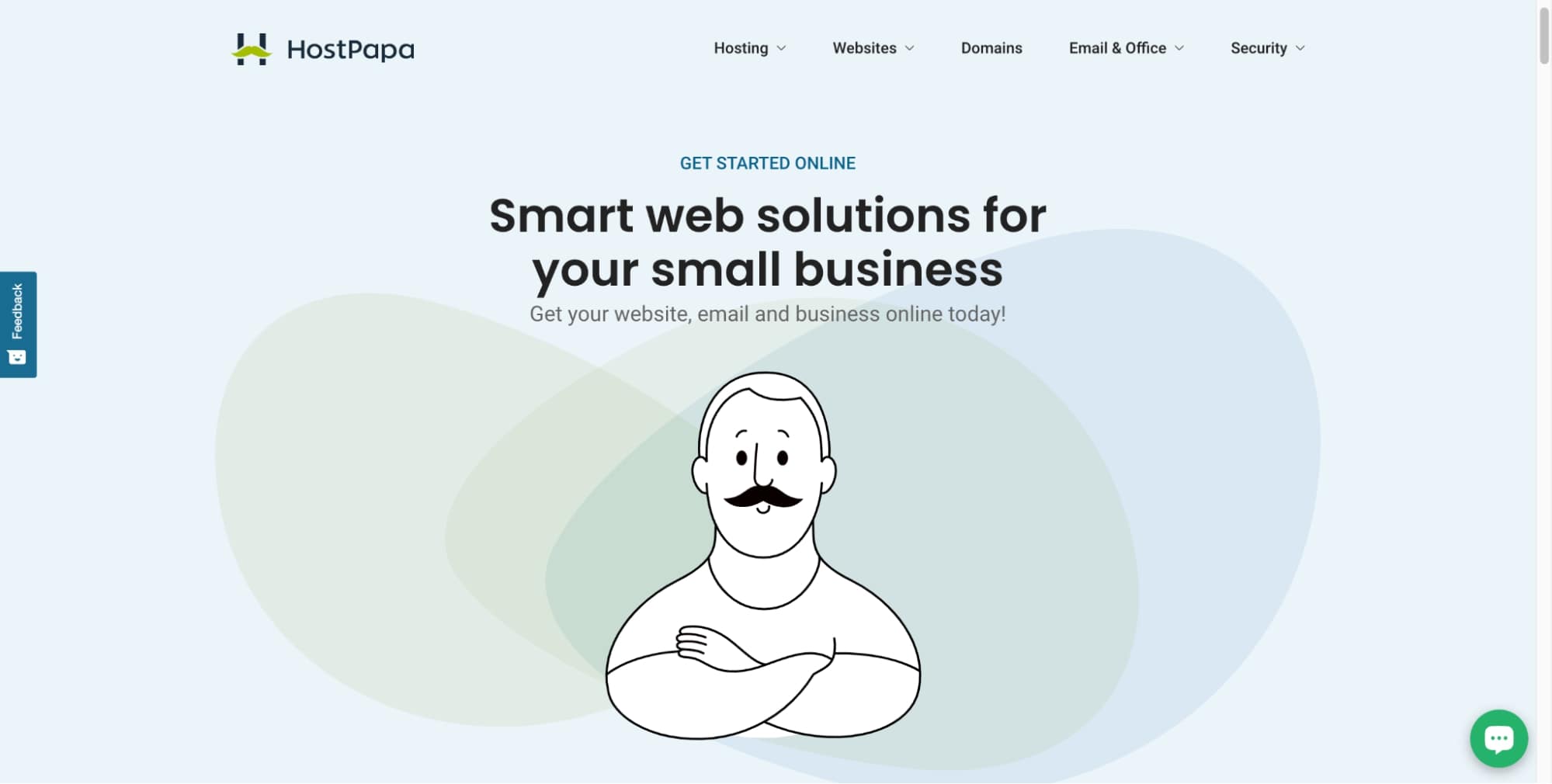 Also Read: HostMonster Review
There are quite a few reasons to host your website with HostPapa. It provides a great uptime, extensive support options, adequate security measures, and good value.
You'll find a detailed breakdown of each of these advantages below:
1. Excellent Uptime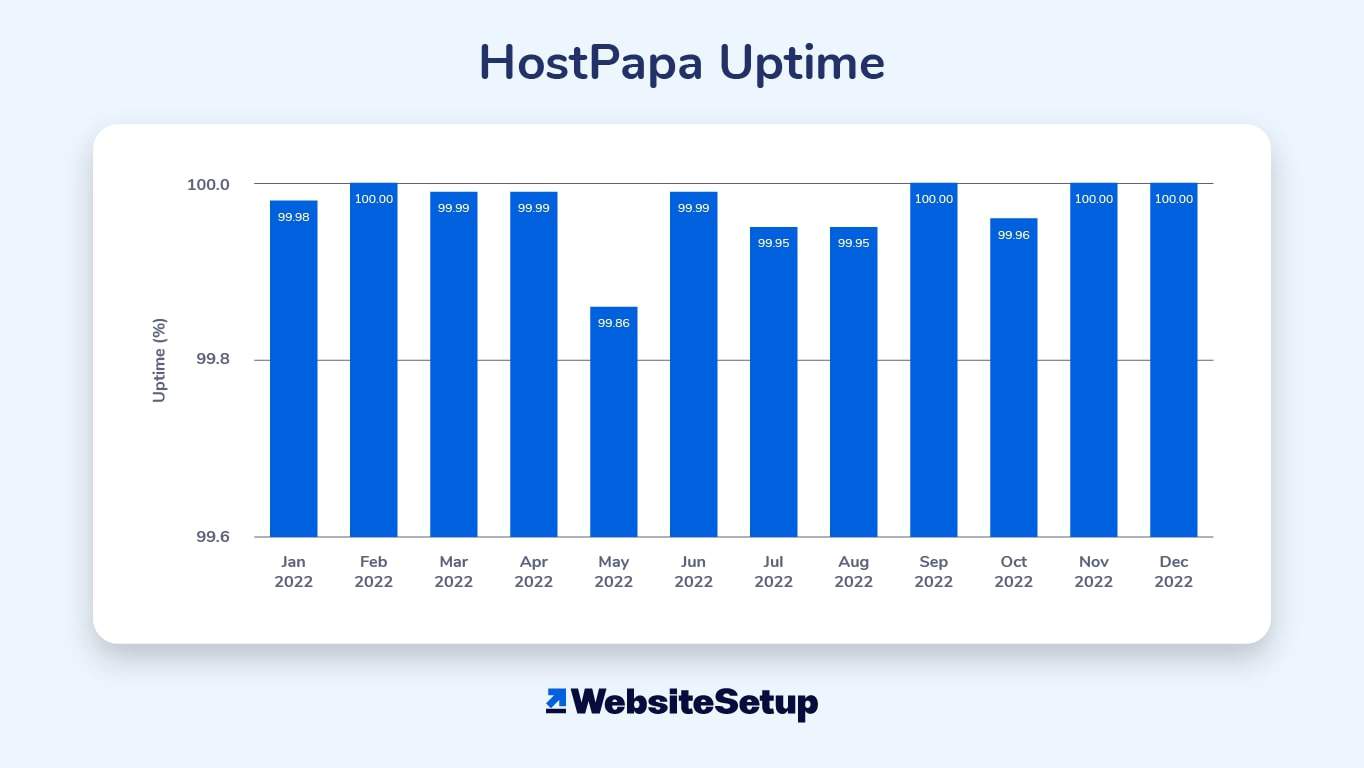 Between January 2022 and December 2022, HostPapa's average uptime registered at 99.97%, consistent with its 99.9% uptime guarantee.
Its lowest-performing month was May 2022, at 99.86% uptime, which translated to roughly 36 minutes of total downtime.
The rest of the year, HostPapa's uptime ranged from 99.95% to 100%. And it's not like that 100% was a fluke, either. HostPapa managed to score a perfect 100% for four months in 2022 (February, September, November, and December).
Not too shabby.
2. Average Response Time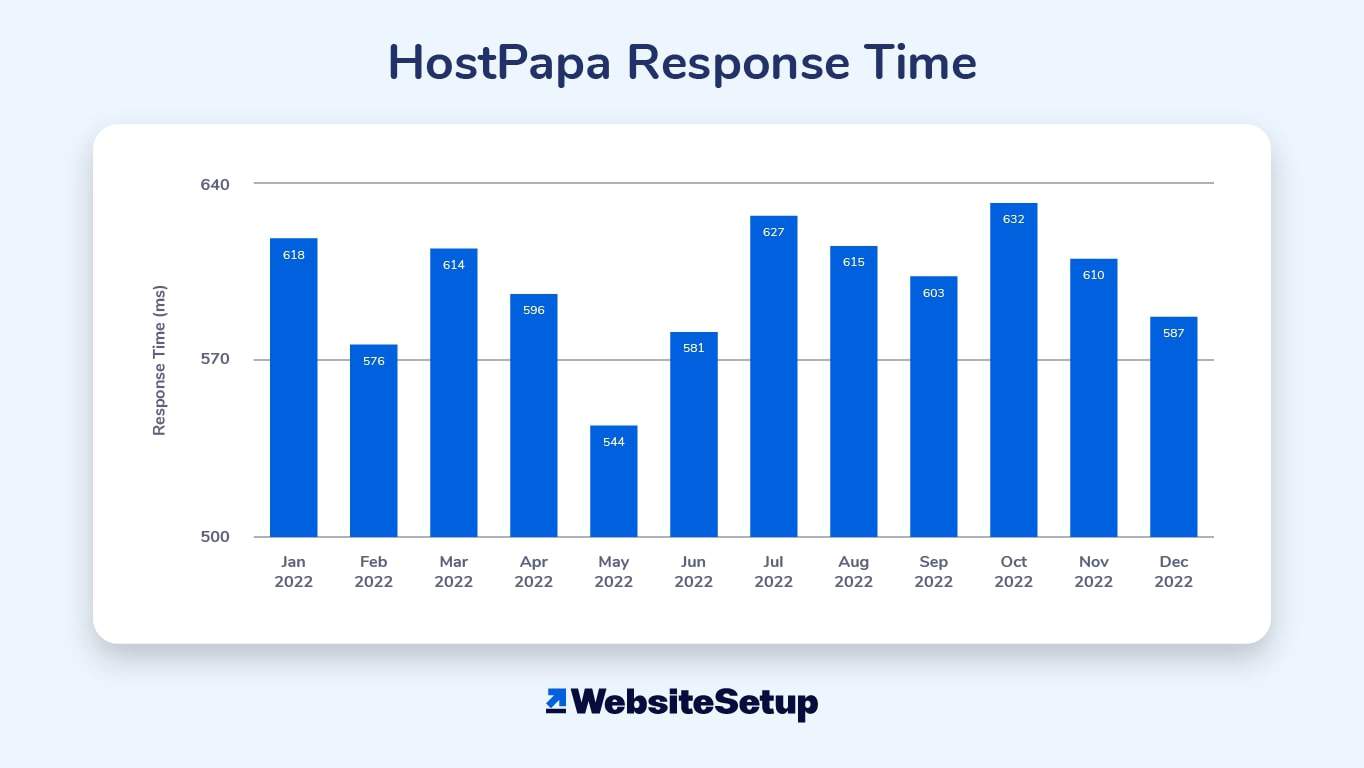 Page load speed (or response time) is another important thing to look for in a web host.
Also, page speed is connected to the overall user experience.
According to Littledata, 280 ms is a speedy response time, while anything above 826 ms is slow. Anything in between the two is just average.
HostPapa had an average page loading time of 600 ms in 2022, slightly below the average of 456 ms.
In other words, pretty good — but nowhere near the loading speeds of some of its competitors, like Hostinger (318 ms) and A2 Hosting (295 ms).
HostPapa has over 150 data centers. Server locations are spread over 50 countries, including the United States, China, South Africa, and Australia. Shared hosting servers have a 100 Mbps connection, which is slightly above the average speed most internet users need.
3. Extensive Support Options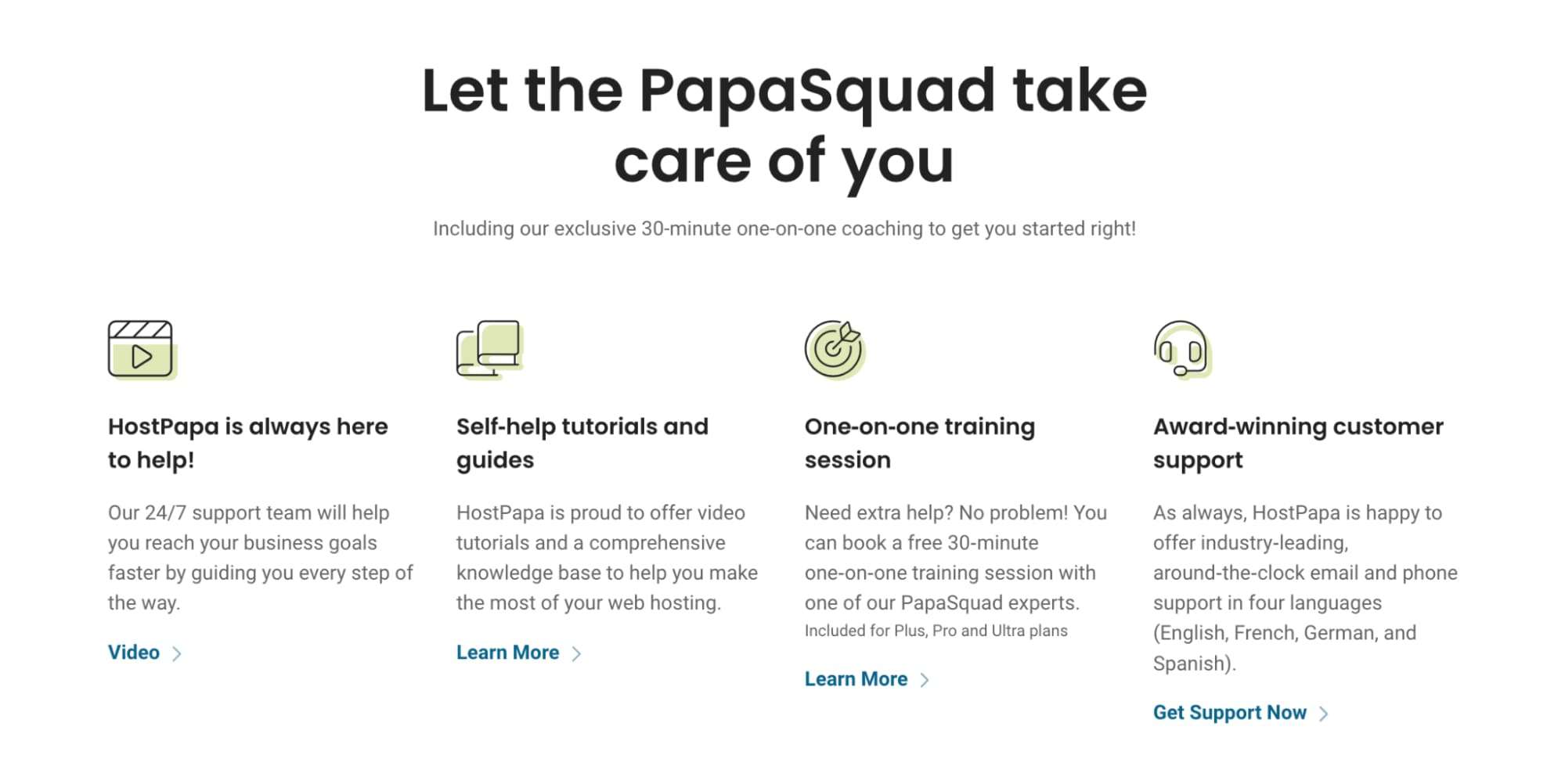 HostPapa support services are among the best. The customer support team offers extensive options to assist customers. These options include:
A huge knowledge base filled with articles and videos. One thing that sets HostPapa apart from its competitors is that its self-service resources are available in four languages — English, French, Spanish, and German — making the host inclusive of different customer groups.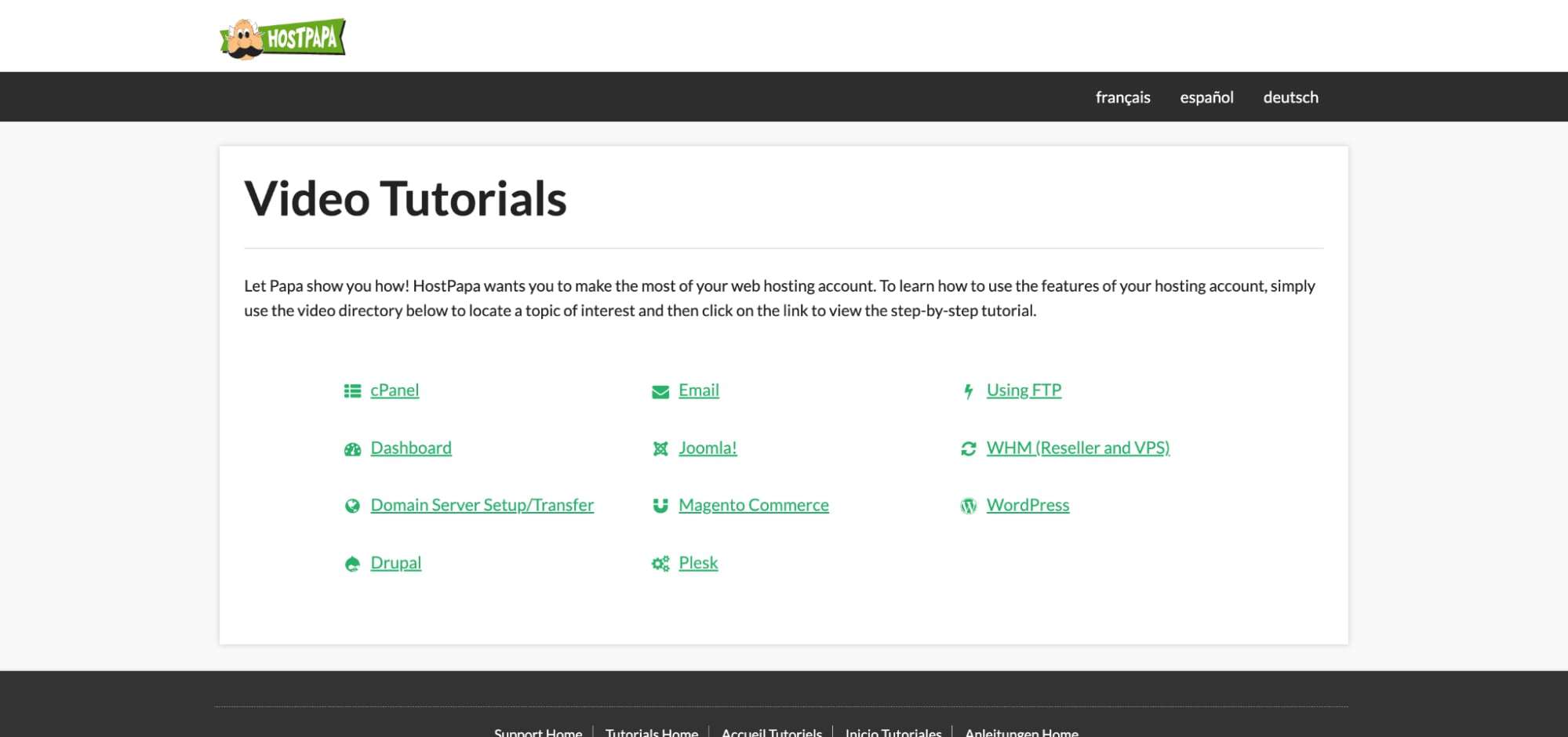 However, HostPapa's YouTube channel, which hosts its video tutorials, needs updating. The last video was uploaded in October 2021.
The knowledge base page also needs to be updated. HostPapa's branding has changed, but the knowledge base hasn't changed to reflect that.
We also observed some things that needed to be corrected, especially in information regarding renewal pricing. The knowledge base article (updated in November 2022) says renewal pricing starts at $8.99/month, while HostPapa's renewal pricing page says pricing starts at $11.99/month.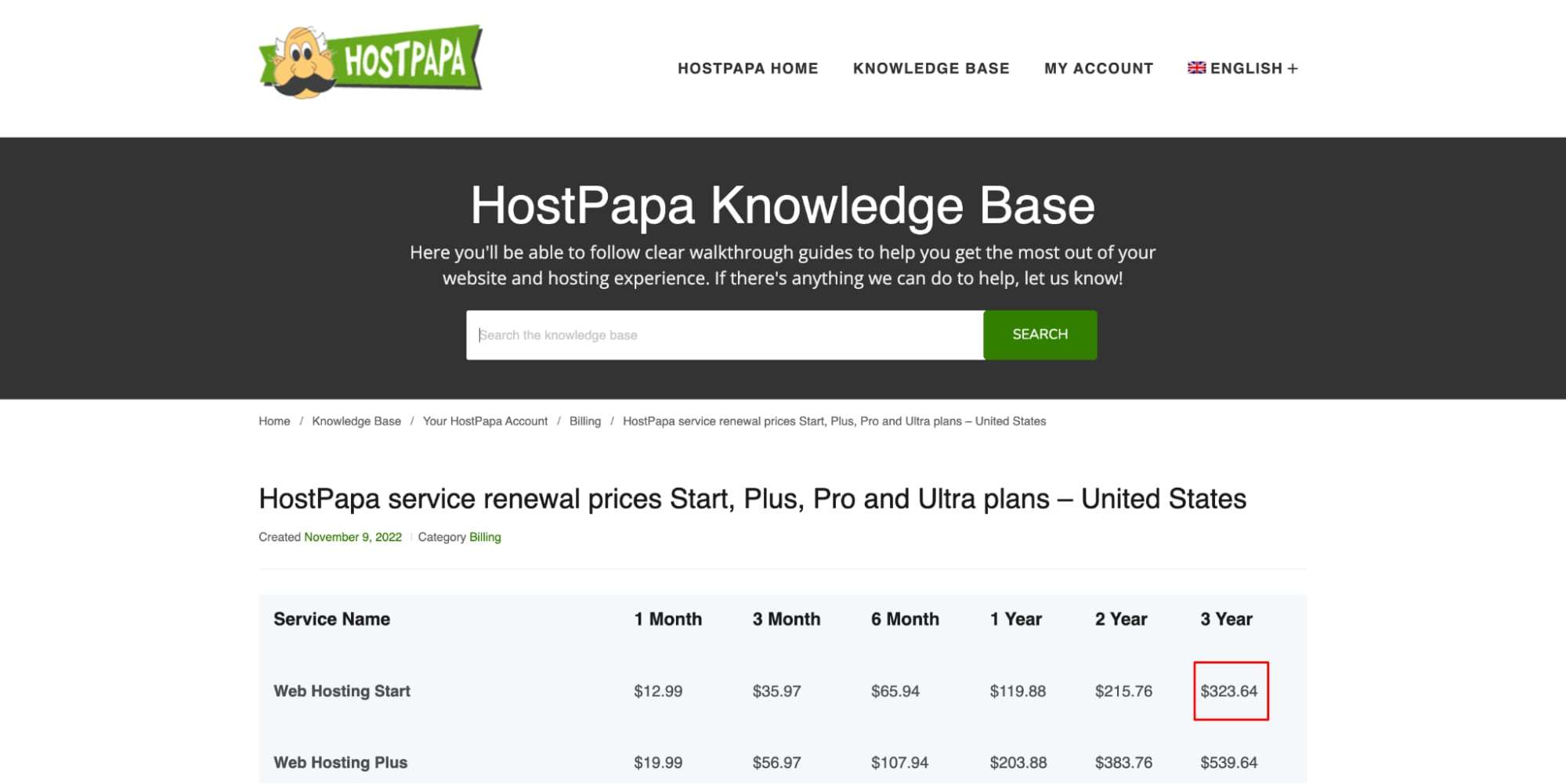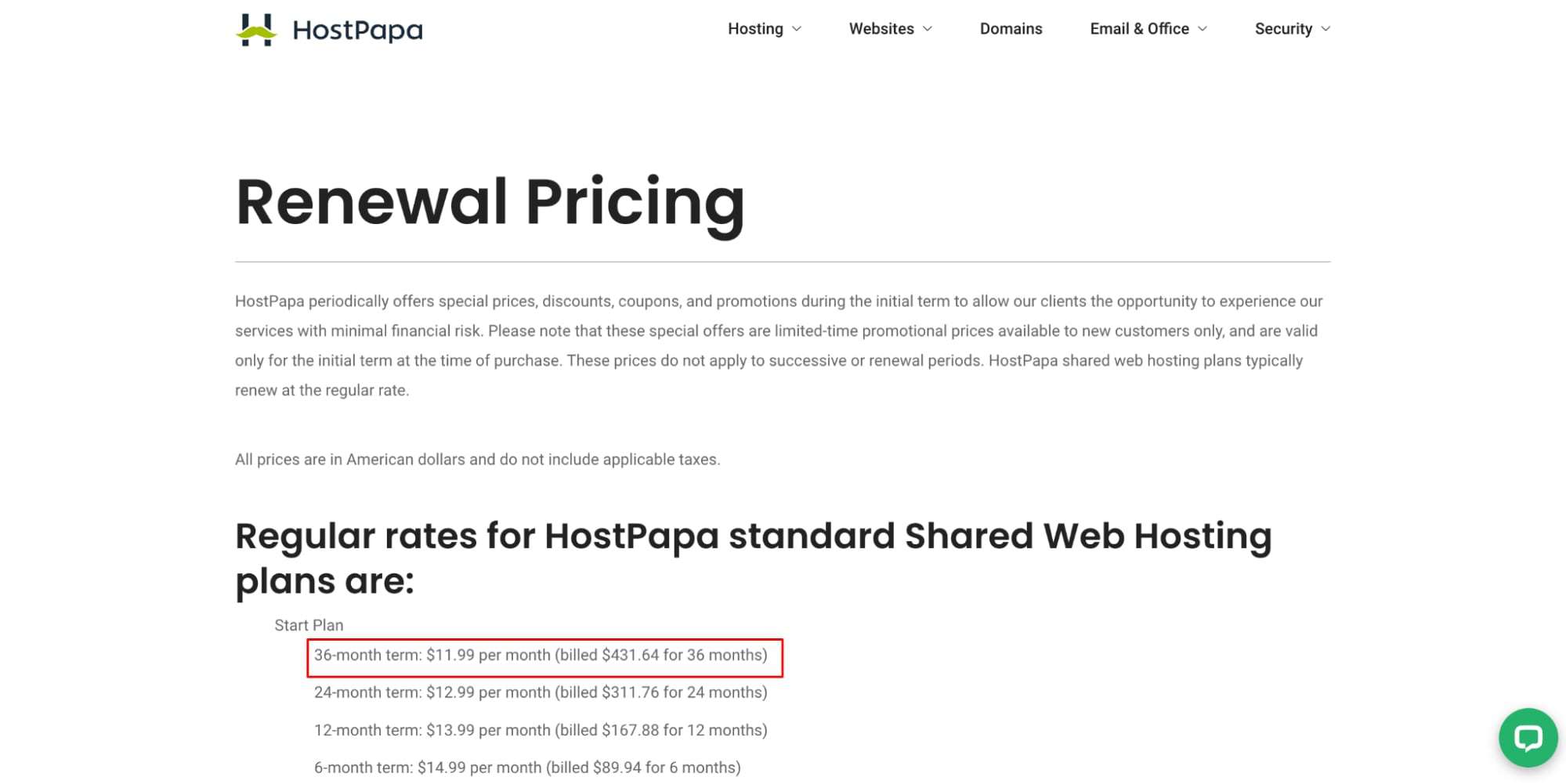 24/7 phone, email, mail, fax, and live chat support. HostPapa is among the few web hosting companies to provide phone, email, mail, and fax support. Like the web host's knowledge base, these are all available in multiple languages.

Most hosting providers nowadays forego phone support, but HostPapa makes it available in 18 countries, which might be the most we've seen from any company.
We had the chance to test HostPapa's live chat feature when we clarified its renewal pricing — and we were impressed. A customer support staff member responded to us within two minutes, unlike Hostinger or GoDaddy's customer support, which is inconsistent at best.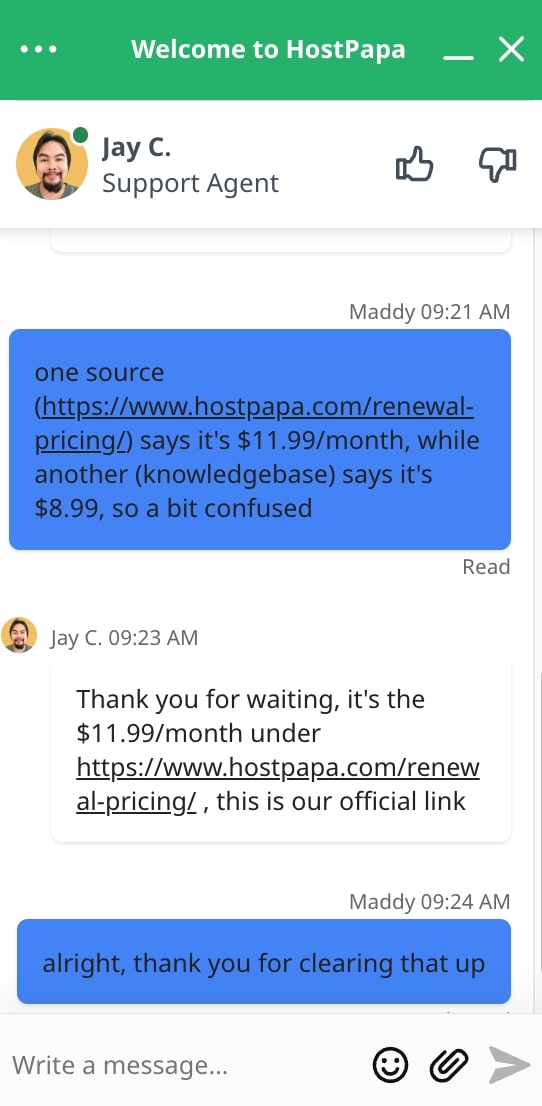 As if that's not enough, HostPapa also allows you to book a one-on-one video training session with a HostPapa expert. These guided walkthroughs are particularly useful if you're just starting out as a website owner or building your first business website.
4. Proactive Security Features
HostPapa gives you one less thing to worry about by handling security details like spam protection.
HostPapa's basic shared hosting plans come packed with numerous security features, such as:
Server firewall, monitoring, and intrusion detection
Free standard SSL certificate
Network monitoring
Brute-force attack detection
RAID-10 redundancy
Higher-tiered plans include:
DDoS attack prevention and responses
Dedicated IP addresses
Automatic backups
Domain privacy protection
Premium SSL certificate
5. Good Value for Money
Pricing for HostPapa's basic plan starts at $2.95/month for the first three years (or $106.20 at checkout).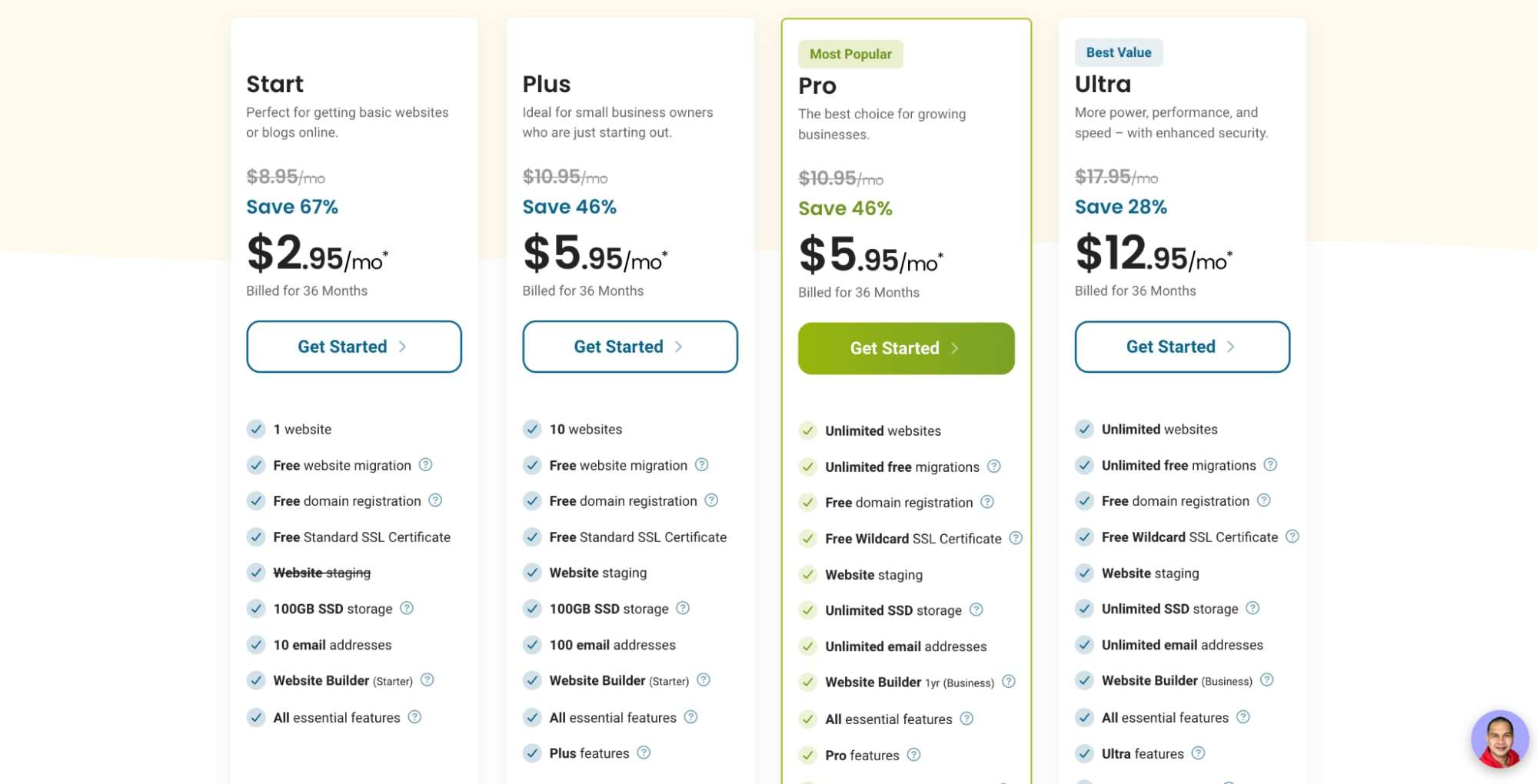 The good news is that HostPapa throws in a lot of value for this initial pricing.
Like most basic web hosting plans, you get one website that comes with:
Free domain name registration
Free SSL certificate
100 GB SSD storage
10 email accounts that are configurable with popular apps like Gmail and Outlook
Unmetered bandwidth
Other than that, you'll also get HostPapa's "Essential Features," which include:
Free website migration
Cloudflare CDN compatibility
cPanel control panel
WordPress installation and updates
Access to HostPapa's site builder and 400+ apps
It's a good deal overall. However, some web hosts, like HostGator, do it better for less.
For only $2.75/month, HostGator offers you unlimited storage and unmetered bandwidth, plus a free domain and SSL certificate.
6. No-Fuss Money-Back Guarantee
HostPapa offers an industry-standard 30-day money-back guarantee for most hosting plans, but your refund depends on its Refund and Cancelation Policy.
For instance, products that are billed a year or more can be canceled within 30 days of the transaction. But those that are billed less than one year (e.g., three-month and six-month plans) can only be canceled within 48 hours.
Note that some services aren't eligible for refunds, like domain name registrations, renewals, and transfers. So if you bought and canceled a hosting plan with a free domain, HostPapa would deduct the cost of the domain from the total amount you paid.
7. Green Hosting
When people look for web hosting services, they usually look at things like page loading speed and uptime; few consider the environmental impact.
Truth is, running a hosting platform 24/7 requires a lot of power. When you consider that a data center contains thousands of servers, you can imagine how expensive and energy-intensive they are.
Conscientious web hosting companies like HostPapa look for ways to reduce their carbon footprint while reducing electricity costs. In turn, they can offer cheaper hosting plans because of the amount they save on electricity.
According to HostPapa, it was one of the first web hosting providers to commit publicly to sustainable business practices. By purchasing green certificates to offset the power used in its data centers and offices, HostPapa helps support and promote wind and solar power.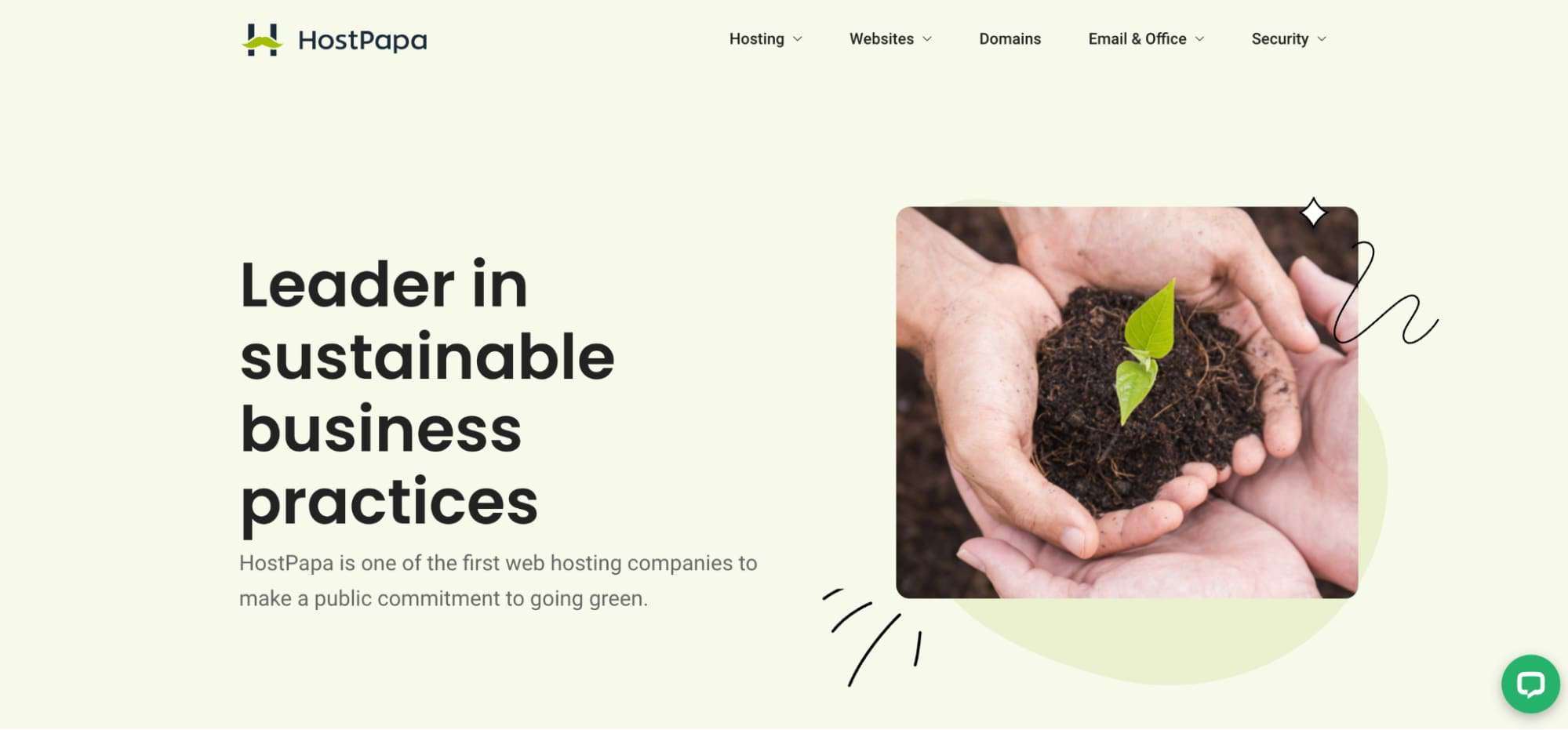 HostPapa Pros And Cons
Pros
Free 30-minute individual training for new customers
Easy to follow set up instructions
Tutorials to help the setup process
Cons
No month-to-month option
No dedicated hosting service
Disadvantages of Using HostPapa
HostPapa has its strengths, like its excellent customer service and quick uptime. But it's not a perfect web host.
Here are some downsides of hosting your website with HostPapa:
1. High Renewal Price
The HostPapa entry-level plan starts at $2.95/month for a three-year commitment.
Once the period ends, you'll have to pay four times that amount. For instance, the cheapest Starter Plan will renew at $11.99/month.
Check out the signup and renewal rates of other HostPapa plans:
| | | | |
| --- | --- | --- | --- |
| Plan | Initial cost(36-month period) | Renewal rate(36-month period) | Multiplier |
| Plus | $5.95/month | $16.99/month | 2.85 |
| Pro | $5.95/month | $19.99/month | 3.35 |
| Ultra | $12.95/month | $34.99/month | 2.70 |
And with a three-year commitment, you'll have to pay a lot upfront.
If you plan on hosting a website for more than three years, the renewal prices and features don't have as good a value anymore.
2. Expensive Add-ons
After choosing your plan at the checkout page, HostPapa will offer you four high-priced "website essentials" as add-ons:
Protection Power Website Security — $19.95/year
Automated Website Backup — $29.95/year
Paid SSL Certificate — $24.95/year
PapaCare+ — $49.95/month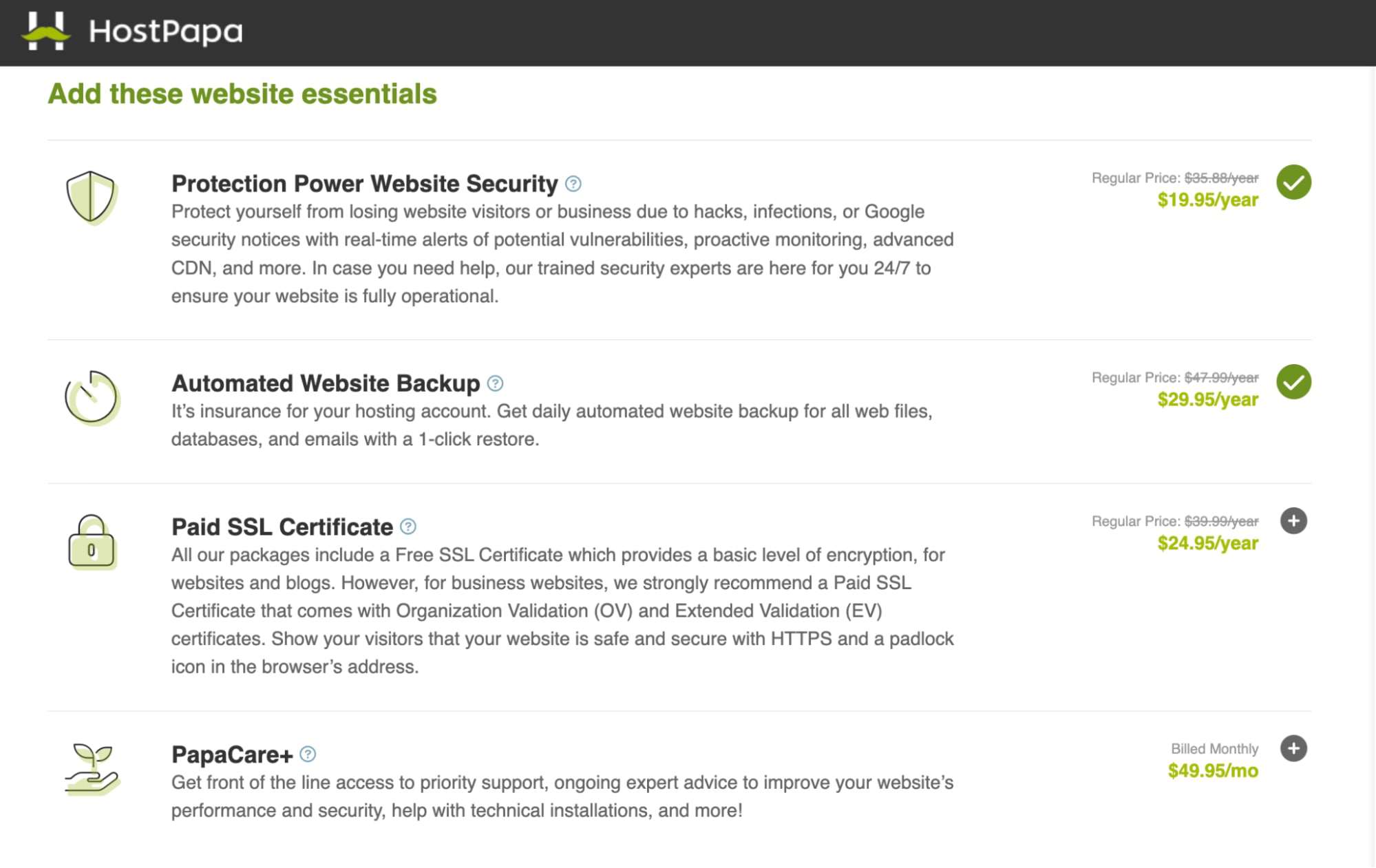 All these are optional, but HostPapa automatically adds the first two to your basket.
If you're not careful, how much you'll have to pay at checkout may surprise you.
Quick Facts
Free Domain: Yes, for the 1st year.
Ease of Signup: Very easy signup process.
Payment Methods: Credit Card, PayPal.
Money Back: 30-day money-back guarantee.
Hidden Fees and Clauses: Advertised price is only for the first payment term. Renewals are much more expensive.
Account Activation: Instant activation in most cases. If you registered a new domain name, it could take 24 to 72 hours for this to appear.
Control Panel and Dashboard Experience: cPanel.
Installation of Apps and CMSs (WordPress, Joomla, etc.): One-click installer to install popular apps and CMSs.
Other Benefits
All of HostPapa's plans come with a 30-minute free one-on-one training to help you set up your website. During this call, you can discuss topics like your website's security, how to create your e-commerce store, how to build your website or any other problems you're experiencing as you set up your site.
The company also makes it easy to learn how to set up your website, with video tutorials about hosting, the website builder and their various products. Additionally, HostPapa offers a service called PapaCare+ for $49.95 per month, which gives customers customized support for shared web hosting for their website's security and performance, as well as email setup support.
HostPapa will also assist with the domain transfer process when you are migrating to their services. Plus, they guarantee there will be no downtime for your website during the transfer.
Is HostPapa Right for You or Your Business?
HostPapa may be a great choice for your business if you value one-on-one support and training. HostPapa stands out from other web hosting providers with their offering of a free 30-minute consultation for new customers to help build their website. If you plan to create your site on your own, but value accessible training and support, HostPapa could be a great option.