Gandi isn't the cheapest web host, but the good news is that it offers pretty decent services at reasonable rates. It also has impressive loading times across Europe and the United States.
About Gandi.net
European Hosting from French Internet Pioneers
Founded in France in 1999 by Pierre Beyssac, Laurent Chemla, and Valentin Lacambre, Gandi.net was among the early wave of internet service providers and one of the first domain name registrars to be approved by the Internet Corporation for Assigned Names and Numbers (ICANN).
Gandi manages nearly 2.5 million domain names and offers a range of services and hosting setups, from domain names and SSL certificates to shared hosting and cloud servers.

Also Read: Register.com Web Hosting Review
Gandi, which has offices in France, the United States, Luxembourg, Germany, and Taiwan, offers versions of its website in five languages: English, French, Spanish, Chinese (orthodox and simplified), and Japanese.
Beyond hosting, Gandi tries to give back to the community with "technical, administrative, or moral" support to a diverse range of projects, including Ubuntu, Creative Commons, and the World Wildlife Foundation.
But are these good enough reasons to choose Gandi as your web host? Is it fast enough? Secure enough? Read on to find out if it has the services and speed you're looking for or if it's really a dud.
FEATURES
The Basics Are Covered
Gandi has a decent range of features, even with its cheapest packages. If you're looking for a basic WordPress installation or even a reasonably priced e-commerce setup, Gandi will do the job nicely. Just don't expect a ton of features or thousands of free themes.
Gandi's hosting packages come with unlimited bandwidth and unlimited free SSL certificates on everything but the cheapest plan.
All of Gandi's plans, even the most comprehensive, only include 20 GB of storage, but you can expand that to up to 2 TB for a per-gigabyte fee. Honestly, though, if you're going to need that much storage space, then you're better off going with a host that offers more storage as standard.
Corporate Support
Looking to create a corporate website? Gandi has a dedicated corporate hosting section that includes a dedicated account manager and "a la carte" billing options. The company also makes billing easy by offering different payment terms, electronic or paper invoices, and more.
Flexible SSL Choices
Gandi says that it puts users' security and privacy first and foremost, and the company backs that up by providing a range of SSL certificates, including 256-bit encryption as standard and transaction warranties of up to $250,000 for the pro and business plans.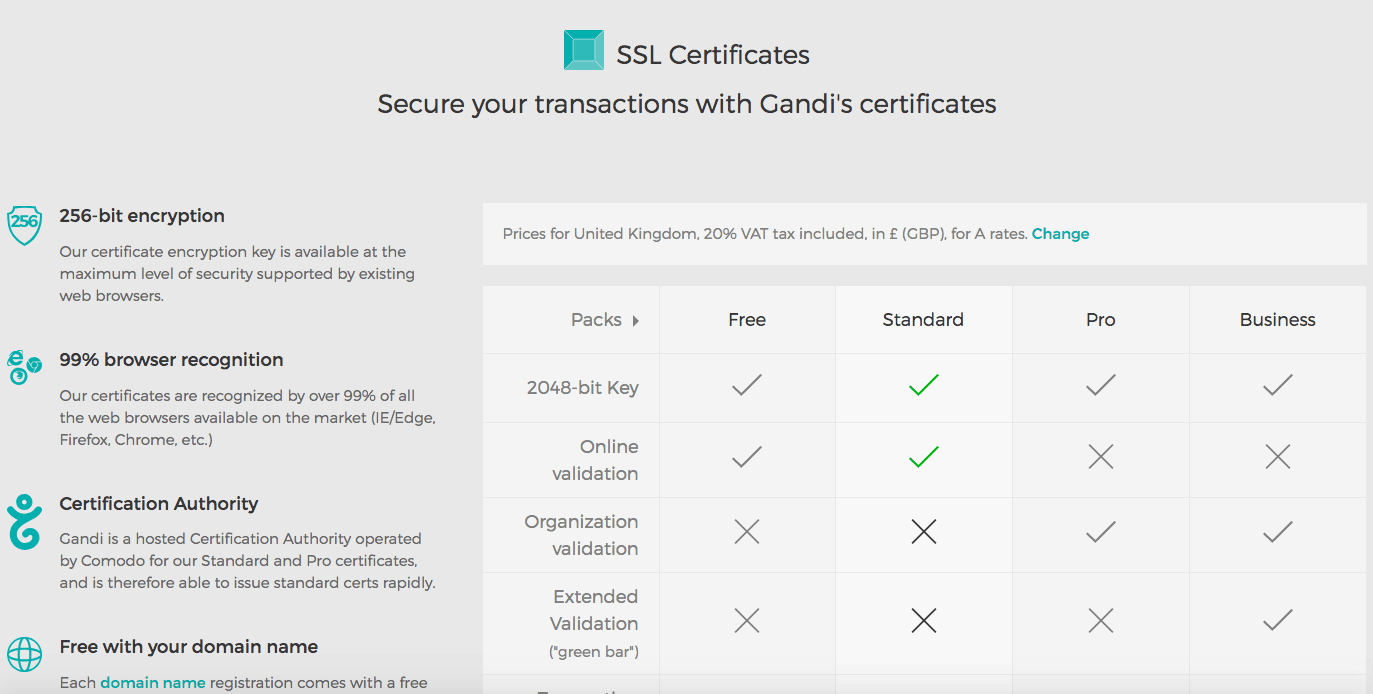 Easy Cloud Servers
Gandi's cloud servers are easy to set up and can be ready to go in minutes. Cloud customers also get free technical support around the clock. Setups range from its XS-V6 extra-small package to the Kick Ass extra-extra-large package, so if you're looking for cloud hosting, you can't go wrong with this variety.
Different Accounts for Different Users
Beyond providing support for a whole bunch of server setups and software, Gandi also provides designated hosting setups for four types of users: individuals, businesses, developers, and resellers. Each account includes domains, mailboxes, secured hosting, and free support.
EASE OF USE
Not the Best, but Workable
Gandi uses its own proprietary admin system, at least when it comes to setting up and administering your hosting account. It can be a little clunky from time to time, but it does become easier as you learn to use it. You can always contact support if you get lost, but expect a bit of a wait time for an answer (more on that below).
Creating an Account
Creating an account with Gandi is simple enough once you've decided on a plan, but it follows a slightly different process than the onboarding routes of most other companies. The good news is that you can sign up for a free trial without entering any credit card details.
Connecting a Domain and Installing WordPress
The process of mapping a domain name and installing WordPress is a little backward because you have to map your domain before you can install it, and I usually do it the other way round. You'll also need to make sure you select a WordPress-ready configuration when you create your account. The good news is that the rest of the process is easy once you log into your dashboard, and you can read more about it here.
Easy Hosting
Gandi is specifically designed with ease of use in mind, even though configuring your account can seem a bit intimidating, especially for a new website owner. Once you're past that point, though, there's plenty of flexibility available. With a one-click installer for WordPress and a choice of languages and database types, you get the perfect combination of customization and ease of use. And it's rare to find a host that gets it right.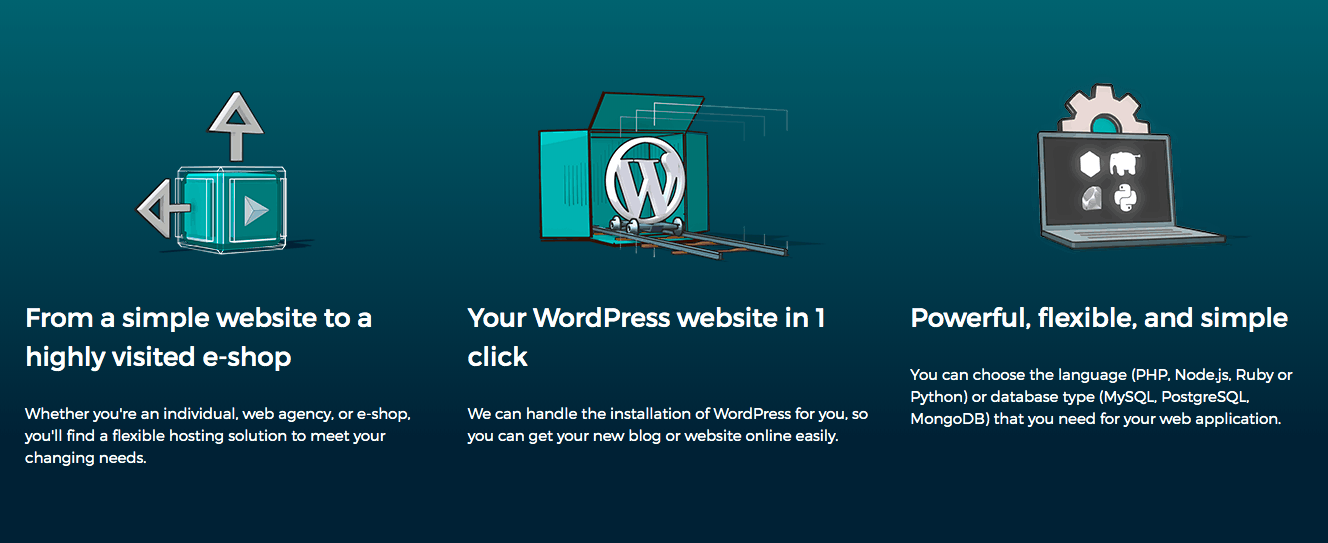 Snapshots to Restore
All of the hosting plans include free snapshots of your website data. This means you can quickly restore your data, for no additional charge. The backups are automatic and free, so you don't need to worry about messing with settings to make sure your data is retained.
Domains Galore
If it's domain names you're looking for, Gandi has you covered. It offers 700+ domain extensions, and each domain name comes with a free SSL certificate and two email accounts. It also provides 1,000 aliases, so if privacy is important to you, Gandi will send a hidden version of your email address to the domain registry, so your information won't be publicly available.
PERFORMANCE
Pretty Good
Gandi has its fair share of negative user reviews, but few of those are focused on the company's performance. In fact, from all accounts, the loading times are pretty good, and most of the complaints about the company are about its customer service and slow response times. As for me, I was pretty happy with its performance.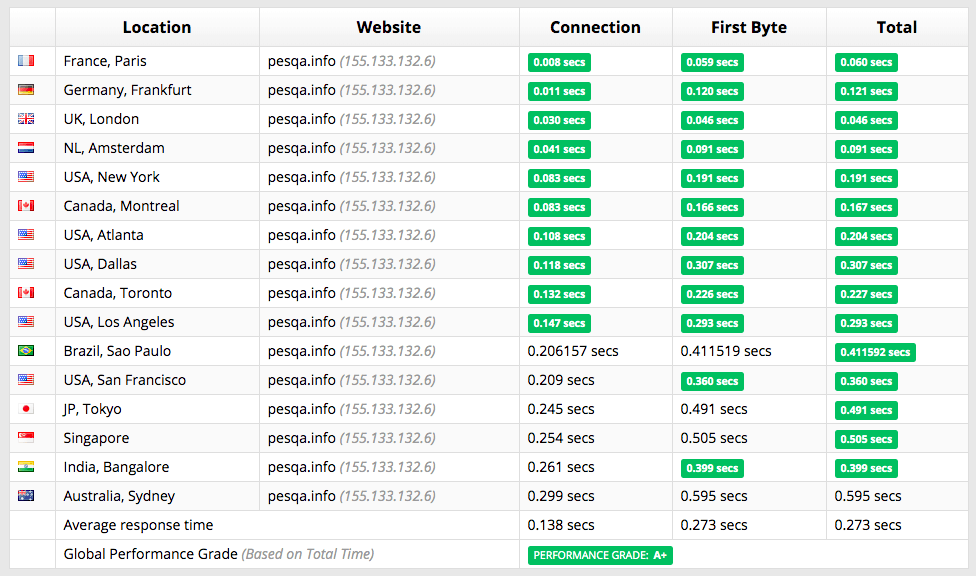 Whenever I review a web host, I always run a Sucuri page load test to see what the performance is like. Gandi fared pretty well, especially across Europe and in parts of North America. It's not the fastest host I've ever tested, but it's in the top 25% and ahead of even some of the bigger companies.
SUPPORT
A Bit Slow to Respond
Gandi has all of the stuff that you'd normally expect, from a server status page to a documentation library and a help center. It also provides customer service via Facebook and Twitter, but it has neither a live chat nor a phone number. There are also multiple reviewers who've complained about slow response times.
As always, I thought I'd test out the customer service, and I was pretty impressed by the thoroughness of the answers I received, though I had to wait six hours each time for a response.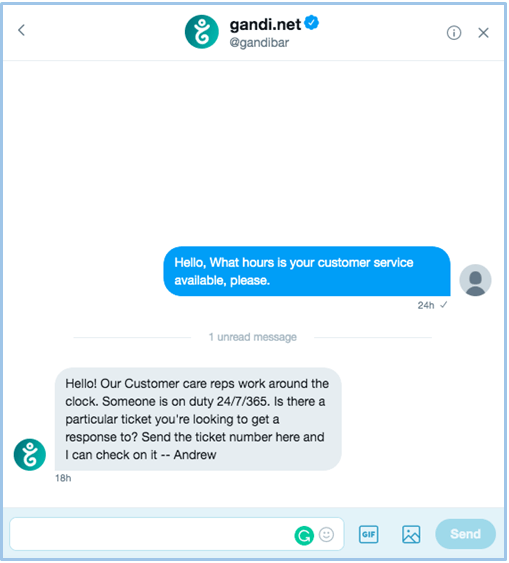 I contacted the company at around 11 AM on a Tuesday via a support ticket, a Facebook message, and a Twitter message, and while I did have to wait a while, I got a reply from every channel. It's good to know that the team does check the social media profiles.
PRICING
Gandi's plans are so varied that it covers both the low end and the high end of the market, leaving you free to choose however many resources you need. It offers reasonably good value for money, and it's one of the few hosts I've seen where you can sign up for a free trial without having to input any credit card details. With all of that in mind, there's not much to complain about.
Cancellations & Refunds
If you're still within your free trial with Gandi, you can cancel your account from within your user admin panel. On the downside, if you don't cancel your account in time, you'll have to pay for the first month with no refunds. It's still worth taking out a trial for a spin, though, and canceling is easy and only takes a few minutes. Click here to read more about it.
GANDI.NET REVIEW: BOTTOM LINE
If you're looking for a budget website host, then Gandi is probably not ideal. The good news is that it offers pretty decent services at reasonable rates, and it also has impressive loading times across Europe and the United States. It's certainly worth a try!