DiscountASP.Net a Microsoft Gold Hosting partner, is a popular asp.net web hosting company and has won trust from hard core .NET developers.
They specialize only in Windows hosting with support for ASP.NET and PHP.
Moreover, the company also offers Visual Studio and Team Foundation Server (TFS) hosting to suit the requirements of advanced developers.
Company Profile
DiscountASP was established in 2003 when .NET was in its infancy.
Many developers trusted them due to reliable servers, excellent customer support and a wide range of features.
Multiple Awards:
The company was voted as best hosting providers by readers of the then popular magazines such as asp.netPRO.
DiscountASP was the recipient of the "Best Hosting Services" award from Dev Pro Magazine.
The company also received several awards from leading developer site, CodeProject.
Dedicated ASP.NET Hosting: DiscountASP has been established to provide hosting solution only for the .NET developer community.
The company offer both traditional ASP.NET Web hosting based on the latest Microsoft Web Stack and Team Foundation Server Hosting, which is a SaaS solution for source control and Application Lifecycle Management based on Team Foundation Server.
Also Read: GreenGeeks Reviews
DiscountASP.NET: Microsoft Gold Hosting partner
DiscountASP.NET is a Microsoft Gold Hosting partne and is also licensed under the Microsoft's Service Provider Licensing Agreement (SPLA) Program.
The company also received several awards from leading developer magazines and online portals.
DiscountASP has established their own office and servers.
They are not resellers of other companies.
Moreover, the company also do not outsource the technical support to other companies in countries such as India.
Hosting Packages
DiscountASP.NET doesn't have a wide range of hosting plans like other hosting providers.
The company provides one base plan with 1 GB of disk space and 80 GB of monthly bandwidth. The base configuration can be upgraded at any time by purchasing the required add-ons.
The company provides free setup, offers 30 day money back guarantee with instant account activation.
DiscountASP.NET also provides Windows 2012 and ASP.NET 4.5.2 hosting services with support for WebSockets and node.js.
Data Centers
The company maintains state of the art data centers in California, USA and UK powered with Dell servers.
Advanced Features
Custom Control Panel: DiscountASP.NET is different from other hosting providers. They do provide a control panel to manage hosting but it has been entirely developed in house by the product team using ASP.NET.
Full Trust support: Discount ASP provides support for full trust by default. Hence, you can upload applications and work on it instantly. There is no need to contact the support team to enable full trust.
Server Features:As of the time of this writing, DiscountASP offers Windows 2012 with support for ASP.NET 4.5.2, ASP.NET 3.5, ASP.NET 2.0, MVC, Silverlight, LINQ, WCF RIA, node.js, WebSockets, Ajax, PHP5, FastCGI, XML and XAML in addition to classic ASP. The IIS Manager enables you to modify core settings related to your website.
MSSQL Database Addons: By default, DiscountASP doesn't provide Microsoft SQL Server and My SQL databases. However, you can place an order for the required number of databases from within the control panel.
DiscountASP currently provides support for SQL Server 2014 and 2012 databases in addition to MySQL 5 and Microsoft SQL CE4 databases.
SQL 2012 Reporting Services: DiscountASP also enables you to work with SQL 2012 Reporting Services. The database servers are separate from the website server. Hence, your databases will work with compromising speed.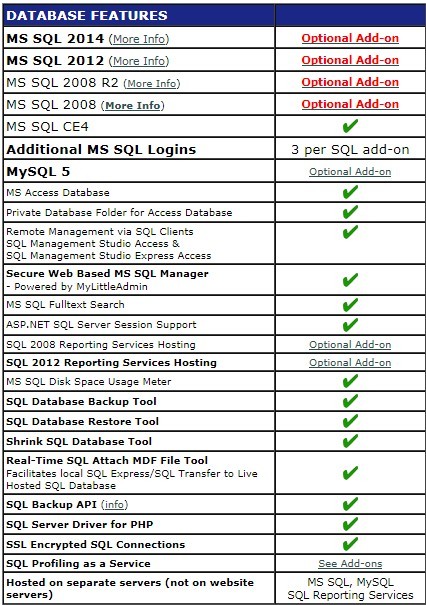 ASP/ASP.NET components: DiscountASP provides support for several ASP/ASP.NET components.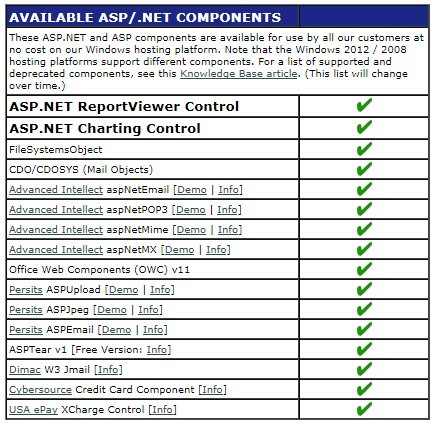 Control Panel
As mentioned above, DiscountASP.NET provides a custom control panel developed using ASP.NET.
You will be able to manage domains, emails, databases, and statistics in addition to installation of several popular web scripts directly from within the control panel.
It also includes an IIS manager with which you will be able to manage all aspects of your site such start and stop of website/FTP in addition to recycle application pool, default document addition and much more.
DiscountASP.NET provides the required tools for SQL Database Backup, SQL Database Restore, Shrink SQL Database in addition to attaching MDF file.
The SQL Disk Space Meter provides the accurate measurement of the consumed database disk space.
As a customer, you will be able to modify database user passwords for both SQL Server and MySQL.
In case of MySQL, you can create any number of databases and allocate the required number of disk space for each.
For example, you can have two different MySQL databases with 500 MB disk space. You can use one database for your primary database and another for your blog.
DiscountASP.NET provides an alternative FTP address for uploading and viewing the site in addition to actual data.
As a customer, you will be able to upload the site and view it before modification of name servers, which will help you to resolve errors.
Control Panel Functionality and WalkThru
In order to work with DiscountASP hosting, you need to login to the control panel.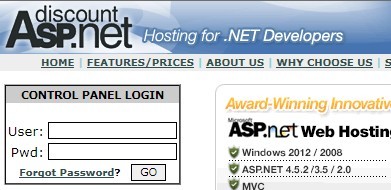 You will view the following dashboard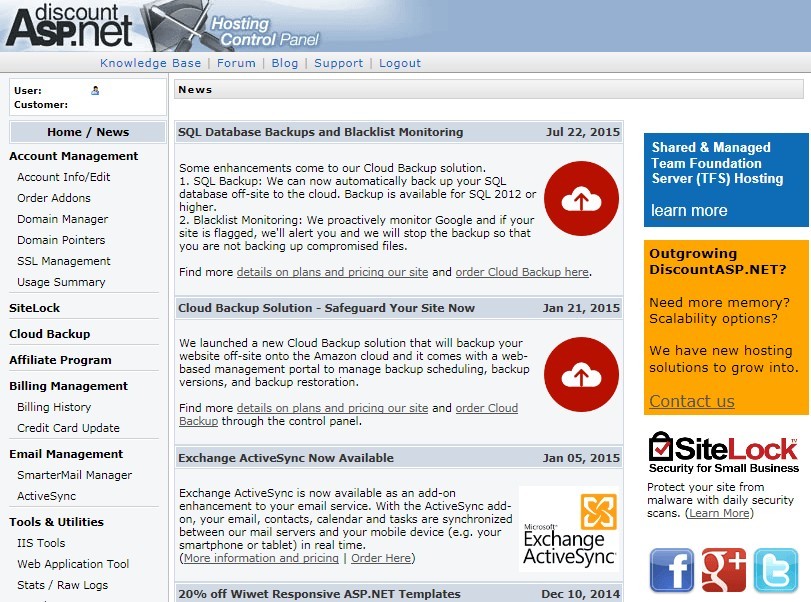 Account management section: The account management section enables you to order add-ons, create and manage domain pointers, management of SSL certificates including usage summary.
You will be able to view the total bandwidth consumed. Moreover, the Disk Space tab enables you to view the consumption in pie chart.
However, the domain section will be useful only for those users who have registered domain name with DiscountASP.
FTP: By default, the FTP login credentials will be the same as your control panel.
Hence, you need not have to create any FTP user accounts from the control panel. However, you can start and stop FTP service anytime from the IIS Tools| FTP Manager tab.
IS Manager If you select IIS Tools link, you will view a page with 4 tabs. You can start or stop website, recycle application pool and modify .NET Framework version.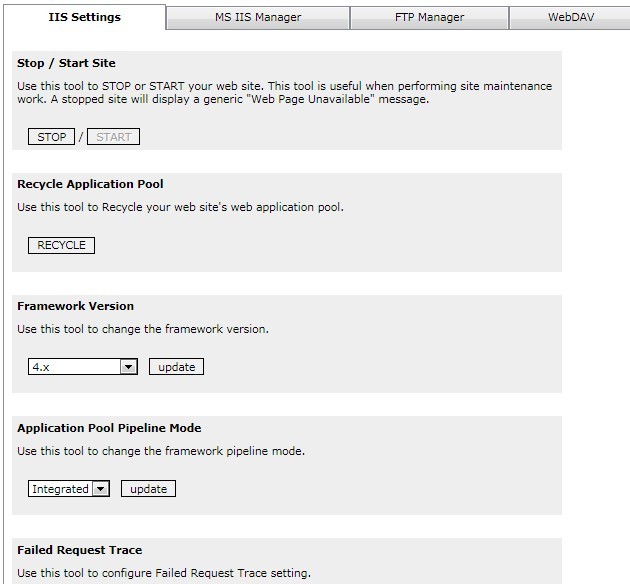 The Microsoft IIS Manager tab will be useful for those users who would like to publish web applications using Web Deploy.
Database management: The database management section enables you to create and manage Microsoft SQL Server and MySQL databases.
You need to place an order for Microsoft SQL Server database from within the control panel. This is because SQL Server is not free unlike MySQL databases.

If you would like to make use of MySQL, you need to create the database and assign required quota out of the allocated 2 GB storage space.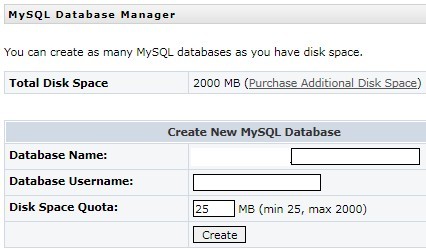 Reporting services: You can also manage Reporting services but you need to order it from the control panel for $5 per month.
SmarterMail: DiscountASP provides SmarterMail, which is the leading web based email management system. You can access the web interface and retrieve relevant POP3/SMTP settings from the control panel.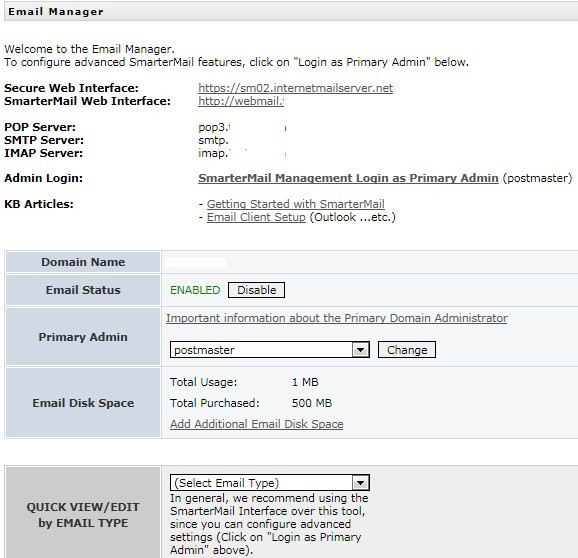 Advanced Features
SiteLock: DiscountASP provides SiteLock with which you will be able to scan your web site and detect potential online threats.
This feature protects your website from viruses, spyware, spam, SQL injection, cross-site scripting and application vulnerabilities affecting WordPress.
You need to purchase SiteLock from within the control panel or by contacting DiscountASP sales team.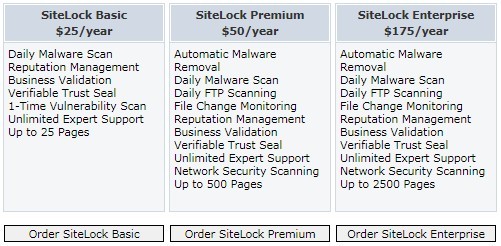 Cloud backup service: In addition to SiteLock, you can also order cloud backup service at a rate of $1.75 USD for a 5GB storage space.
You can place an order for a maximum of 30 GB depending upon your requirements.
This feature enables you to retrieve data in case of server crashes and other eventuality.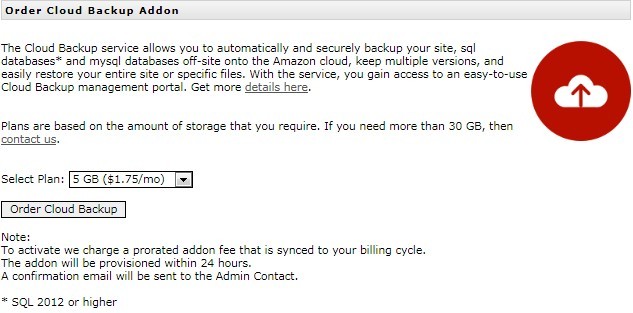 Control panel API: DiscountASP is the first provider to offer complete API for its control panel with which you will be able to tweak the options inside the dashboard.
Moreover, you can make use of the various API libraries to build a custom mobile app to manage your website.
However, this feature will be useful only for advanced developers.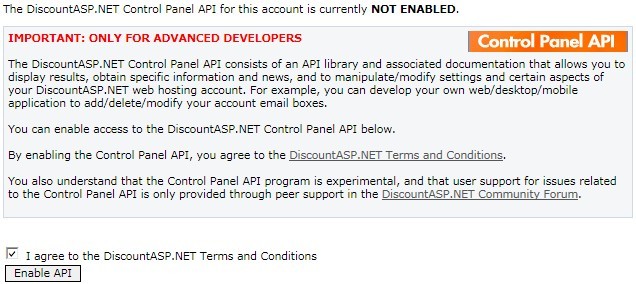 By default, control panel API is not enabled. You will view a new page with API, Sandbox keys including a web service URL.
Create scheduled tasks: DiscountASP provides a facility to create scheduled tasks from within the control panel. You can schedule specific task to run at a specific point of time such as database backup.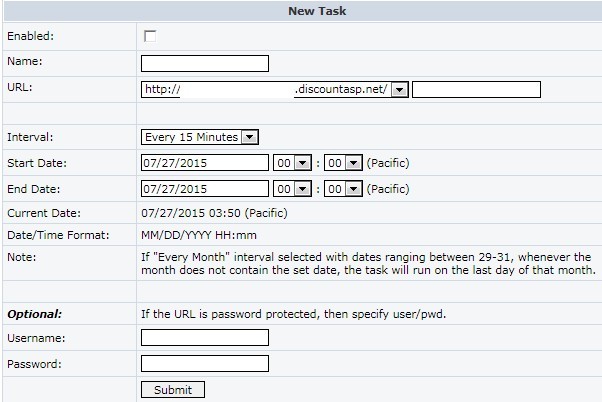 Advantages
DiscountASP offers a wide range of features oriented for .NET developers.
They provide pre-installed ASP.NET components with which developers will be to create great websites.
DiscountASP will be suitable for those developers who would like to showcase their portfolio and to test various functionalities of .NET Framework.
Disadvantages
The main disadvantage of DiscountASP is the disk space limitation.
When there are providers who offer unlimited resources, DiscountASP provides with a limited amount of 1 GB of total disk space.
Moreover, the add-ons such as extra disk space, bandwidth and databases are very expensive. For example, you need to pay $5 per month for 500 MB of extra disk space.
DiscountASP will not be suitable for chronic bloggers since the need for more disk space will arise at some point of time. However, you can opt for DiscountASP if you are going to post one or two blog posts per month.
DiscountASP doesn't offer a built-in File Manager other than the one with which you can create folder as an application.
You will not be able to Zip/Unzip folders from within the control panel.
Uptime
DiscountASP is a reliable web hosting provider.
They will not shut down servers like other cheap providers. They offer great uptime and reliability. We have never seen any unscheduled downtime during our testing period.
The company promptly informs customers of any scheduled downtime several weeks in advance.
The email servers are well secured and all your communications will be protected to maximum extent due to efficient servers.
Best Tech Support
DiscountASP is the best when it comes to technical support. You can rely on a support team who are experts in .NET development.
While their email support is top-notch, they also have an excellent forum support as well as vast knowledge base.
Email support: For one of our sites, we installed WordPress for blogging, but it did not work due to php script error.
We emailed the support team and they immediately responded within 20 minutes and our blog was working fine. They not only mentioned the cause of the problem but also rectified it.
You will not find this kind of support anywhere. Now don't forget this was not even an ASP.NET error. They could have washed off their hands blaming that this is a wordpress issue.
Many hosting providers will prompt you to contact the developer of the script if there is any problem. But DiscountASP rectifies the problem without wasting any valuable time.
Community Forum: DiscountASP also runs their own community forum where you can post queries. You will get answers from a large community of ASP.NET developers, SQL developers and ASP developers.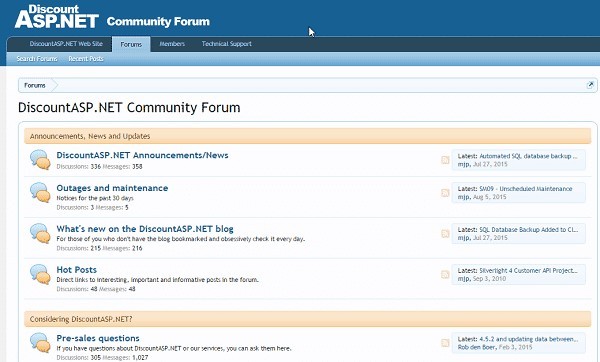 Knowledbase: Discountasp.net has a vast library of how-to articles, sample code and resolutions to most common issues in it's knowledge base, which personally I like a lot. if I can fix an issue myself, that is always better.
Here are some screenshots taken from knowledgebase: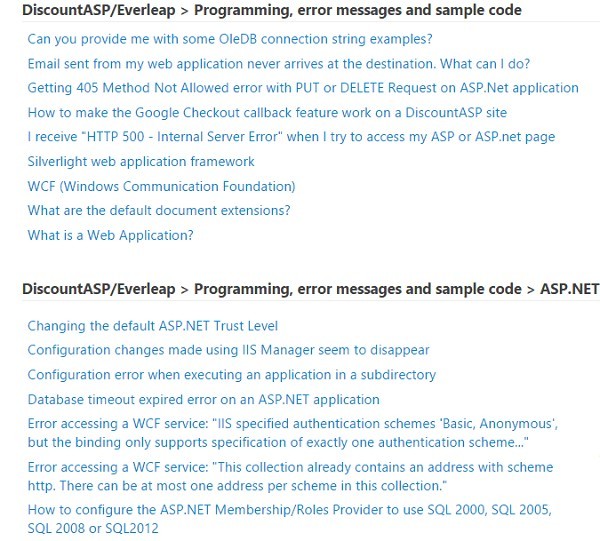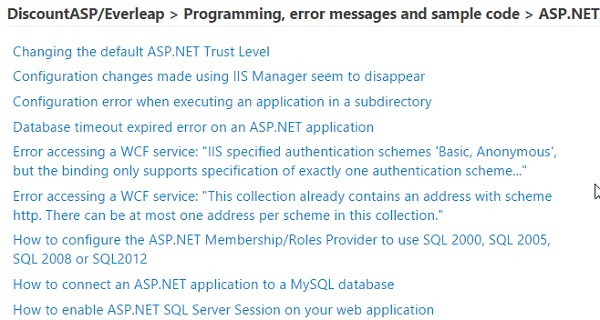 Ratings
It has got rave reviews from .net magazines and developer blogs.
DiscountASP also has been rated 9.3/10 on TrustPilot by real customers and not robots, which is impressive.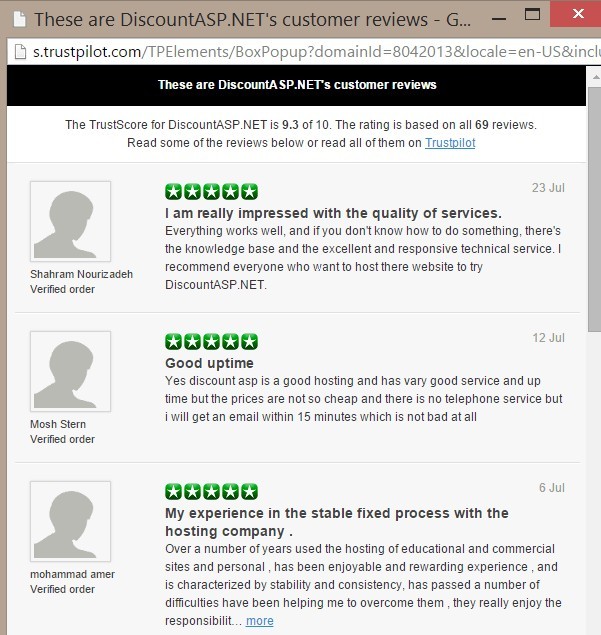 Summary
DiscountASP is primarily established to provide stable, reliable and affordable web hosting solution for .NET developers.
The company provides ASP.NET based custom control panel, several .NET components and server location in two places for better load time.
If you are located in India, you should opt for UK server since it offers faster connectivity. DiscountASP offers Team Foundation Server (TFS) hosting which we hope will be useful for advanced developers.
The company also offers 30 day money back guarantee. You will get your money back in case if you are not satisfied with their services.
We highly recommend DiscountASP.
---