Codero is an American hosting company invested in Cloud and dedicated servers for medium and large business owners. Their Hybrid hosting plan provides excellent service to companies with different data storage needs and high data traffic requirements.
OVERVIEW
Codero is an American privately owned company that dedicates their operations to managed and Cloud hosting, as well as other IT services that allow thousands of their customers to scale their online footprint. Established in 2009, Codero owns three data centers located in Dallas, Phoenix, and Ashburn, which allow smooth service with 99.95 percent of uptime guaranteed.
Features and ease of use
Also Read: Deluxe Hosting Review
Codero hosting service provides the latest server technology with dedicated support teams, which means that since the moment you start, you get your own support team that keeps your website up and running. Their initial offer includes:
Managed dedicated servers where you get to choose every aspect of your hosting service. This kind of service gives you a complete freedom to find your own balance in order to have the most efficient hosting package. The setup is free, with loads of interesting features like unlimited inbound bandwidth and free multiple IP addresses with option to add even more IPs for a fee.
The choice of OS is entirely up to you, with various versions of Windows and Linux OS depending on your preferences. Additionally, there is a chance to ask for an alternative OS installation if you don't approve of the previous two. Finally, there is a long list of third-party apps and tools that you can install for free as well as for a certain fee.
Additional features include:
Dell PowerEdge Servers
Intel multi-core processors up to 3.7 GHz
Up to 384GB RAM
Up to 30TB of FREE outgoing bandwidth
Managed Azure and AWS Cloud hosting allows users to leave behind the troubles with updates and maintenance, which could lead to severe cost reduction in a long run. Codero experts will take care your server is online, secure, and available. You create your own hosting plan by deciding which level of management you need from backup to full-time server management.
Hybrid Multi-Cloud hosting is a great solution for large business clients where different compartments have their individual IT requirements. This hosting service is also fully customizable, allowing users to choose any cloud and configure their optimal set of features such as storage, bandwidth, OS, control panel, and third-party apps.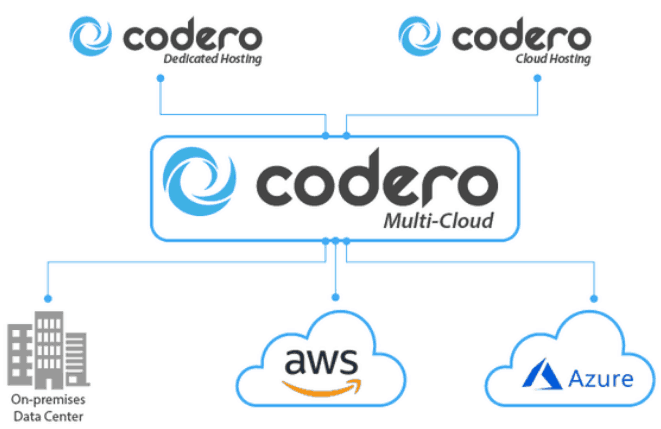 Pricing and support
The price range of any hosting service with Codero depends on the choice of configuration and services you take. However, the overall impression is that they have competitive prices for the type of service and features that Codero has to offer.
Support is top of the line, one of the best on the market with dedicated team of experts keeping an eye on your server and making sure every question you have is answered. There are so many support options it's almost impossible to get stuck without help:
Live chat support with real people answering in real time
Phone service operating 24/7
Ticket service working non-stop with an average response time of 20 minutes
Knowledge base
Codero Hosting offers various hosting plans with different features and resources. They have four main hosting categories: Dedicated Servers, Cloud Hosting, Managed Hosting, and Reseller Hosting. Each category has different pricing tiers based on the amount of resources and features you need.
Here is a breakdown of the available plans and their pricing for each category:
Dedicated Servers
| Plan Name | Processor | RAM | Storage | Bandwidth | Price |
| --- | --- | --- | --- | --- | --- |
| DS1 | Intel Xeon E3-1230 | 8 GB | 1 TB HDD | 10 TB | $80/mo |
| DS2 | Intel Xeon E3-1270 | 16 GB | 2x 1 TB HDD | 20 TB | $120/mo |
| DS3 | Intel Xeon E5-2620 | 32 GB | 2x 2 TB HDD | 30 TB | $160/mo |
| DS4 | 2x Intel Xeon E5-2620 | 64 GB | 4x 1 TB HDD | 40 TB | $320/mo |
Cloud Hosting
| Plan Name | Processor | RAM | Storage | Bandwidth | Price |
| --- | --- | --- | --- | --- | --- |
| Cloud 1 | 1 Core | 1 GB | 20 GB SSD | 5 TB | $5/mo |
| Cloud 2 | 2 Cores | 2 GB | 40 GB SSD | 5 TB | $10/mo |
| Cloud 3 | 2 Cores | 4 GB | 80 GB SSD | 5 TB | $20/mo |
| Cloud 4 | 4 Cores | 8 GB | 160 GB SSD | 5 TB | $40/mo |
Managed Hosting
| Plan Name | Processor | RAM | Storage | Bandwidth | Price |
| --- | --- | --- | --- | --- | --- |
| M1 | 1 Core | 1 GB | 20 GB SSD | 2 TB | $78/mo |
| M2 | 2 Cores | 2 GB | 40 GB SSD | 4 TB | $138/mo |
| M3 | 4 Cores | 4 GB | 80 GB SSD | 8 TB | $218/mo |
| M4 | 4 Cores | 8 GB | 160 GB SSD | 10 TB | $338/mo |
Reseller Hosting
Plan Name
Disk Space
Bandwidth
Accounts
Price
R1
100 GB
1000 GB
10
$35/mo
R2
200 GB
2000 GB
20
$70/mo
R3
300 GB
3000 GB
30
$105/mo
R4
400 GB
400
Ratings
Overall Score: 86/100
Reliability: 86/100
Usability: 86/100
Customer Support: 84/100
Features: 86/100
Cordero Walkthrough
Businesses and organizations looking for the perfect web hosting solution might have heard about Codero as one of the key players in the area. True enough, when I first visited their
website, I had the impression of their corporate ambiance that evokes trustworthiness and authority just by their very minimalistic and professional-looking pages.
Despite being a younger contemporary than most hosting companies, Codero offers a diverse portfolio of fully managed offerings to over 3,500 customers worldwide. So, if I am a business owner or a business web manager, I'd be compelled to learn more about Codero web hosting services.
The company is mainly a dedicated hosting business, and its main objective is to help its customers and their partners thrive in the cloud. It is a technology enabler that facilitates the adoption and use of advanced and custom cloud solutions.
It provides managed, dedicated, and hybrid multi-cloud services. Codero Hosting delivers world-class dedicated, managed, and cloud hybrid hosting solutions on-demand for businesses of all sizes globally.
These are all big words that come with high costs that only big and medium-sized companies may be able to cover. For smaller companies, businesses, or our blogs where we want ultimate performance, uptime, speed, and security, we might come across a reseller of the Codero hosting partner program, which will be much cheaper.
Let's take a deeper look into this hosting provider. Who knows? One of us might get lucky and be successful in our businesses that our hosting needs grow along with it; from the basic shared hosting to managed hosting solutions and many more.
Codero Pros And Cons
Pros
Excellent support
Customizable
Unlimited inbound traffic
Fair pricing
Cons
Live chat not working 24/7
No EU servers available
CODERO REVIEW: BOTTOM LINE
Codero managed customizable hosting service is a real refreshment in the pool of premade plans that don't always work for everyone. The fact that even the level of management is customizable shows the scale of their ambition to build completely custom hosting solutions.