Arvixe was founded in 2003, in San Luis Obispo, California. According to the website, which is available in English only, it serves thousands of customers around the world and has won awards for being "one of the fastest-growing hosting companies."
It offers a decent range of hosting services, from regular shared hosting (both Windows and Linux) to VPS and dedicated server packages. Arvixe says it's a one-stop shop host, providing everything you need to launch and maintain a website.
Arvixe was recently acquired by hosting giant EIG (or Endurance International Group, if you want to be formal). EIG also owns the likes of Bluehost and SiteBuilder, and some reviewers say these companies tend to go downhill after the buyouts.
Is this the case for Arvixe? Or does it offer a "rare combination of unmatched reliability, quality, and affordability," like its website boldly claims? But, more importantly, is it right for you?
I spent a week testing Arvixe, setting up a test WordPress website, running speed tests, chatting with customer service, and so on. By the end of this review, you'll know whether it's a good choice for your website.
Let's get started.
FEATURES
Also Read: 1&1 IONOS Review
Something for Everyone
Arvixe offers free daily backups, plenty of email security features, and free website migrations. But if you're looking for a free SSL certificate, that's only included in the VPS or Business plans, and a Cloudflare content delivery network (CDN) isn't included at all (the team can help you configure one though).
So those are the basics—now let's take a look at some of the most interesting features Arvixe has to offer.
Decent Uptime Guarantee
Arvixe offers an industry-standard 99.9% uptime guarantee, which is backed by compensation of a full month of hosting fees.
Developer Features
Arvixe offers a variety of developer features, including the usual support for PHP, phpMyAdmin, MySQL databases, as well as less common features like Ruby on Rails, Python, Cron jobs, and Git.
However, if you're interested in any of this, be sure to double-check which software version you'll be getting. They're not always listed, and some are very old, like PHP 5 (the latest version is 7.3).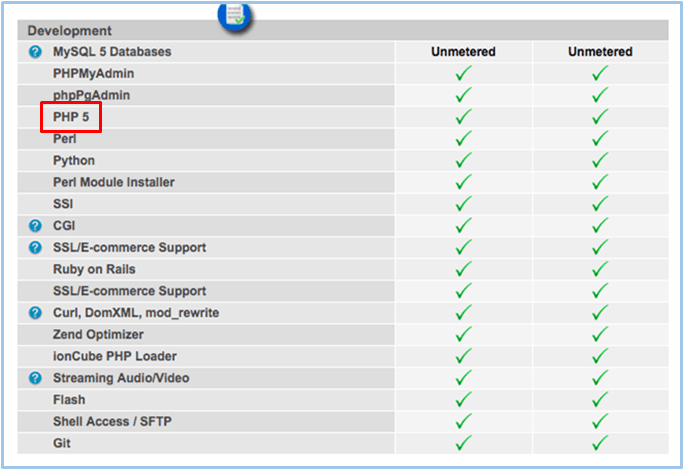 One-Stop Shop
There's a good balance of beginner features as well. Even if you have minimal technical experience, you'll find nearly everything you need to get started. Included in the packages, there's SiteBuilder, Softaculous, cPanel, and free website migrations, all of which are huge bonuses and time-savers for beginner website owners.
Comprehensive Plans
All of the plans come with unmetered disk space, bandwidth, and subdomains, unlimited email accounts, and a free domain name. Plus, even on the base plan, you can host up to six domains.
EASE OF USE
Create an Account
The interface to create an account is functional and direct to the point. No fancy pages here. I created an account and paid within about five minutes, with no bugs or glitches. There's a handful of add-ons you can select, such as an SSL certificate, but be wary—they can be expensive.
Connect a Domain and Install WordPress
To test how easy it is to use Arvixe, I set up a small WordPress website and connected a domain. The entire process took me less than ten minutes, largely thanks to the combination of cPanel and Softaculous. If you're getting started and need some help, you can follow my step-by-step instructions here.
User-Friendly Software
Arvixe offers reputable software options, including cPanel and Softaculous, which most website owners are familiar with. Even if you don't have any experience with those tools, they're not complicated to use, and you'll understand them in no time.
Security Features
Arvixe comes with plenty of security features, so you don't need to worry about setting up extras when you're getting started. To give you an idea, even the base plan comes with all of these features designed to keep your site and email accounts protected:
DDoS Attack Response
Firewall
Brute Force Detection
Nightly Security Updates
Spam Blocker
Spamhaus & SpamCop Checks
Manual Email Filtering
E-commerce Hosting
If you're interested in hosting an e-commerce store, Arvixe offers a specialist Magento hosting plan that includes a Magento-optimized site with scalable resources. However, it's not clear what's included, and the product page is buggy.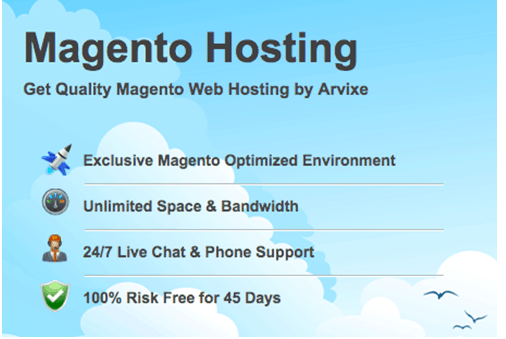 Daily Backups
All of Arvixe's plans come with daily automatic backups, which is often an added cost with other companies. But this feature comes with a big caveat—Arvixe does not take any responsibility for retaining your backups. As always, you should maintain your own backups just in case.
PERFORMANCE
A Pleasant Surprise
Before I set up my WordPress website with Arvixe, I'd read some negative reviews from past customers and from other expert reviews. Some cited load speeds of more than seven seconds, while others claimed an average uptime of less than 90%. Ouch.
Needless to say, I wanted to check out the performance for myself. I ran a speed load test using Sucuri on my small WordPress website, and I was impressed by the results. With an overall score of A+, it's hard to complain.
Unsurprisingly, since the servers are in the U.S., the website scored best in Dallas, Atlanta, San Francisco, New York (U.S.), and Montreal (Canada). But it also scored well in most European locations.
I couldn't tell you why my results differ from other reviews online—perhaps Arvixe improved based on poor feedback. If speed is important to you, I'd recommend using the 45-day money-back period to run your own speed tests.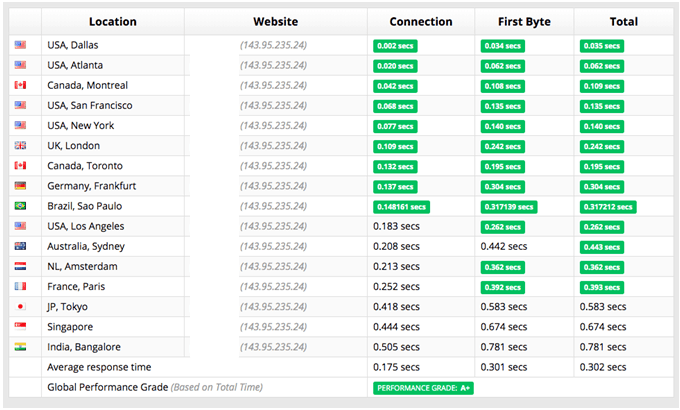 SUPPORT
One Main Channel
Customer service is quite limited in terms of options, but it is available 24/7. You can contact the team by live chat, email, or support ticket. Alternatively, if you like to figure out solutions yourself, you can refer to the substantial knowledge base.
While there is a discussion forum, it's more of an update page for the company to post server status messages. Read on to learn about my experience with customer support during my time as a paying customer.
Email Support
I sent the team an email asking a basic sales question—what's your uptime guarantee? Unfortunately, despite waiting for three days, I didn't hear back. I'd usually expect a far quicker response, or any response at all, so it was disappointing.
Live Chat
In my experience, this is the best (if not the only) way to contact Arvixe. Each time I did, the agent picked up instantly and helped me politely. I asked basic questions (e.g., Do you offer a free SSL certificate? Is a Cloudflare CDN included?), and the agent was always well informed.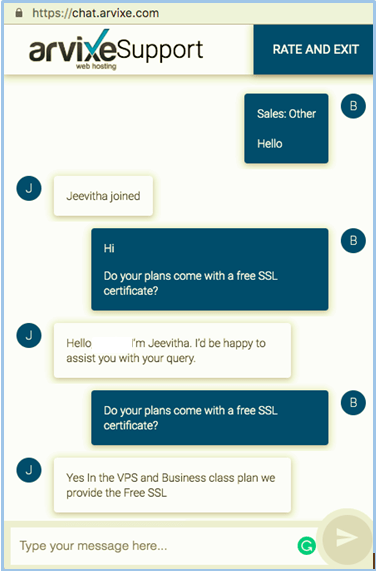 Support Ticket
Although there's an option to contact customer service via support ticket inside the customer dashboard, I wasn't able to get it to work. I was always prompted to verify my email address, which I'd already done. At least support via live chat was easy.

PRICING
Arvixe claims to be an affordable host, but it's prices aren't overly cheap. In fact, they are a little higher than some other similar companies on the market. You do get a free domain with all plans, but you'll need to sign up for a one- or two-year plan to benefit from the best prices. You can pay by credit card or PayPal.
Cancellations & Refunds
Arvixe offers a 45-day money-back guarantee, which gives you plenty of time to get into the dashboard and test the features.
If you decide to cancel, all you need to do is log into your dashboard and select the applicable service. Then select Request Cancellation from the left-hand side. This will open a quick form to complete, and your account is automatically canceled.
It's all easy, but there was a slight issue. A message on the top of the cancellation form stated, "Refund Status: Account is not eligible for a refund." As I was well within the 45-day money-back period, I jumped on live chat to get help.
The agent instantly picked up and confirmed I was eligible for a refund, but it needed to be manually applied. They quickly refunded my account and provided a receipt. I was advised to check my bank account for the returned money in five to seven business days. I was pleased to find that the full refund was in my bank account the next day.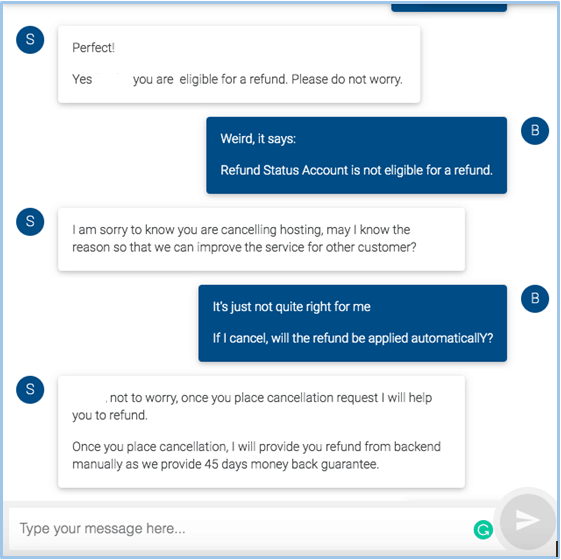 ARVIXE REVIEW: BOTTOM LINE
Arvixe isn't going to overwhelm you with its features, but it does offer most of what you need to get started, and it has decent live chat support. The prices are okay, you won't be surprised by any high renewal charges, and the cancellation policy is honored with no questions asked.
Due to outdated versions of some software and limited customer support options, it isn't quite that "rare combination of unmatched reliability, quality, and affordability" – but overall, I found Arvixe to be a decent all-around option.