Aplus.net is an old and experienced hosting vendor offering reasonably priced hosting. However, there's no money-back guarantee, and it's not entirely beginner-friendly.
Web hosting has become a synonym for Internet usage. It controls all operations related to web development and web outsourcing. Thus, it is vital to think before choosing your web hosting platform.
Aplus is one such amazing web hosting service provider that is best known for its domain services. It is very versatile and has multiple options to offer to its customers.
So, we tested the platform based on its security, features, and support and after all the tests and analysis, here is a detailed aPlus.net review for you to read and decide if this is the hosting platform suited to your needs or not.
About aPlus.net
Aplus has been a web hosting service provider since 1992. It provides a one-stop online hosting solution and increases our online marketing value.
Also Read: JaguarPC Hosting Review
It eliminates our need to move from one website to another, wandering for different services. The products provided by aPlus are innovative and meant for novice and advanced users.
Aplus.net offers cloud hosting and VPS. The cloud hosting comes in three plans – Basic, Business, and Professional. If you take any of them, you'll enjoy the following:
99.9% Uptime
Automatic backups
Two to unlimited websites, depending on your plan
100GB to unlimited storage space
Aplus.net supports PHP, Perl, CGI and SSI, Python, and ASP / ASP.net. However, it doesn't offer cPanel as the management tool for cloud hosting customers. They are given a custom control panel – Portal. It's not as comprehensive as cPanel but it's simple and has the basics of a control panel. My major concern with it, is installing WordPress.
Aplus.net offers an installer, but before you can use it to install a CMS, you'll be prompted to create a database first. That is something that requires technical skills. Fortunately, there are some tutorials and YouTube videos that can help you out.
Fortunately, the VPs plans come with cPanel, for those who are more familiar with this management tool. There's no installer with it, though.
Test and Analysis
The basic features upon which a web hosting service provider is judged are discussed below in this section.
User Interface & Ease of Use
The platform that aPlus provides is equipped with all the basic information and technology that a particular user would want to know before choosing them. Overall, it is a user-friendly interface.
Aplus.net Customer Support
The company's mobile number and email id are given and there is also a live chat option that is clearly available on the company's website.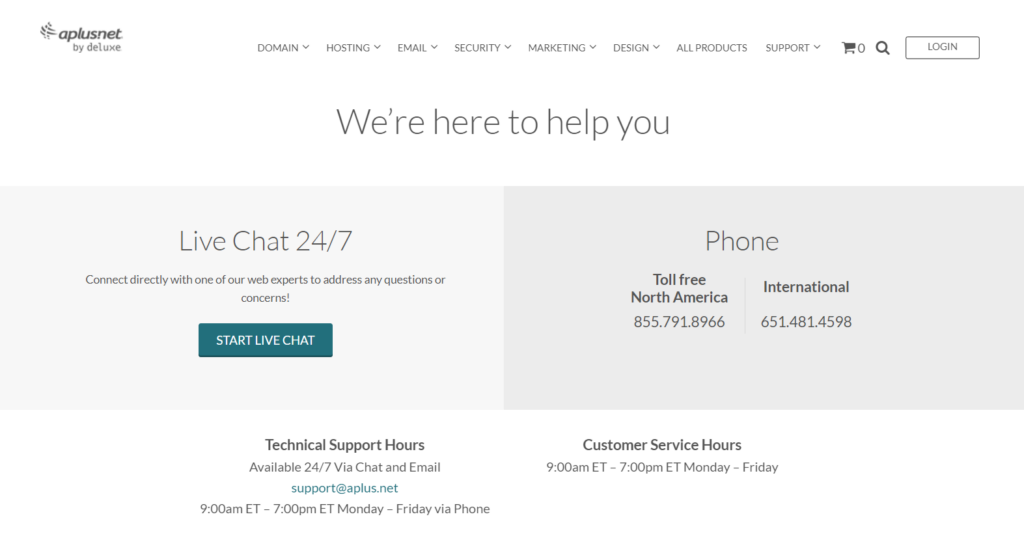 It provides the user with 24*7 help so that the user has no queries for future reference.
Security Analysis
A two-layer authentication and firewall will protect the website. The security setup is all that a user is generally concerned about when they wish to invest in a web hosting service provider.
Key Features of aPlus.net
Below are some key highlights that tell us how Aplus is a beneficial website for users.
The company uses a Portal tool management option to secure its users' accounts. It manages the products purchased by the users, and the users' reviews are used for innovating and improving the users' websites.
The company has multiple recognitions from renowned organisations like CNET and TopHost.com, and many more. It is a gold-certified partner of the CNET Editors' Choice Award.
Aplus.net Pros & Cons
This section offers a quick look at the positives and negatives of Aplus.net
Pros
24*7 customer care support.
An interactive interface for its users.
Packages are available at affordable rates.
Cons
The support is not very good and you may need to wait for your queries to get resolved.
Not so beginner-friendly
No money-back guarantee
Conclusion – Aplus.net Review
In conclusion, the complete web hosting experience is exciting with Aplus.net. The lively platform that aPlus.net provides is user-friendly and substantiates as a plus point for it along with the low cost of packages it offers to its users.
Every web hosting user should once use Aplus.net to enjoy an unmatchable experience.